8 Turmeric Things.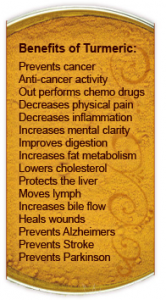 1.  Drink Hot Turmeric Milk & Stay Healthier This Winter.
2. "Incredible benefits offered by turmeric, plus one super-simple tip for boosting its absorption." > One Spice Fits all Imbalances.
3. Science Confirms Turmeric As Effective As 14 Drugs (fitlife.tv)
4. Alzheimer's is 4.4 times less likely in India. One promising reason is from the curcumin (turmeric) in their curried dishes. (ncbi.nlm.nih.gov) Turmeric (found in curry powder) has been surprisingly effective against Alzheimer's symptoms in multiple studies, and currently out-performs any known Alzheimer's drug. (cen.acs.org)
5. Study shows turmeric (curcumin) to be as effective as Prozac at treating depression. (ncbi.nlm.nih.gov)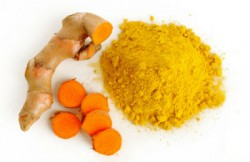 6. An extract found in the bright yellow curry spice turmeric can kill off cancer cells, scientists have shown.(news.bbc.co.uk)
7. It's great for yarn dyeing adventures: photos!
8. Much, much, muchmuchmuch more here. Recipes, Ayurveda, Juicing, Health.
Bonus:
http://www.youtube.com/watch?v=Av2L1qkOHV0
Relephant Reads:
Elephant:Now
…is a new feature on Elephant Journal—enabling you to instantly share your mindful ideas, photos, art, YouTube videos/Instagram links & writings with our 5 million readers. Try it Now.
Comments
One Response to "8 Turmeric Things."
Leave a Reply
You must be logged in to post a comment.