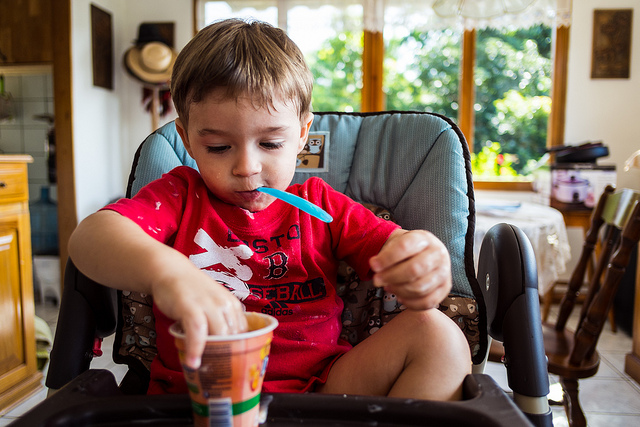 It's Oliver's second day at school and I'm away on a job—all I want is to see his face when I to drop him off and pick him up.
It's Mama's turn. She makes a special effort to wakeup earlier than usual and finds the way to juggle getting herself and Oliver ready for the day. They jump in the shower together, dry up and he gets his diaper. While he downs the morning bottle of milk she's putting on lotion and makeup (a little TV goes a long way here). When the bottle is finished, on go the clothes. But it all started the night before when Mama put together his breakfast bag.
Sara is very thoughtful that way.
Today was difficult.
They highway system collapsed and what should have been a 30 minute trip to school became a slow moving, stop and go, two hour odyssey that churned Oliver's stomach. He had to sit in his own vomit for a good part of the voyage.
One word comes to mind as I think of this scenario: misery.
Sara called from the highway-turned-parking-lot to tell me all about it. She was worried. Would it be okay with the teachers there? I assured her they are wonderful people and it wouldn't be an issue. Still, could I call and let them know? I did. The teacher was understanding an light-hearted. It wasn't just Sara, she informed me, all the roads accessing the area were collapsed. She shouldn't worry.
Just get to the school, I assured her. Someone will have spare clothes or maybe they had an extra uniform t-shirts. The red t-shirt with an embroidered insignia is optional. (We'll be packing a spare set of clothes for when this happens again.)
By the time they arrived at school, Sara was getting ready for a difficult parting.
Puking, two hours confined to a baby seat and drenched—it didn't look good.
She took him out of the seat and he gave her the best body hug a parent could hope for. Arms around the neck and legs tightly wrapped around her waist. Relief. But he wasn't letting go.
Like this, vomit transferring from son to mother, they walked to the gate. Oliver saw his teacher, knew where he was and relaxed. He got down, ran to the teacher, gave her a big pukey hug and said "Shirt. Change shirt." He turned to Sara and said "Bye-bye Mama."
My heart is so full of pride it could burst.
Sara and I have made it a goal to raise a confident, self-assured, loving child. We co-sleep (though he starts in his own bed), use non-violent parenting, try to validate his needs rather than assume he "just wants attention" or is "just being a brat."
It takes more patience than I ever thought I had—I've lost my patience more times than I want to confess.
I'm proud of him; he didn't cling to the awful mess he was in. He knew we trusted the people where we were going. They honor that trust and treat Oliver with love and kindness. He has the confidence to know everything is good. That there are people around him to care for him when he has needs.
For now, the world is his oyster and he owns it.
Besides, to him, it was just some puke. It wasn't good or bad, it just was. We adults were more concerned than he.
For him, being wet and stinky is nothing—it beats feeling car sick. The dirty, wet, stinky shirt was insignificant in the grand scheme of things. He could probably have gone through his day wearing the shirt without letting it get him down.
Thinking of this, I am reminded of how much consternation we put into things that can be fixed, like changing or rinsing a shirt. Or how we fret over things there is nothing we can do about, like being stuck in a traffic jam. Or how much we worry about the unknown, like how will Oliver react to being dropped off in this condition.
Oliver just lives in the moment; he's happy his Mama rescued him from the chair. He's happy to be in a place where he has fun—he knows the people around him care for him.
Some days are better than others; when things go bad we could take a cue from Oliver.
Love elephant and want to go steady?
Editor: Bryonie Wise
Photo: Richard May/Flickr