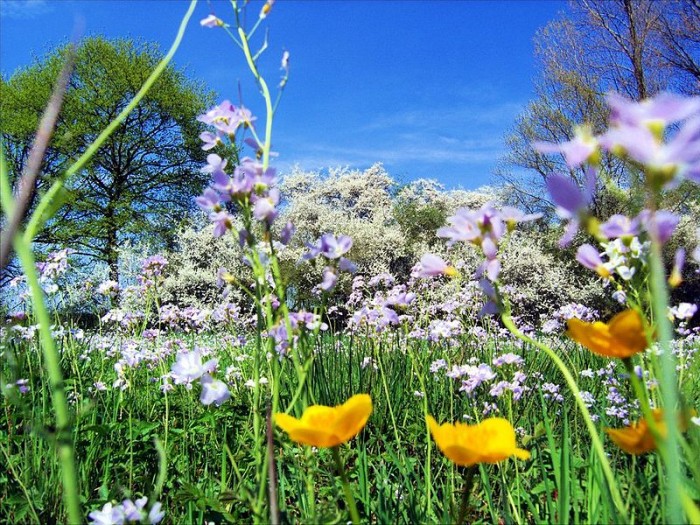 (This may have something to do with the fact that April happens to be my birth month.)
Even though spring officially started a few weeks ago, it hasn't felt very spring-like for many people in the U.S. Just last Monday it was snowing in my hometown in Central Virginia.
However, the days are slowly warming up. My local weather forecast is predicting true, spring-like weather for this week, and I am looking forward to it.
Still, even if you happen to live in a place where snow remains on the ground, there is still a lot to look forward to this month.
Below are 10 of the best quotes about the month of April and spring:
1. "It is spring again. The earth is like a child that knows poems by heart." ~ Rainer Maria Rilke
2. "Spring is nature's way of saying, 'Let's Party!'" ~ Robin Williams
3. "April hath put a spirit of youth in everything." ~ William Shakespeare
4. "The most beautiful springs are those that come after the most horrible winters!" ~ Mehmet Murat ildan
5.  "You can cut all the flowers, but you cannot keep Spring from coming." ~ Pablo Neruda
6. "April prepares her green traffic light and the world thinks, 'Go'" ~ Christopher Morley
7.  "Oh to be in England now that April's there." ~ Robert Browning
8. "Spring is when you feel like whistling even with a shoe full of slush" ~ Doug Larson
9. "Every year, back comes Spring, with nasty little birds yapping their fool heads off and the ground all mucked up
with plants" ~ Dorothy Parker
10. "April is a promise that May is bound to keep" ~ Hal Borland
Happy April!
Love elephant and want to go steady?
Editor: Travis May
Photo: Wiki Commons