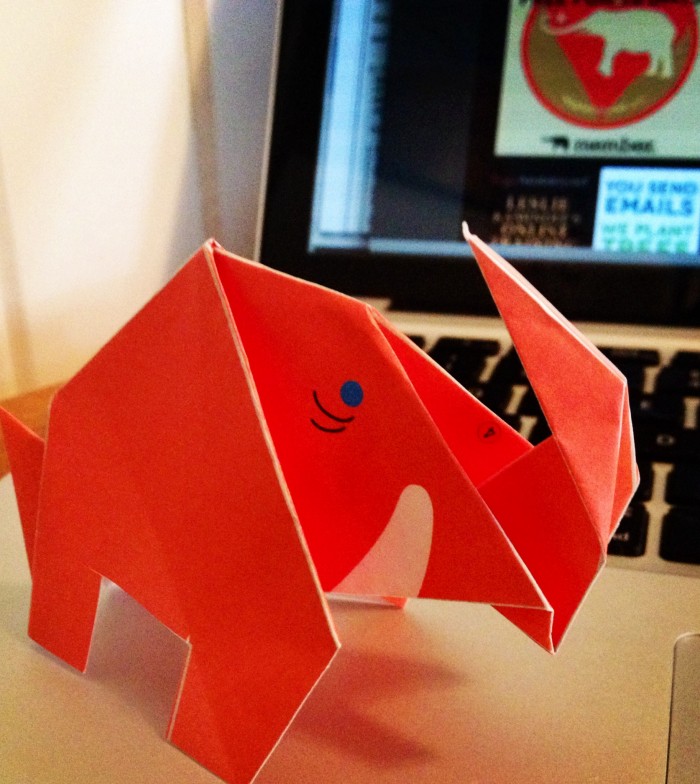 Separating from the herd is painful.
Everything has changed overnight. When I logged onto Facebook today, there were no longer elephant journal pages filling the left hand column of my screen. I had very few alerts and messages throughout the day and I didn't see the familiar names of my fellow elephants popping up in my news feed.
Four months has flown by and my elepprenticeship has ended.
At our final meeting with the editing team last week, we (the old elephants) were given a choice to stay on as editors (unpaid) or move on. I sat with this decision for hours, then wrote the editors that I was choosing my writing over the editing—that I was moving on. I am raw, awake and filled will gratitude—I am forever changed.
These are the eight lessons this elephant learned:
1. Write Every Damn Day (thank you Bryonie)
I have always been a writer, worked out everything in my mind. All my life I have filled journals with images and ideas, but I never had a daily writing practice—until now.
2. Write about the things we don't talk about.
The first piece I published was safe, and yet I was afraid to hit submit. I am now writing fearlessly. A friend told me that since I started writing for elephant, she has seen a side of me she didn't know before; I feel the same way.
3. Nothing is wrong with me.
When I was small I would get caught staring into space and scolded, "Stop staring off! It looks like something is wrong with you." I have sat with myself alone in the dark hallways of my mind. There is definitely something right with me. I am an observer. I see with the eyes of a curious child.
4. Editing makes me a better writer.
I researched grammar questions, stumbled through words to grasp ideas and searched for the right image to add dimension to the author's words. I learned to read through the words for the ideas and strip away everything that doesn't communicate clearly.
5. Embrace the New World of Online Publishing.
This means using social media all the time. I have friends who are seriously concerned about me because they see the little green dot next to my name on Facebook all day long. Writing about the mindful life while sitting in front on a computer for entire days was maddening at first. But I found my balance.
6. Work hard and we get what we need—and what we least expect.
My family was thrown off by my taking an unpaid apprenticeship at age 40. I was paid well in elephant love, shared courage and inspiration. And I received my first check as a writer last month from elephant (thank you Waylon). Last month I also received my first fan letter from a reader in the UK; she reads my Daily Breath blog every day. I cheered to have one dedicated reader and on the days when I didn't feel like writing, I wrote for her.
7. We are not alone.
I choose to live in a world of "we" rather than "us/them." We are all humans in training on the same course, even though sometimes it feels like I am the only one with my face in the mud.
8. There is enough.
Our creative fire grows the more it burns. There is no limited bucket of creativity; it flows through us without beginning or end. We just need to get quiet and still long enough to listen and to feel.
Today is the final day of my elephant journal apprenticeship. I wanted to write the editors and ask for it all back: the editing assignments, the elephant Facebook pages and the meetings. But I didn't.
I love editing, but I love writing more.
I have been given an elephant journal column and I intend to use it wisely. It is quiet in my hallway now, only the taps and clicks as I hit the keys and write these words.
(bow)
#elephantsforlife
Love elephant and want to go steady?
Editor: Bryonie Wise

Photo:  Jennifer Moore