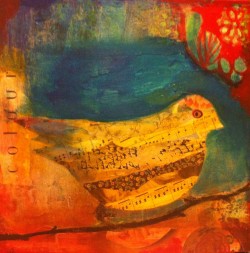 "Those who make compassion an essential part of their lives find the joy of life. Kindness deepens the spirit and produces rewards that cannot be completely explained in words. It is an experience more powerful than words. To become acquainted with kindness one must be prepared to learn new things and feel new feelings. Kindness is more than a philosophy of the mind. It is a philosophy of the spirit."
~ Robert J. Furey
Twelve years ago, when I had three small children ranging in age from four months to four years and my husband was traveling abroad for weeks on business, I fell very ill. And I don't mean stomach flu or even the flu kind of ill. This was worse—Much worse.
I was sleeping on the couch that night. Usually I slept with the kids, but the previous evening I had fallen asleep watching television and I had awoken at about 2:00 a.m. to a fever that I later found out was 107 degrees.
I couldn't move. I couldn't call for help. The best I could do was to listen for a noise in the house and throw something to get someone's attention once they woke. Eventually someone did wake up, the ambulance was called and off I was taken to the nearest hospital where the first nurse who touched me quickly pulled her hand away in shock and fear as I was the hottest person she had ever felt—or so she said.
I ended up in the ICU with Streptococcus Pneumonia in all of the lobes of both of my lungs.
I was told to give the doctor the phone numbers of the people in my family, but my husband was gone, my mother-in-law was watching my children, and I was new in town and so there was no one to tell them to call as far as I was concerned.
Because I was too sick to be embarrassed, and was sure I was dying (as they told me I probably would when I asked for the unbiased truth), I told them that I really didn't want anyone that I loved to see me in the condition that I was in or to fuss or cry over me as I died, which I figured was pretty much a given.
One well-meaning and kind doctor told me that it was going to get worse before it got better as the antibiotics for Streptococcus break apart the little beads of poison that the disease lives in and infiltrates your blood. And then she continued on and told me to fight like never before for my children.
To be very honest, I did not care about anything or anyone at that point while I hallucinated and  faded in and out of consciousness. I was prepared and wanted it all to end and people might call me selfish for this, but I am just stating the facts of how my addled brain was thinking.
Through a strange act of occurrences and because my mother-in-law was watching the kids, all who called to ask about me were told that I was too sick to talk and no one ever knew that I was in the ICU or probably dying—No one. Not even my husband, who just assumed that I was in the capable hands of the good doctors through the relayed information which he was given.
I don't know when it started, but at some point a man appeared near the outside of my room's door and started playing his guitar. It was heavenly. Beyond the most beautiful music I have ever heard. At the time, I wondered if it was real or a hallucination from the drugs or the fever as it was so transcending. In actuality, it didn't matter much at that moment.
This gentle soul started playing the song Blackbird by the Beatles. I listened and it seemed to go on forever and finally ended. I asked the nurse if she could ask him to play it again. And he did. He played for what must have been many hours.
While he was there, a peace came over me that was indescribable. I would have been happy to die right then and there, but this was not to be.
This incredibly giving man also played other songs of the same genre and tempo. I remember Bridge over Troubled Water and The Sound of Silence by Simon and Garfunkel. He played Dust in the Wind by Kansas. He played all of the songs that brought back so many of my memories of my early childhood. But mainly he played Blackbird.
I did not have a good grasp on time by the minute or even the hour or day, but I am sure that this same amazing man came back to play for me for many days—possibly for even a couple weeks. And not just for a song or two, but for hours.
I believe that this unnamed hero of mine, this volunteer, brought the light back into my being just enough to help me remember that there was beauty in life though his exquisite guitar concerts that he played and sung just for me.
Day by day, I came to believe again that my life was a life worth living. I am sure that his music played a huge part of bringing back my mental, spiritual and physical strength.
It was such a kind act by a gentle soul, while I was so strangely isolated, in part by my own doing, and in part by odd circumstances that I put into action. He stirred the silence of my soul during those days.
A tremendous act of kindness. A delicate spirit. An incredible heart. Expecting nothing in return for his time—not even knowing if he was playing for someone who would live or die. I'm not sure if he even ever saw me.
I will never forget that man who I can not remember if I thanked or not (but who I have thanked silently in my thoughts a million times over). He, a stranger, who believed in me more than I did myself during those most uncertain of days—The gentlest of all souls who got my broken wings to mend and helped me to fly again.
I wish there was a way to let him know I am soaring now and will be forever grateful for him and for the song he sung so exquisitely, countless times. Just for me.
Blackbird by the Beatles:
Love elephant and want to go steady?
Editor: Rachel Nussbaum
Photo: Courtesy of author. Painting titled Chirping Sparrow by Taly Shemy.