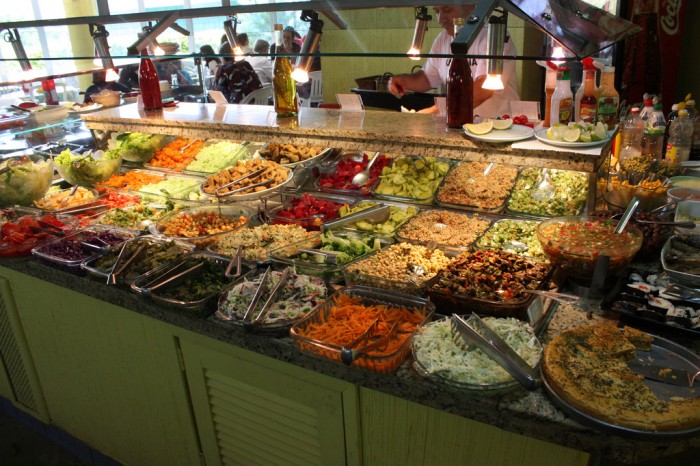 When I grew up in the late 70s and early 80s, restaurants with salad bars were a big deal.
Back then, people loved the idea of being able to take a plate, head on up to the bar and pile on the veggies and toppings. Of course, some of those toppings weren't very healthy, like deep fried croutons and gloppy dressings and some of them were just plain gross, like pickled beets from a can. Yuck.
Others were really yummy though, like raw cauliflower, sunflower seeds, chick peas and sliced black olives. For some reason, salad bars went out of style and most restaurants now offer composed salads or chopped salads and at enormous prices.
But I still like the idea of a salad bar, so I've improvised and I keep a constant supply of pre-prepped salad fixings in my refrigerator at all times.
It's like my refrigerator is my own 24 hour salad bar!
That way, when I get hungry I can open the door, get a big bowl and load up without it having to be a big production. The biggest benefit of doing this is that it keeps me from reaching for chips or my biggest weakness—cheese—when I'm hungry. Another bonus is that if I don't feel like cooking dinner, I can just make a filling, healthy salad.
I go to the grocery store a few times a week and whenever I come home I make sure I wash, peel and chop all of my vegetables ahead of time. I store them covered in glass bowls in my fridge. At all times, I make sure there's a container of washed and ready to go greens of some kind to serve as a salad base. I change this up from time to time so I don't get bored. Sometimes it's lettuces, other times it's baby kale, broccoli slaw (without the prepackaged dressing that comes with it), arugula or field greens.
In addition to the raw veggies, I always stock plenty of seeds and nuts, dried fruits, fresh herbs, beans, grilled or roasted vegetables, a variety of vinegars, lemons, a few kinds of delicious oils (such as olive, sesame or walnut) and avocados. Avocados turn brown so they can't be prepped ahead of time like the other fruits and vegetables.
Here are seven easy, scrumptious salad combos that I love. One for each day of the week!
Southern: baby kale, cubes of roasted sweet potato, red pepper, celery, cucumber, black eyed peas, chopped toasted pecans. Toss with a mustardy vinaigrette.
Asian Inspired: broccoli slaw, chopped cilantro, dried cranberries, red peppers, green onions, toasted almonds, edamame, sliced raw snow peas. Make a dressing with rice vinegar, sesame oil and a little honey or agave.
Taco Salad: romaine, avocado, fresh salsa, corn, jalapeno, cilantro, kidney beans, pumpkin seeds, sliced black olives. Dress with a little olive oil and lime juice.
Waldorf Salad: Mixed greens, celery, green onions, chopped apple or pear, dried cranberries, sunflower seeds, toasted walnuts, halved grapes and chick peas for protein. If you're not vegan, blue cheese is good in this. Toss with a lemony vinaigrette.
Mediterranean: Romaine, arugula, chick peas, toasted pine nuts, golden raisins, roasted red peppers, roasted cauliflower (or raw), grilled eggplant and zucchini, tomatoes, marinated artichoke hearts, pitted Kalamata olives and feta for the non vegans. Dress with olive oil and balsamic vinegar.
Chopped Salad: Romaine, red onion, halved seedless grapes, roasted red peppers, shredded carrot, corn, halved cherry tomatoes, black olives, chopped cucumber, a sprinkle of capers, honey roasted peanuts and optional feta for the dairy lovers. Mix with your favorite dressing.
Spring Salad: Boston lettuce, blanched asparagus, blanched green peas, chopped toasted hazelnuts, sliced strawberries, green onions. Non-vegans might also like to add some crumbled goat cheese or a poached egg. This one is good with a french, mustardy vinaigrette, especially one with walnut oil. If you can find watercress, it's absolutely wonderful in this recipe too.
Love elephant and want to go steady?
Editor: Catherine Monkman
Photos: Wikimedia Commons