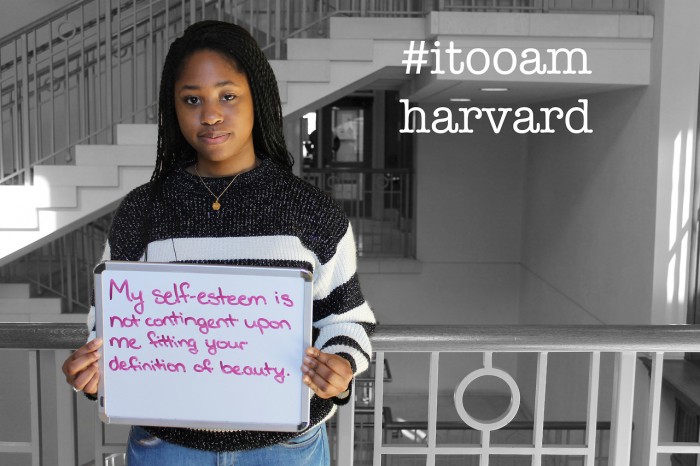 A compilation of simplistic photos showing college students holding small whiteboards—and their big experiences—stopped me in my tracks a few days ago.
I scrolled through the 40-some pictures on an unknown Tumblr account, on the verge of tears. I felt connected with these intelligent strangers because—unfortunately—I've been there, and fought the same fight (although not at Harvard). What I did not have, though, was a strong group of like-minded, similarly (inaccurately) judged peers helping my voice to be heard.
Ahsante Bean, a student at Harvard University, is taking a stand against stereotypes. Along with a number of classmates, Bean speaks volumes through her photo campaign, I, Too, Am Harvard—fighting against placeless-ness within the university system as students of color share their stories of feeling less than accepted by their white peers.

This project serves as a creative reminder to each of us that we are all here, together, striving for the same thing—a purposeful existence on this earth. Color aside, we are all beautifully and wonderfully made.
The entire photo project can be seen here, while the short video below showcases the student interviews that accompany their photos.
Love elephant and want to go steady?
Editor: Catherine Monkman