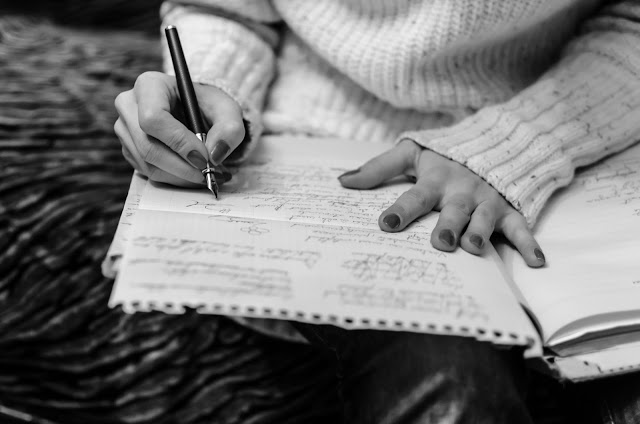 You are gone from me now.
Gone in a way that neither of us expected. Too soon, too sudden, too rash.
In the end, there really was no choice. Grief continues to drown my sensibilities. There is nothing graceful about this process. A large part of me died, and I haven't the strength to lay it to rest. Perhaps you are at peace. I will never know.
You will never read these words. Never hear me read my poetry aloud to a crowd of people, drunk on $8 cocktails and lilting words. You'll never see my words published and shared with the world. I can write whatever strikes my heart without concern for how it might strike yours. Though, yours was always the heart I wanted to move the most.
You'll never again watch the fires orange glow dance along my smiling face, as I carefully tend my roasting marshmallow, swiftly extinguishing the blue flame that ignites on the tip. I will never again have the pleasure of hearing your laughter after you tell a joke we've all heard a dozen times.
How I miss those summer days that made me believe in forever.
I am listening more now. You used to joke that I talked so much that nobody else could get a word in edgewise. I would laugh and keep sharing everything anyway, because life was just so brilliantly beautiful, I wanted everyone to see what I see, feel what I feel, wonder at the magic of it all.
But when you left, so did the magic I knew, and I was immersed in the quiet of the void left behind, with no choice but to be still and listen, in case it shows up somewhere new.
I am still listening for you.
I'm writing again too. Writing about all the things I discover along my way. Leaving a trail of crumbs as I move on, ever so slowly, in case you ever try to find me, there'd be a route you might follow. I don't know where I am going really, but I am starting to see that the movement is where life is found and there is no destination necessary. The exploration itself is enough.
Because of you, I take long walks in the open air more now. How you used to love walks in nature, the fresh air and the trees whispering ancient secrets. They all say hello, by the way.
I stopped numbing myself to the hurt.
Somewhere along the way I found that delaying the pain of loss seemed to compound its intensity. As if resisting it, actually fed it and its return force grew exponentially. Alcohol was never an honest ally. You might be surprised at how sobriety has changed me, in such a short time.
I know you would be proud of me and what I have made of myself through it all. I may have scared you there for awhile, wondering if I could keep going. I scared me too. But, like you always told me—I have always been a fighter, a champion, and you never saw me coming. I wish I would have seen you going, it may have changed the way I treated you.
If I'd have known how short our time, how precious each moment we shared, I'd have chosen my words more carefully, would have opened my heart without fear, would have dared the unanswered questions, would have chosen the unspoken Truths: I love you. I miss you. I am so grateful for the experience of you.
Life will never be the same again.
Love elephant and want to go steady?
Editor: Bryonie Wise