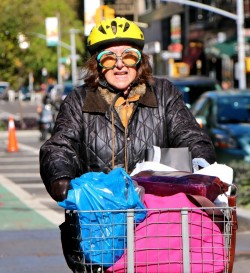 I suppose in retrospect I was having a mid-life crisis.
I became obsessed with Minimalism during the phase when these much-younger individuals were bragging about keeping their possessions down to 100 things or less.
After marinating a few months in the rubble of two marriages gone South and kids grown and gone, I devised my simple plan: I would become a nomad.
This meant selling the house, paring down my belongings to only what I loved and used and ditching my car to travel by bicycle.
It didn't matter that I hadn't ridden a bicycle in decades or that I was afraid to ride one. I set out to buy one anyway. Two of my kids travel primarily by bicycle, so I checked in with them when my co-worker offered to sell me his daughter's used Bianchi.
"How much?'
"$125. With a pump."
"Smokin' hot, Mom. Go for it. You have to buy a helmet, too"
After staying in the living room a few months until it was warm enough for a ride, I decided to go for a spin in the parking lot of the grade school behind my house because I was too afraid to ride on the street.
"What had happened to the girl who fearlessly rode the lavender Schwinn Sting-Ray with abandon around the neighborhood?" I thought as I rode in large wobbly circles trying to figure out how to use the brakes, the gears, turn and pedal at the same time. How could it be that I had actually forgotten how to ride a bicycle?
As I dejectedly walked my bike home up the hill, I made plans to replace the seat with a larger more cushioned seat to fit my larger more cushioned seat and find an uninhabited paved bike trail with no hills.
My plans to convert my swanky Italian race bike into a Hag Bike were thwarted by my home selling. The next few months were occupied with moving and downsizing, then the weather turned cold.
Now the flat-tired bike hangs upside-down in the garage beckoning me. I'll have to get over my fear of falling, gain confidence and body strength. And don't forget—purge most of my belongings and sell my car.
Then, maybe I can become a middle-aged bike-riding nomad.
Love elephant and want to go steady?
Editor: Bryonie WIse
Image: Flickr, Kara Peterson