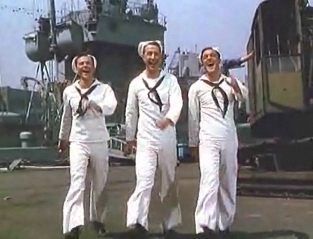 "Dancing is a vertical expression of a horizontal desire." ~ Robert Frost
Isn't it, though? Dancing is therapy, it's expression, it's freedom, it's lightness and strength and courage and there's just nothing like watching (or feeling) the hard work of dance appear so effortless.
Just to warm us up:
Yes—let's dance!
Bollywood does it like it's just regular old breathing (and deserves its own article), but since I was weaned on the Hollywood side of things, I'll admit that my selection of perfectly awesome show tunes and dance numbers are distinctly of the American variety.
If your day needs a kick start, or you want to wax nostalgic while gazing dreamy-eyed at the very dreamy Gene Kelly, or if you want to simply be blown away by what our bodies can do, these clips are for you.
"Dance, when you're broken open. Dance, if you've torn the bandage off. Dance in the middle of the fighting. Dance in your blood. Dance when you're perfectly free." – Rumi
1. The Wizard of Oz ("If I Only Had a Brain")
Had to be done. It's The Wizard of Oz!
2. West Side Story ("Dance at the Gym (Mambo")
Steamy. Racy. Race-defying. Nice moves.
This one might as well be my prepubescent (and maybe a little bit of post-pubescent) years.
4. Can't Buy Me Love ("African Dance")
I like Dr. Dreamy best as Ronald Miller, who nerds his way into inventing a dance craze.
5. Singing in the Rain ("Make 'Em Laugh")
You will. You'll laugh, and be bowled over, and fall in love with two dancers at once.
Okay, we can't ignore how he dances with Cyd Charisse, who really knows how to shake her booty:
6. Swing Time ("Never Gonna Dance")
Five words: FRED ASTAIRE AND GINGER ROGERS.
https://www.youtube.com/watch?v=ec0hf9gGNiE
7. A Star is Born – 1954, Judy Garland version ("Drunk Dance")
We've probably all drunk-danced before. Probably not like this. While singing like no other.
8. Grease ("You're the One that I Want")
Danny Zuko was never really the one that I wanted, but I can watch this a million times. And I have. I'm happier as a result every time.
9. Modern Times ("Non-sense song")
Nonsense, when done Charlie Chaplin style, is nothing short of everything.
10. Call me Madam ("Balloon Dance")
We've already seen and fallen in love with Donald O'Connor in "Singing in the Rain." Now we can fall in love with him all over again. For real this time, as he drunkenly sing-dances about the perils of love.
11. Broadway Rhythm ("Potato Salad")
I hate to pick favourites, but I saved the best for last. Acrobatics! The Ross Sisters! Three wows in one. Just watch.
Bonus:
More singing, less dancing, all perfection: Streisand and Garland awkwardly make jokes and sing about happiness together:
Love elephant and want to go steady?
Editor: Renée Picard
Photo: Photo Wikimedia Commons