"The journey of a thousand miles begins with a single step."
~ Lao-Tzu
It is said that happiness is fleeting, ephemeral. Joy, supposedly, is a deep inner state of being, of contentment, peace and more stuff like that. And then there is bliss. Who can describe bliss? Is any enlightened being willing to give it a shot?
I stick to happiness. How can we expect to get anywhere near joy, let alone bliss, if we are not even capable of finding and accepting happiness?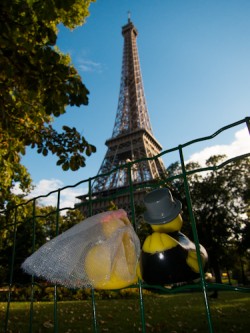 I have a list of five simple things that make me happy. Small steps to joy.
1. Observing my lover sleeping peacefully; he's probably dreaming of catching the biggest fish of his life
2. Flowing through the Primary Series and making it to the ever so gratifying Savasana
3. Knowing I'll be eating a raw herring with chopped raw onions upon my return to the Netherlands (a traditional Dutch delicacy, it's good, really!)
4. Finding a colourful critter crawling at the bottom of the reef
5. Taking the two Duckies to a new place, framing them in another silly picture
Perhaps we should all have a list of little things that make us happy instead of attempting thousand miles in one step.
Love elephant and want to go steady?
Editor: Rachel Nussbaum

Photo: Fotopedia / Manuel Cazzaniga and courtesy of author