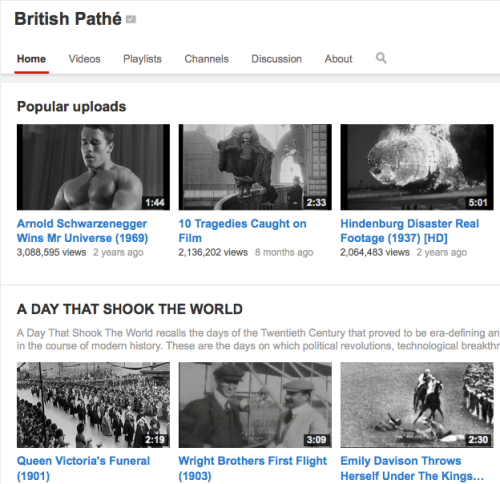 News. Real news. Hard core news. From 1945. And from 1914. All the way back to 1896.
Not the give-me-a-bucket-please home videos of some noboby's kitten or the latest bad mobile phone recording of a live concert or the re-enactment of another person of non-interest's favourite lame joke.
We're talking of 85,000 (yes, eighty five thousand) real news items, recorded, edited, and produced between 1896 and 1976 by British Pathé, the U.K. newsreel archive company.
They uploaded 80 years of footage, just like that, on YouTube.
My heart starts beating faster just thinking about it. 3,500 hours worth of recorded history, there, available to all. Historical treasures meet modern technology.
I can't help myself but imagine the poor trainee that had to feed reel after reel after reel into the digitalising machine (or whatever they do to digitalise old films). And I also feel kind of sorry for the guy who had to upload all the footage on YouTube. I hope his internet connection was fast.
But the result is gigantic. Once we start browsing through the archive, there is no stopping. It's addictive.
What were they doing in London during Easter in 1950? It's there.
Curious about the media reporting on atomic experiments in the 1940's? It's available.
Yoga in Paris in 1963? The archive has got it.
Soldiers leaving for the Boer war in South Africa in the 1890's? Search and find.
I hope the world is ready to appreciate the value of this archive.
It's our history, recorded by us, reported by us, framed by us, commented on by us. It's how we've shaped the world that we live in now. It's how we became who we are. It's humbling and awe-inspiring all at once.
I'm going to stop writing, watch some more black and white movies and let it all sink in.
PS. And that crisp, old fashioned accent is simply so… well…, lovely British, isn't it?
Click on the video below to watch one of the 85,000 items, about a t
en stone baby in 1935 (category Weird Newsreels).
Love elephant and want to go steady?
Apprentice Editor:  Yaisa Nio / Editor: Catherine Monkman
Photo: YouTube screenshot