The Common Good Soup Kitchen Community started as a small-scale project on Mount Desert Island, Maine.
Recently unemployed, Bill Morrison, a world-class chef, started making soup in his kitchen from scratch using healthy grains and vegetables.
In the winter, the community on the island can become very isolated. It was a particularly brutal one in 2008 and Bill knew there were many people who were housebound. So, he started delivering his soup to senior residences and others in need of some fresh food.
Other people started to hear about what he was doing and made their way to his kitchen. Like Bill, many were unemployed and were fighting off boredom and depression. They found gathering with others over a bowl of soup kept their spirits high.
Bill knew he was on to something and contacted Larry Stettner, an acquaintance. A long-time summer visitor turned year-round resident, Larry had made a name for himself around town wearing colorful outfits and booking bands at a popular restaurant. Bill figured this man-about-town would know what he should do to take his soup to the next level. They took a walk in the blueberry field to discuss how they could work together and help people in their community.
Larry suggested that they use the principles of social entrepreneurship: the pursuit of innovative solutions to solve social problems.  They needed to find a way to make money in the summer and use that money to support a program in the winter.
At first, they thought a food co-op was the answer. It would provide a place where people could eat wholesome food and take food home to cook. But then they realized a co-op wouldn't work for them.
The co-op model benefits its members, but The Common Good wanted to benefit the public, like a non-profit does. So they formed a business that runs for-profit summer café that funds a non-profit winter soup kitchen.
With the help of the community, everything started to fall into place. A logo and a mission statement were created and a website went live. Now, they just needed a place to open their café/soup kitchen.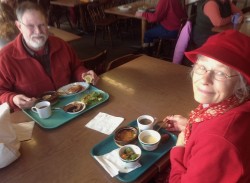 A local landmark for many years, the restaurant space at The Seawall Motel sat vacant, even though it had a tremendous view of the seawall. A chance meeting at the local grocery store would change that. The owners generously donated the space. The Common Good would only have to pay utilities and upkeep fees.
In the summer of 2009, The Common Good opened a café serving breakfast only. There were no set prices. Instead customers donated what they could afford. All donations were put towards funding the winter program.
Locals and tourists alike were excited this old landmark was a business again. Volunteers showed up and fundraisers were held. Word of mouth spread the story of the Common Good Soup Kitchen.
There is certain magic on the island where things just seem to fall into place with little effort.
Every time Larry and Bill thought they had reached a roadblock, it was magically fixed. No one to run the café; a trio of young visitors showed up just at the right time and committed to stay there thru the summer. Not enough money to pay the electric bill; an anonymous check for the exact amount would show up in the mail.
In less than a year, the goal of serving  "fearless optimism in a bowl" had been reached.
The first winter program was popular with the year-round residents. Redefining what a soup kitchen is, the CG offers wholesome, healthy meals, cooking classes and special events with local live music. The cost is by-donation and completely run by volunteers.
The following summers The Common Good cafe tried serving lunch and dinner. However they were barely making enough to cover their expenses.
Then an a-ha moment occurred. They needed to simplify. Popovers were the answer!
People who have been coming to Mount Desert Island regularly think about eating two things when they come to visit: lobster and popovers. The popover is the American version of a popular English food, Yorkshire pudding. They are simple to make and look like big, fluffy muffins. Light in texture, they are typically eaten with butter and jam.
The popovers were an instant hit.
Currently gearing up for the fifth summer season, they will be serving popovers and a few other breakfast items. The cost is still by-donation and completely run by volunteers.
The Common Good has become a place where the body, mind and spirit of the entire community are nourished. But they still haven't reached their ultimate goal: to change people's food habits and move them in a healthy, local, do-it yourself direction.
Eventually they would love to have a garden on the property to give chefs the freshest ingredients. They would like to offer more cooking and health classes, more events and concerts, and start a co-op and a store where people can purchase affordable, fresh ingredients to take home and prepare.
And it will happen, no doubt with a little help from the island magic!
For more information visit their website. Originally published on April 3, 2014 on Food Politic.
Love elephant and want to go steady?
Editor: Catherine Monkman
Photos: The Common Good