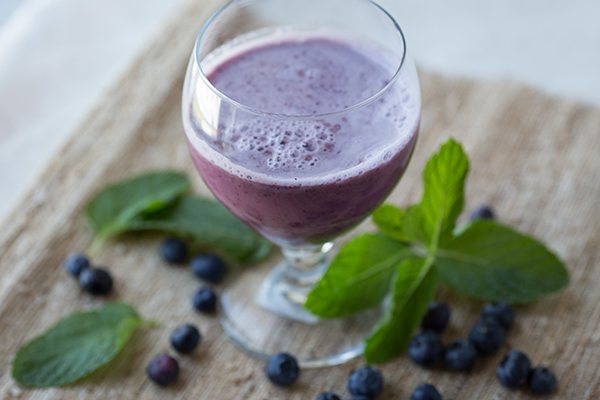 Berries are known to be high in antioxidants and fiber; they also contain cancer-fighting properties.
Organic blueberries have been proven to contain more beneficial qualities than conventional blueberries. Organic berries, along with healthy fats from coconut meat and coconut water, will take your potassium and magnesium levels up a notch while decreasing your LDL (low-density lipoprotein) cholesterol.
Just one cup of this yummy berry drink a day goes a long way.
Serving size :1
Prep time : 5 mins
What do you need?
1 cup coconut water
1 cup blueberries
1 banana
3 to 4 Medjool dates, pitted
½ cup coconut meat
½ cup fresh mint leaves
What do you do?
Using a high-speed blender, add the coconut water and blueberries. Give the mixture a few pulses.
Add the bananas and dates followed by the coconut meat. Blend until smooth.
Variations
Use any kind of nut milk in place of coconut water.
Love elephant and want to go steady?

Apprentice Editor: Kim Haas/Editor: Catherine Monkman
Photo: Courtesy of author