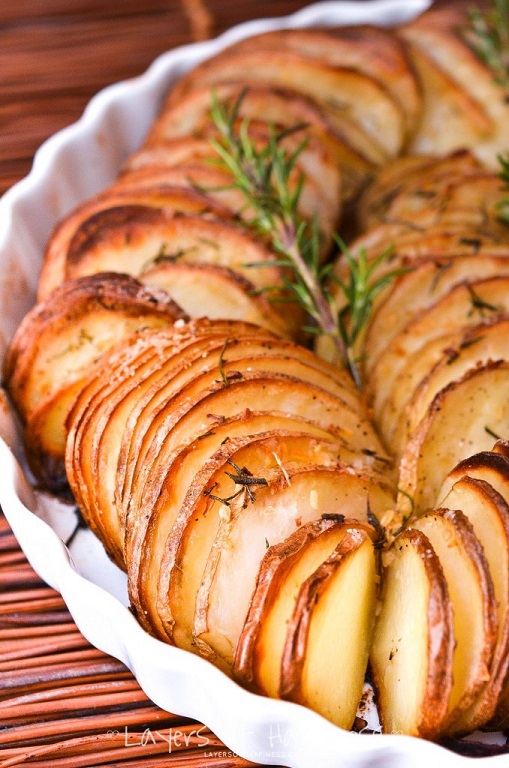 "A Recipe Has No Soul.  You As The Cook Must Bring The Soul To The Recipe." Thomas Keller
Everybody loves potatoes, right?  Baked potatoes and French fries are what we know to be the quick and easy potato side dish of everyday life.
But if you ask me—they lack soul.
I decided to add some life to our go-to potato dish—and what we got was something that was just too good to keep to ourselves.
This easy potato side dish has pizzazz, depth, and some spice of life.
It is also the easiest and best looking broiled potato dish you will ever make.
Move over neighbor who always comes up with the best dish—I have taken your spot!
Ingredients:
4-5 Large Baking Potatoes (If you can get Idaho potatoes—lucky you!)
Olive Oil (4-6 Tablespoons)
Sea Salt (1-2 Tablespoons)
Black Pepper (1-2 teaspoons)
Fresh Rosemary (2 Tablespoons)
Fresh Parsley (1 Tablespoon)
Fresh Thyme (1 Tablespoon)
Parmesan or Romano Cheese (1/2 Cup)
Dried Minced Onion (3 Tablespoons)
First things first—wash and dry the potatoes (it's important that the potatoes are dry).
Thinly slice the potatoes. I recommend getting them as thin as you can.
Arrange the thinly sliced potatoes in a shallow dish that has been sprayed with Pam or glazed with olive oil. Try to keep the potatoes together because that will create the beautiful symmetrical look you see in the pictures. Remember: you eat with your eyes!  Pretty is important.
Sprinkle the 3 Tablespoons of Dried Minced Onion over the potatoes
Sprinkle 1-2 Tablespoons of Sea Salt (use your taste preference)
Sprinkle 1-2 teaspoons of Black Pepper (use your taste preference)
Drizzle about 3-4 Tablespoons of Olive Oil over the potatoes
Bake at 425 degrees for 45 minutes (or medium broil on second shelf)
Sprinkle the herbs over the potatoes (if you don't have fresh (if you don't have fresh you can use dried—but we all know fresh is best with herbs and a lot of other stuff in life!)
Add an additional Tablespoon of Olive Oil if necessary (don't be afraid to give it a little sprinkle of olive oil throughout if they need it).
Cover the potatoes with the Romano Parmesan Cheese
Cook for an additional 15-25 minutes (depending on desired crispiness-if at any point you are satisfied with the crispiness but need additional cooking time just cover it with foil for the remaining minutes)
Garnish your plate with sliced lemon and fresh rosemary sprigs to deliver the final touches of love.
And there you have it—some "Soulful Parmesan Potatoes" to serve with your next dinner. Be prepared to take the night off—just promise you will make them again and they will be cleaning the whole kitchen for you!
Love elephant and want to go steady?
Apprentice Editor: Kristin Monk / Editor: Catherine Monkman

Photos: Courtesy of Author