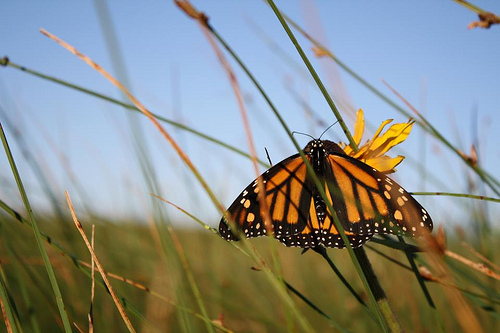 Update: Seven Native American tribes in Oklahoma join forces to provide habitat and food on their lands to help monarch butterflies (reuters.com) More from Reddit: 
~

No doubt. I recently planted milkweed all over my backyard since monarchs migrate through my area, and these plants are their food source.

Come to think of it, I didn't see any butterflies during a recent trip in late February to a spot just south of Cancun, Mexico.
Iguanas? Yes, plenty. I could put together a scrapbook of iguana pics.
Some bugs? Yes. The family and I nursed a few insect bites after our trip.
It turns out that I shouldn't expect to see many butterflies in Mexico. For one, they hibernate near volcanoes in Central Mexico from December through March.
But more importantly, their populations have been plummeting in that part of the world, nearly to the point of ecological genocide.
It hasn't always been this way. Back in the 1970s, there were millions of butterflies in Mexico City. That's about 1,000 miles to the west of where I roamed earlier this year.
Monarchs migrate over long distances across North America and spend winter in Mexico (kind of like U.S. tourists during the cold months).
To prove this, a zoology professor and his family tagged a butterfly in Toronto, Canada in the 1940s—more than 2,500 miles from Mexico City. Decades later, in 1975, the zoologist found one of the tagged butterflies in Mexico City with the help of his family and a couple of citizen scientists. The story is detailed in a documentary called  "Flight of the Butterflies."
The David Suzuki Foundation says monarch populations have averaged about 350 million over the past 15 years. This year, their numbers are down to 33.5 million.
So what's happening?
The foundation attributes the decline to global climate change, along with illegal logging in Mexico and herbicide use on genetically modified crops in the U.S. (miles away).
Thankfully, Mexican and U.S. leaders are doing something about this problem. Mexican President Enrique Peña Nieto and U.S. President Barack Obama were among those to agree in February to establish a working group to ensure the conservation of the monarch butterfly.
Reportedly, Mexico is working to address the logging issues and the U.S. and Canada aim to address the effects of that herbicide. In the U.S., large farms have been planting corn and soy that are genetically modified to resist the herbicide best known as Roundup. That stuff kills other plants, including milkweed—the monarch caterpillar's only food source.
Here's where it comes back to people (like those from the U.S. who visit Mexico). Citizen scientists are being recruited to help with the monarch conservation effort.
One way to get involved is via Monarch Watch, the organization that grew out of an association started by that zoologist who found the Toronto butterfly in Mexico City in 1975.
Monarch Watch includes classroom resources, student-scientist research projects and information about building monarch way stations, raising monarchs and planting milkweed and butterfly gardens.
The U.S. Monarch Joint Venture website also offers resources for regular Joes and Janes to track migration, count butterflies and monitor larval populations and disease for monarchs and other butterflies.
The David Suzuki Foundation (whose recent email turned me on to this issue) also has a "what you can do" page that's worth checking out.
The next time I'm in Mexico, it would be great to see a monarch, or more.
Love elephant and want to go steady?
Apprentice Editor: Celeste Shea / Editor: Catherine Monkman
Photo: Flickr