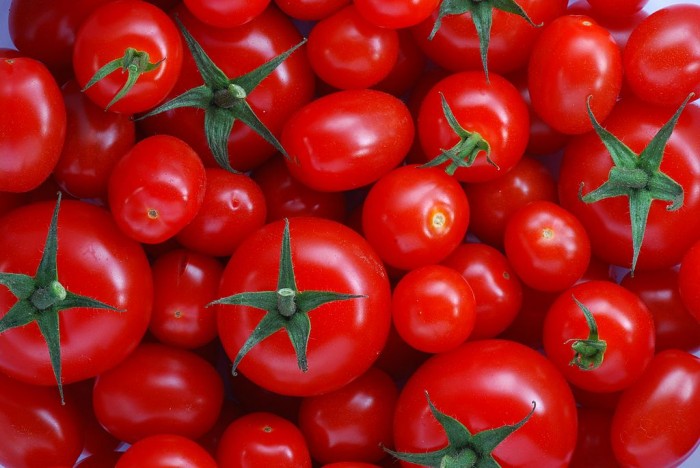 Red Sauce, Marinara, Spaghetti Sauce, Pomodoro, Sunday Gravy (if you live in Philly)—all different names for pretty much the same wonderful thing.
Nothing can compare to a fresh, homemade, Italian tomato sauce that's stove simmered, chunky and redolent with fresh herbs, fragrant olive oil and garlic. For the uninitiated, making homemade sauce might seem intimidating, but don't worry.
Anyone can easily and quickly whip up a good sauce.  I can and I'm not even Italian!
Any Italian Nonna will tell you that the big secret to good sauce is using the best ingredients. It's that simple. Find the best quality tomatoes, fresh or in a box, use good olive oil and sea salt, crack your own black pepper, splurge on a great, fruity olive oil and really, that's about all there is to it.
This is probably my most flexible recipe. It's nearly impossible to screw up.
Basic Italian Tomato Sauce
This recipe makes enough for about a pound of pasta, but since the recipe is so flexible, expand it as needed.
2 Tablespoons olive oil
2 Tablespoons butter (or vegan margarine or just add extra olive oil)
1 small onion finely minced (about half a cup)
2 cloves of garlic, pressed or very finely minced
Pinch of crushed red pepper flakes
2 14 oz boxes of best quality chopped tomatoes in tomato puree (like Pomi but there are many others) OR 8-10 fresh, very ripe tomatoes which have been peeled and chopped. You don't want a bunch of tomato skins in the sauce if you're using the fresh tomatoes.
1 Tablespoon of Balsamic Vinegar
¼ cup fresh Italian parsley chopped
A handful of fresh basil leaves chopped
Sea salt and freshly cracked black pepper to taste
Raw sugar or Agave to taste OPTIONAL
1 small can (8 oz) organic tomato paste OPTIONAL (Real Italians are flipping out reading this. I know, I know. Sometimes I use it and sometimes I don't. If I want a thicker, heartier sauce such as for pizza or lasagna I might add it, but for a plate of spaghetti I leave it out.)
In a large skillet with high sides, heat the olive oil and butter until the butter melts. Add the onion and sauté on medium heat, stirring occasionally until the onions are a light golden color. You want them almost caramelized because this is where a lot of flavor comes from.
Add in the garlic stirring constantly. Do not let the garlic get even a little brown!
Quickly add the crushed red pepper and chopped tomatoes and stir to combine. Swirl in the balsamic vinegar, parsley, salt and pepper and continue to simmer on medium for about ten minutes, stirring occasionally.
If you are using tomato paste, stir it in now and mix until all lumps are gone. Next, taste the sauce and if it is too acidic, balance it out by adding a small amount of sugar or agave if needed. This step usually depends on the tomatoes. I rarely need to sweeten my sauce, but once in a while the tomatoes are too tangy.
Toss in the chopped basil right before serving to retain its flavor.
That's it! Sauce is ready!
Variations:
Add a half cup dry white wine with the tomatoes.
Sprinkle in capers, pitted Kalamata olives and chopped hot peppers.
Use a few tablespoons of chopped, fresh oregano instead of or in addition to the basil.
If you are a meat eater, add in some cooked, sweet turkey sausage.
For a pink sauce, stir in a cup of heavy cream at the end and heat through. Pink sauce is amazing with a cup of fresh or frozen peas included at the end of cooking.
Cheese fans like me can also throw in a half cup grated parmesan and let it melt throughout the sauce.
Those who prefer a smoother sauce can puree it to the desired consistency with an immersion blender.
Love elephant and want to go steady?
Editor: Renée Picard
Photo: Wiki Commons