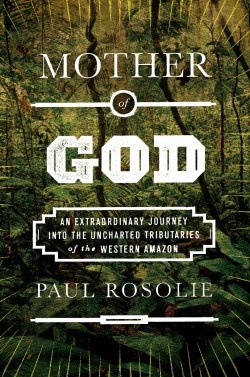 "Before he died, Santiago Durand told me a secret."
So begins Paul Rosolie's book Mother of God, a chronicle of his solitary expedition into an area of the Western Amazon "where humans had never been," as well as a description of life in the jungle.
Rosolie broke the accepted tenets of life in Amazonia by venturing out alone, but he describes how he tried to become one with the jungle, starting with honoring it.
"When you are in it, you're part of that system, part of the food chain."
A native of New York, naturalist and explorer Rosolie found work at the Las Piedras Reserve in Peru. He decided to make his solo trek into the jungle based on intuition.
 "I knew it was a journey I had to make, and I knew I had to make it alone."
This account is about Rosolie's journey on multiple levels, physically as well as mentally. Is there still room in our computerized, sanitized world for pure, raw exploration?
For Rosolie, the answer is yes. He describes rich experiences in the Amazon's colorfully named region of Madre de Dios, or Mother of God. From an encounter with a jaguar who "hadn't come for blood" to a meeting with a tribe that had never seen outsiders to a ride on a giant anaconda, Rosolie tries to bring the secrets of his beloved jungle land to life.
He does so with a blend of humour and heart. In one chapter, Rosolie tells about a baby giant anteater he and some friends rescued and subsequently named Lulu.
"She was a monster. On the boat trip upriver Lulu had quietly latched on to Noel's thigh and barely moved for two hours while he broodingly turned the pages of Heart of Darkness."
The small infant found her way onto Rosolie's back, and then he urged her onto his chest and lay down on a hammock.
"Lulu grunted and purred as I stroked her…Together the anteater and I slept. It was the start of a rare and profound relationship…"
But the book is not just filled with sweet tales. Rosolie also includes a chapter on the heartbreaking activities of poachers. A section of color photographs allows readers to see images of people, places, and even the baby giant anteater, Lulu, about which they are reading.
Overall, for anyone interested in nature, ecosystems, and preservation of environment, species, and untarnished societies deep within the jungle, Rosolie's account of his experiences in the Amazon, praised by naturalist, preservationist and explorer Jane Goodall, should be a worthwhile and satisfying read.
Note: elephantjournal.com received this book free, in return for a guarantee that we would review said offering. That said, we say what we want—good and bad, happy and sad.
Love elephant and want to go steady?
Editor: Rachel Nussbaum
Photo: Mother of God