"My hips could cut butter ritenow only I dont touch the stuff"
Bonus: The 7 Types of People at Coachella (funnyordie.com)

"My friends and I have a running 'joke' about getting our #CoachellaBody ready. It basically means looking as hot as possible so we can wear as few clothes as possible with as much confidence as possible."
This year introduced a new, risible entry to the cultural lexicon: "The Coachella Diet."
Let's remember: we're hot when we're healthy, and we're happy when we've learned to accept ourselves. Dieting won't help.
I VIP'd at Coachella a few years back, and reported on it extensively. While there's nothing wrong with getting healthy and shedding winter weight before a trip, so to speak, let's stick with moderation. You're gonna need to be strong and healthy, inside out, if you're going to have the energy to rock Coachella.
~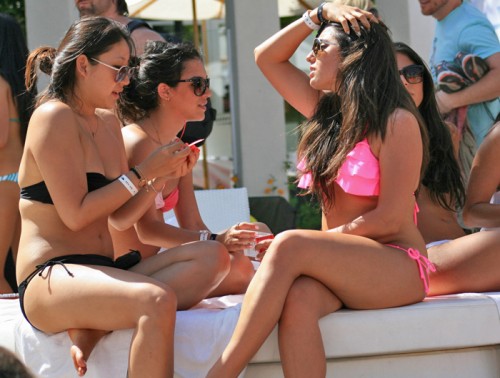 Vicodin, Bumps, Green tea, Juicing & Parliaments:
"There's more competition style-wise now," 22-year-old Kyla Rae, who will be headed to the fest for her seventh time, told the health blog Well + Good. "The number of Coachella virgins increases every year, and, if anything, they're really into the image aspect."

Indeed, in order to squeeze into the midriff-baring, boho-chic outfits (bikini top, denim/khaki booty shorts, floral headdress optional) favored by female Coachella attendees, many young, image-conscious women have taken to juicing, crash-dieting, or drastically increasing their workout regimens in the days leading up to the party in the desert. The Coachella Diet even has its ownTwitter handle, and just this year, Kirsten Potenza and Cristina Peerenboom, creators of the Pound Rockout Workout, introduced "Cut By Coachella," a 30-day workout calendar for people headed to the fest with prizes for participants.
Thank god for the satirical twitter handle, reinjecting some perspective and humor into such seriously depressing "trends." 
It's so good. And, bad:
Just purchased size 0 jean shorts, a teeny bikini & an Indian headdress. Just need to fit in any of this by Friday #coachella #coachelladiet

I've reached a whole new form of desperate. #coachella

So, if you're a fat chick & you go to Coachella, what's the point? #coachelladiet

So, if you're a fat chick & you go to Coachella, what's the point?
 For more: Hipster Runoff:

The Molly Stand is gluten-free: