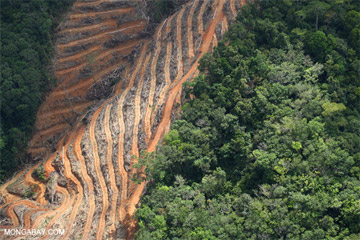 update: Orangutan experts plead for Australian food manufacturers to reject palm oil – Apes, elephants, rhinos & tigers at dire risk if unsustainable palm oil plantations allowed in Sumatran reserve (theguardian.com)
If a key ingredient of vegan cheese is solidified vegetable oil (which could be palm oil) and raisins can also be coated in vegetable oil, would vegans be better off eating organic dairy cheese, from a local farmer?
If you know the cows, or better, have your own, I would argue this is potentially more of a vegan option than funding companies which are in turn purchasing conflict palm oil for use in their vegan and cruelty-free products.
The key is locally sourced. If we are buying organic raisins from grapes in the US, and they are coated with vegetable oil, we need to contact the company from whom we purchased those grapes to ask where their oil came from. If it is any kind of palm oil, it is leading to rainforest destruction and the extinction of many wild animals, along with their habitat, and the sad truth of poor working conditions for labourers.
And let's not forget soil and water pollution from pesticides and fertilizers.
Indonesians have been driven from their homes to make way for palm plantations—most of these plantations are not owned by Indonesians but by foreigners, so the profits are taken out of the country.
100 years ago, there were thought to be 315,000 orangutans in the wild. There are now less than 6,600 left in Sumatra, and less than 54,000 in Borneo. (Please read more here). It is thought that Sumatran orangutans may be the first Great Apes to become extinct unless we help to protect them.
We need to be informed consumers.  All of us.
We are getting more comfortable with asking what that 10-syllable ingredient is in our snack and whether it is good for our bodies—I suggest we also make ourselves aware of what that vegetable oil really is—whether it is good for our environment.
If we eat a diet of locally sourced foods, not out of packet, we are doing ourselves and the environment a favour. But very few of us, me included, can survive in the modern world without the random vending-machine or kiosk snack.
Even if our diet is impeccable, we must look at our cruelty-free lipstick, our 'soap-free' soap. Do these contain the mystery ingredient—vegetable oil or palm oil? We are the buying public, and we have the right to ask from where ingredients are sourced.
A public pressure campaign in Norway successfully led to the country reducing its palm oil consumption by two thirds in one year—in 2012, eight major food producers cut their use of palm oil by 9,600 tons (Please read more here).
I have seen products now, such as meridian peanut butter, with stickers saying contains no palm oil.
This is the future course I am envisaging.
Similar to the cruelty-free bunny we are all now familiar with from 'against animal testing' products, a symbol featuring a happy orangutan in its tree saying free from conflict palm oil would be a sign we are progressing towards a happier and healthier world for us all.
Love elephant and want to go steady?
Apprentice Editor: Melissa Horton/ Editor: Catherine Monkman
Photo: Rhett A. Butler