"Aspirations are powerful. All our conditions in this life—what we are and where we are now—are due either to positive or negative aspirations. Cultivate the altruistic motivation to liberate all sentient beings from suffering and to achieve enlightenment; this is called Bodhicitta."
~ Chhoje Tulku Rinpoche
Waylon chats with Chhoje Tulku Rinpoche at Hotelephant in Boulder, Colorado, about karma, teaching children compassion & how enlightenment requires a sense of humor.

More: Laughter is the Answer—an interview with Chhoje Rinpoche:

Elephant is psyched to be working in partnership with Google+ on our new live video series, which features three live videos a week (that can be watched later, too).


Info from Venerable Lama Chhoje Rinpoche's website:  Chhoje Tulku Rinpoche is a classically trained Buddhist meditation teacher who has been teaching in North America, and to western students around the world, for over 26 years. He understands the way Westerners think and feel, and the challenges faced on a daily basis. His humor is infectious, and he has a delightful way of opening people's hearts, and sparking access to the state of mind that makes things workable. Some people, when they are interested in an area of study, like to check out the teacher's background and qualifications. Lamas have resumes that go back further than the ones we can normally access. The word "Tulku" denotes that he is a "reincarnated" Tibetan Buddhist Lama, which means that he was recognized at a young age by very high Lamas as the reincarnation of the previous Chhoje Rinpoche. In fact, he is the eighth in his line. (As a point of reference His Holiness the Dalai Lama is the 16th in his line.) The high Lamas come back again and again with the sole focus to benefit beings, and provide guidance on the path to enlightenment.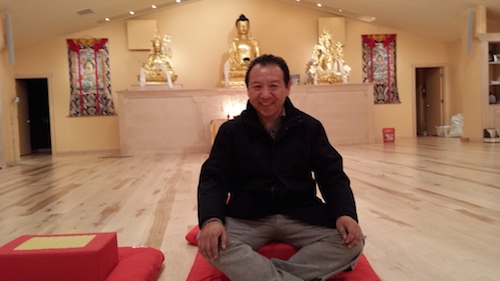 Rinpoche was born in Ladakh, a Himalayan region which is in the northern most part of India.  Rinpoche is the lineage holder of both the Nyigma and Kagyu schools of Tibetan Buddhism. These are the oldest schools of the form of Buddhism that flourished in Tibet, beginning in the eighth century when Padmasambhava brought the Buddhist teachings to the roof of the world. Drawing on this long history of traditional study and practice, Rinpoche is highly qualified to make these teachings relevant and completely applicable to our lives today. Opening the new Padmasambhava Meditation Center in Denver, Colorado is the fulfillment of this intention. One of the most unique aspects of Tibetan Buddhism is that there is a very special relationship that gets cultivated between teacher and student. We have guides in our lives in the form of mentors, parents, friends, partners or employers who help us in life, but a Lama is quite different. One can relate to the Lama as a spiritual friend, or go even deeper than that. When a student commits to their spiritual practice and takes "refuge"—and renews that dedication on a consistent basis, the Lama is there with amazing encouragement, love and compassion to guide them on their way, and direct them to do specific meditation practices that are perfect for their mental/emotional makeup.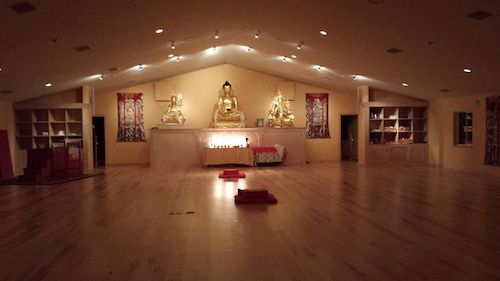 Padmasambhava Meditation Center, in University Park, is a place for people from all walks of life to come and learn how to meditate, (and for those who are more experienced meditators, it's a great place to deepen their current practice). For those who are interested and curious, it's a place to learn about Buddhism. The teacher and the community are dedicated to helping people experience the many benefits of meditation. In the course of our daily lives, we often get distracted, scattered, and pulled in different directions. So why meditate? Chhoje Rinpoche says,
"The purpose of meditation is to enable our mind to be focused and grounded, to find the stillness and clarity of our basic sanity. The clarity of the mind can only come when the mind is in calm. It's like a glass of water filled with swirling mud or sediment. When you leave it alone and let it settle, the clear water rises to the surface. When the water is clear and calm, only then can we see through it.  Like that, when we learn to practice meditation, we experience clarity and stillness, and we can access our basic ground, our basic goodness."
At the center, Rinpoche teaches meditation and offers Dharma talks and personal guidance to students. The center is also open to those who want to take time out of their day to meditate on their own. For more information, visit their website, email them or find Chhoje Rinpoche on Facebook and Twitter.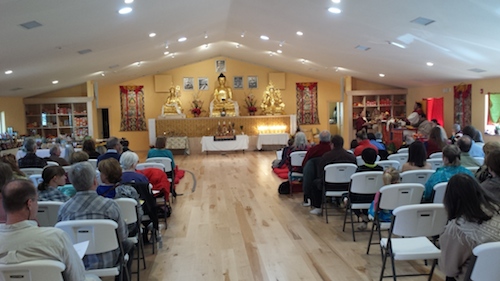 For the first word on our new videos each week: subscribe to Walk the Talk Show. All videos free!
Hangout with elephant on Google+ every Monday, Wednesday & Friday at 12 noon MST.
Editor: Rachel Nussbaum
Photos: Chhoje Rinpoche