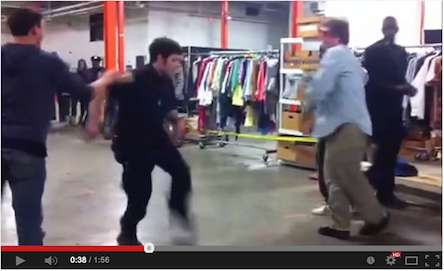 Shoot, update via the remarkable community that is Reddit:
"Hah, this is awesome. The "cop" is my brother. Hate to be a buzzkill, but he's actually a long time bboy and also works as a stunt double. This happened on a movie set, my brother was as a stunt double playing an NYC cop when he saw a circle on the set and had to jump in.

He goes by Bboy Elusive. Here's a video of him on Americas got Talent a couple of years ago (there are a ton of videos of him out there, I picked this one because he does that same backwards worm move):https://www.youtube.com/watch?v=RCiw3BVj34U

I told my brother that I'd linked to an old AGT video and he was not impressed with my selection… he asked that at least post some "battle footage" so I dug this up as well: https://www.youtube.com/watch?v=Qr-HiNLLbYM
"AMAZING !! STREET PERFORMER BATTLES NYPD COP TO STREET PERFORM" "NYPD Cop accepts dance battle against street artist. Cop KILLS it!" (youtu.be)
Relating directly with community, with humor and play, not just bad consequences, is key to any force that truly wishes to "serve and protect."
Relephant: 
Canadian Police Officer Discusses Freedom, Yoga & the Bhagavad Gita
A Police Officer with an Exquisite Practice
Boulder Police Officer poaches Trophy Elk downtown for meat, horns, lies, breaks laws & fails to file report.
Love elephant and want to go steady?