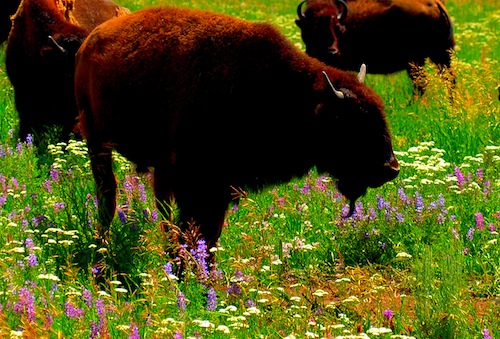 Yellowstone National Park is home to one of the largest super-volcanoes in the world.
In recent weeks there has been earthquakes in Chile and Los Angeles area. These earthquakes measured 6.1 and 5.1 on the Richter scale respectively. Yellowstone Park experienced a 4.8 earthquake earlier this week.
Although there is increased seismic activity in Yellowstone, due to recent West coast earthquakes, scientists are not worried about the Yellowstone supervolcano erupting any time soon, probably not even in our lifetimes.
Why all the current hype about the impending eruption of the supervolcano on the Yellowstone Caldera?
It's due to a naturalists' video of buffalo "running for their lives" that's gone viral on YouTube. Sensationalists believe the wildlife behavior in Yellowstone is indicative of the impending doom of volcanic eruption.
Scientists and Yellowstone locals alike explain that the buffalo run up an down the highways often and it's simply currently migration season.
Although there is no foolproof way to predict when the main volcano in Yellowstone may erupt, this incident is a good reminder that Mother Nature is always in charge, and we are humbly at her mercy.
In the meantime let's enjoy some lovely shots of Yellowstone's Bison in all of their glory.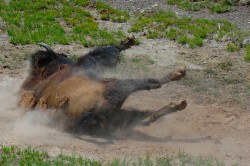 Love elephant and want to go steady?
Editor: Catherine Monkman
Photo: Andrew Wyatt