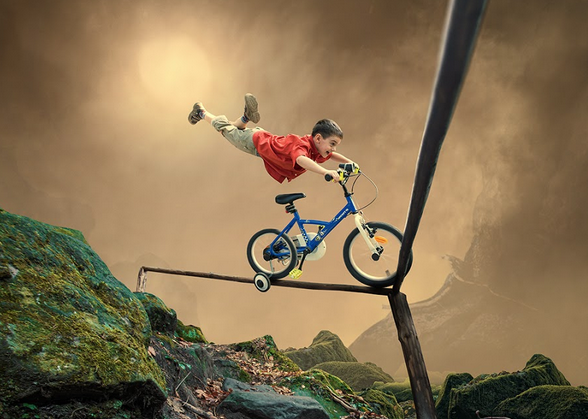 What works for other people rarely seems to work for me.
Some may think I don't follow directions or that I'm purposely sabotaging myself. Perhaps, it's true. In those moments, when I'm unaware, with my mind racing for the finish line.
Often, all the magical tricks, statements and cures for whatever has ailed me, seemed to never last long or produce the desired results. It's lead me to stop my actions, my thoughts and my instructions at the moment of discomfort. The feeling of disconnection from myself is something I can't ignore.
Most of us want an instruction booklet to get through life, so we know how to do it right, as opposed to floundering and making mistakes. We look to many resources outside of ourselves and wonder if we follow what we're told, will we achieve what we want?
If anyone is like me, they may find it's hit and miss.
As a kid, I remember feeling a disconnection with the world outside of me. The only real connection I had was to the fantasies I created in my head, my headphones, to the books I read and the things I drew on paper. I remember getting angry with other people who wanted me around them, because I preferred my fantasies instead.
I used to escape and live in my own world, but at the same time there was the extraverted qualities I possessed, which took me to the other extreme of making my mark. The rules that applied to many, I felt didn't apply to me.
So, what about that instruction booklet handed down from generations past? It doesn't belong to us. Our predecessors made the rules up as they went along too.
And if these rules all worked, wouldn't it be reflected back to us in this world?
Some of us are so busy trying to gain validation by doing what's right and following these rules, that we lose our inner connection. We miss the messages of our own intuition.
True success is about existing without any rulebook and the limitations it creates.
An easy way to tell if we're just following the rules and ignoring our inner urge is to check out the level of dissatisfaction we have in our life and the action we're taking in the moment.
I feel pain in my gut when I'm doing things for any other reason than creation. The discomfort is hard to ignore. The outpouring of energy leaves me feeling depleted. It also makes me feel anxious, tired, cranky and wanting to cry. As though, I'm trapped and can't break free!
Ignoring our intuition, in essence, is denying acceptance of who we are, and what really makes us tick. It continually leads us to this sum of zero fulfillment.
Here are three quick tips on breaking rules to live a fulfilling life:
 1. Recognize your truth.
Don't lie to yourself or tell a story, so you can continue to live against your own grain. If you work at a job you hate, ask yourself the truth in why you're there. If you don't like your partner and remain in the relationship, ask yourself the truth of why. Whatever it is that makes you stuck in unwanted circumstances, ask yourself why you keep choosing them—what's at the base of your actions?
2. Make decisions that feel good.
Easier said than done. When you slow down your actions and get in the present moment, a whole lotta emotion will more than likely greet you. It's time to make decisions, which don't cause your gut to clench up and unmake decisions, which do. Put your big girl and big boy pants on to create the life that feels good to you! The fallout you receive from displeased people in your life may require this upgrade of underwear.
3. Take Action
Don't just think about it or say it, do it! I spent so much time fantasizing when I was younger, about ideas that my confidence never embraced. My insecurities remained in place, because in thinking, I didn't get to the doing and creating; therefore, I missed what grows confidence. I was busy following the rules that I disdained. Action grows confidence!
When anyone takes action, it may or may not work out, but if the intention behind it is connection to fulfillment, guaranteed it's a chance to learn, grow and become who we've always been!
Love elephant and want to go steady?
Editor: Renée Picard
Photo: Caras Ionut on Pixoto