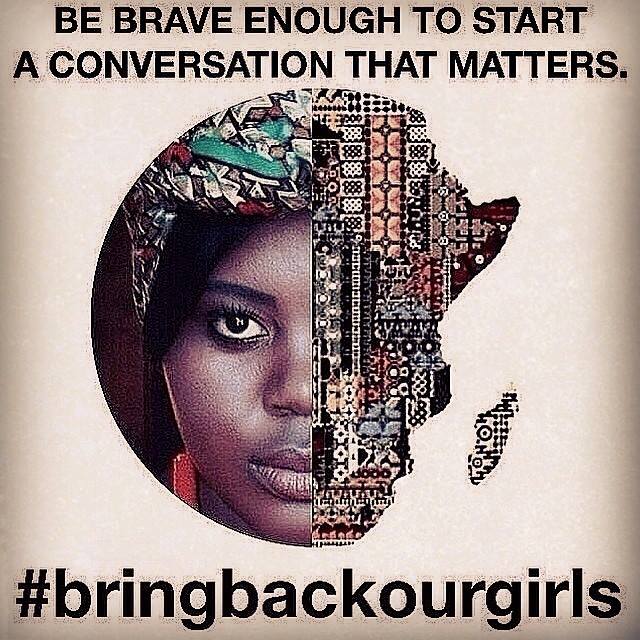 I was struck dumb by the announcement, just over two weeks ago, that 276 Nigerian school girls had been abducted from their classroom in the Northern part of the country and hadn't been heard from since.
At first the news felt whispered.
At the time, Donald Sterling (the ex-LA Clippers owner) was just getting ignominiously fired for being racist (on tape), and the world seemed tired from having watched, with bated breath, another international tragedy of unspeakable proportions (I refer to, of course, Malaysian Flight 370). Attention was already elsewhere.
It didn't seem like there was even enough room in the media for a news item such as this.
How does one come to grips with the idea that a group of people came into a school, guns held high, making off with that many young girls?
Disappearing them.
Because that is what they did.
I want to stop and take a moment and let us all feel the weight of that number. 276.
276.
Amid reports today that Boko Haram made off with 11 more—there could be as many as 288 children missing. To try and put that to scale—if there are 30 children per classroom, as I know there are often in Western classrooms, that is 9.6 classes gone.
That is a middle school.
That is a middle school, that is an entire section of a sports arena, that is, in some cases, a small town.
Gone.
There are rumours, of course, that slowly, excruciatingly become potential fact. That those girls were sold, for as little as $12 "a head" to a neighbouring country as wives. That they are being held in the jungle. That two have died from snake bites and 50 have escaped. That several are injured.
In three weeks, the Nigerian government has been unable to locate and rescue them. The US government, and more lately, the Canadian government, (and I'm sure, others) has offered financial and military resources in order to get them back safely.
But why now? What took so f***ing long for the international community to sincerely reach out and offer help?
Underneath it all is the (not new) notion that black girls are more disposable than any other kind of human. Early on there were questions, what if 276 white girls had disappeared—would international attention have galvanized more quickly?
I think, of course, of their mothers. Their courageous, warrior mothers who are doing everything they can to get them back. Who are going deep into the jungle on search missions, even though they are warned they will be killed if they get too close. Who hold rallies in the streets outside government offices, trying to get answers. Who have helped draw international attention to this almost unspeakable tragedy.
I think of those girls.
Each of our girls is a whole person. Each of them has a name and a favourite song. Each of them knows what colour she likes the best and knows what she likes to do. Each of our girls has trouble sleeping sometimes and has their own laugh and a favourite food.
It would seem to me that the world sometimes tries to prove that yes, there are certain kinds of people more valuable than others, and that admission strikes me to the bone.
And I feel enraged, and more desperately sad than I could ever have predicted, thinking of anybody being made lost like that.
I feel helpless, as I'm sure we all do, and also I feel guilty, that I live in a country and in a skin where I am somewhat protected.
And I think what can I do what can I possibly do? What can *I* possibly do? 
The answer is I will not keep quiet. I will keep talking about them and writing about them and if all the voices of the world join together in a choir of revolution then maybe there will be some change.
Because we are all here, on this weird meteor spaceship, together.
Our souls all decided to come down and spend a lifetime with each other, learning from one another. We are linked, we are stardust family, and we are all worth the same, which is to say we are all worth a lot.
We are all connected, to put it bluntly. We need to stand up for those members of our human family who need our help.
Bring our girls home.
Bring our girls home.
Bring them home.
~
Love elephant and want to go steady?
Editor: Rachel Nussbaum
Photo: Rolling Out, via Google Images