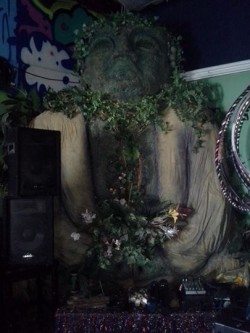 "We sit alone, the mountain and I,
until only the mountain remains."
~ Han Shan, zen hermit
What do you call a meditation teacher that has no students?
I planned to lead a meditation class. It was timed perfectly, one week before my meditation workshop at the Heartland Pagan Festival.
I initially made the plan because I wanted to practice. I am an authorized meditation teacher, but the majority of my teaching experience consists of teaching meditation to children. So, I thought practice would be helpful.
That's how it started.
The venue I went to was called the Vibe Tribe. It's a non-profit organization that hosts a number of different classes, things like poetry, yoga and fire-spinning. It's downtown, so I knew it would be centrally located and anyone could easily get there.
I had big ideas. I thought I would accept donations and make enough money to at least cover the gas for my trip there.
I thought I would make some new friends.
I'm a true believer in meditation practice. There's Dalai Lama quote that spreads around the internet sometimes. "If every eight year old is taught meditation, we will eliminate violence from the world within one generation."
I believe that is true. I believe that meditation practice can transform us and can, ultimately, lead to enlightenment.
I get excited about meditation practice and express that excitement in ways that many meditation teachers do not. And I wanted to share that excitement.
People come to me all the time and say things like, "I'd like to learn meditation from you." or "We should talk about Buddhism some time." or "We should meditate together some time."
If you tell people you meditate, maybe this happens to you too. People seem interested.
So I thought I'd create an opportunity for that. Because people say these things to me but then we never seem to follow up. I thought a lot of people might come. Not just people I know, but people on Vibe Tribe's list of friends too.
For about a month this was planned. An event was created on Facebook which I shared several times in several different places. (In the modern world Facebook is the way to get the word out, I think.) It was created about a month ahead of time, so people had time to think about it and plan their day around it if they wanted to come. In fact, eight people on the event clicked "attending." So, I thought at least eight people would come and it would be pretty good.
I thought I was going to start my own meditation group here and call it Far Out Zen. I thought that maybe I could create a weekly meditation group out of this.
So, I left the kids behind with my wife and headed to Vibe Tribe. It was a Saturday in the late afternoon. I told my wife I would probably be home around 5:30, but might be late because some people might want to talk to me after class.
I arrived at Vibe Tribe. The owner had given me the code to unlock the door and apologized that she wouldn't be able to be there. So I entered alone. I saw a big Buddha statue in the corner and thought that would be a good place to set up. I put my meditation cushion in front of it.
I put a wooden bowl that had a sticker on it that said Donations in front of me.
And I lit some incense and waited. I was 15 minutes early. I figured a few people would come a few minutes early and a few more would come a few minutes late. I waited and waited and no one came.
So I meditated alone. And then I went home.
I'd be lying if I said I wasn't disappointed. I had expectations and reality didn't meet my expectations. This happens a lot in life, doesn't it?
Many, many times in our daily lives the reason we become sad or upset or angry or frustrated is because we have expectations and those expectations aren't met. We don't see each situation on its own. We see it tinged by our expectations.
I understand that people have lives. Things come up and people get distracted and that's fine. But I really at least one person to come.
I wish I could say that I had a mind of equanimity, so I only saw a Buddha statue to meditate with in a quiet place. I wish I could say that I have cultivated the way so thoroughly that I didn't care that the situation didn't meet my expectations. But that's not the case. I was disappointed. But I can say this: I noticed it. I saw the disappointment arising in my mind and I thought to myself, "This is arising as a result of a lack of equanimity. I need to cultivate equanimity more."
That might not sound like much, but how often in life are we unaware of the reasons behind our thoughts and feelings?
Because of my meditation practice, I was able to recognize the feeling of disappointment arising in my mind. I was able to recognize that it was caused by me, not by the situation, and I was able to let it go.
So, I was able to meditate alone in a quiet place, with a giant Buddha statue, undisturbed. And at the end I felt great. I thought to myself, "Maybe next time."
One of my teachers, Karen Maezen Miller, created a list of the good qualities of a Zen teacher. She said a good Zen teacher:
1. Has no interest in fame and less than zero interest in profit.
2. Isn't an important person.
3. Doesn't recruit.
4. Waits forever.
5. Suffers despair.
6. Hopes you forget what he or she says.
7. Apologizes profusely.
8. Sits in a room with people.
9. When there are no people to sit with, sits alone.
10. Isn't hard to find.
I am going to lead another meditation class at a later time. And if no one comes to sit with me, to dwell in silent Illumination, then I will simply sit alone. I have no expectations.
What do you call a meditation teacher with no students?
A serious one.
We sit alone, the Buddha statue and I,
Until only the Buddha statue remains.
Love elephant and want to go steady?
Editor: Catherine Monkman
Photos: Author's Own