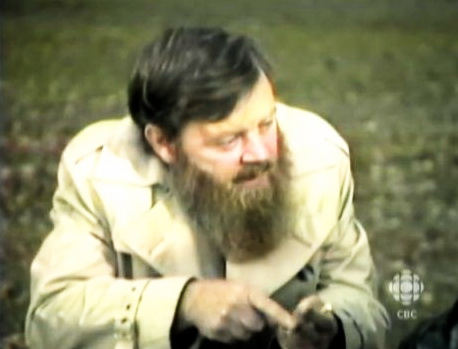 Farley Mowat (May 12, 1921 to May 6, 2014)
"Without a function, we cease to be. So, I will write till I die." ~ Farley Mowat
The world has lost a great human with the passing of Farley Mowat.
Though it's been ages since I've read what is probably his most well-known book, "Never Cry Wolf," it sits on the shelves of my fondest, most vivid early memories, along with the Anne of Green Gables, Emily (of New Moon) and Winnie the Pooh books – if you haven't guessed, these literary worlds, all entirely different, are Canadian-spun. I'm proud, as a Canadian, though I can take no credit for the good fortune of their being in the world.
Farley Mowat was a prolific writer (he wrote 45 widely-translated books, some of them children's works), a fierce defender of the environment and native Canadian rights, and often wrote about people's harmful relationship with and attitudes toward nature.
The man and his literary output often left storms of controversy in their wake. "Never Cry Wolf" (1963), for example, based on Mowat's actual experiences observing wolves in sub-Arctic Canada, presented a sympathetic view toward wolves at a time when many in the country thought they should be removed from the landscape.
Mowat was outspoken and tireless in expressing the need to restore a better balance between people and the environment, between people and their own self-perception. For this, and for the genius and poetry of his words, he will long continue to inspire.
Here is Mowat, in his own words, which so strongly reflect his passion for life, his visionary sensibility and his philosophical nature:
"Inaction will cause a man to sink into the slough of despond and vanish without a trace."
"Whenever and wherever men have engaged in the mindless slaughter of animals (including other men), they have often attempted to justify their acts by attributing the most vicious or revolting qualities to those they would destroy; and the less reason there is for the slaughter, the greater the campaign for vilification."
"We're under some gross misconception that we're a good species, going somewhere important, and that at the last minute we'll correct our errors and God will smile on us. It's delusion."
"It is to this new-found resolution to reassert our indivisibility with life, to recognize the obligations incumbent upon us as the most powerful and deadly species ever to exist, and to begin making amends for the havoc we have wrought, that my own hopes for a revival and continuance of life on earth now turn. If we persevere in this new way we may succeed in making man humane … at last."
"We have doomed the wolf not for what it is, but for what we deliberately and mistakenly perceive it to be –the mythologized epitome of a savage ruthless killer—which is, in reality, no more than a reflected image of ourself. " – Never Cry Wolf
"And this is what happened, and this is why the caribou and the wolf are one; for the caribou feeds the wolf, but it is the wolf that keeps the caribou strong."
"Somewhere to the eastward a wolf howled; lightly, questioningly. I knew the voice, for I had heard it many times before. It was George, sounding the wasteland for an echo from the missing members of his family. But for me it was a voice which spoke of the lost world which once was ours before we chose the alien role; a world which I had glimpsed and almost entered…only to be excluded, at the end, by my own self." – Never Cry Wolf
"I wonder now… were my tears for Alex and Al and all the others who had gone and who were yet to go? Or was I weeping for myself…and those who would remain?" – And No Birds Sang
"I write every day. I'm always in the process of writing my last book, until the next one." ~ Farley Mowat
Love elephant and want to go steady?
Editor: Renée Picard
Photo: screenshot