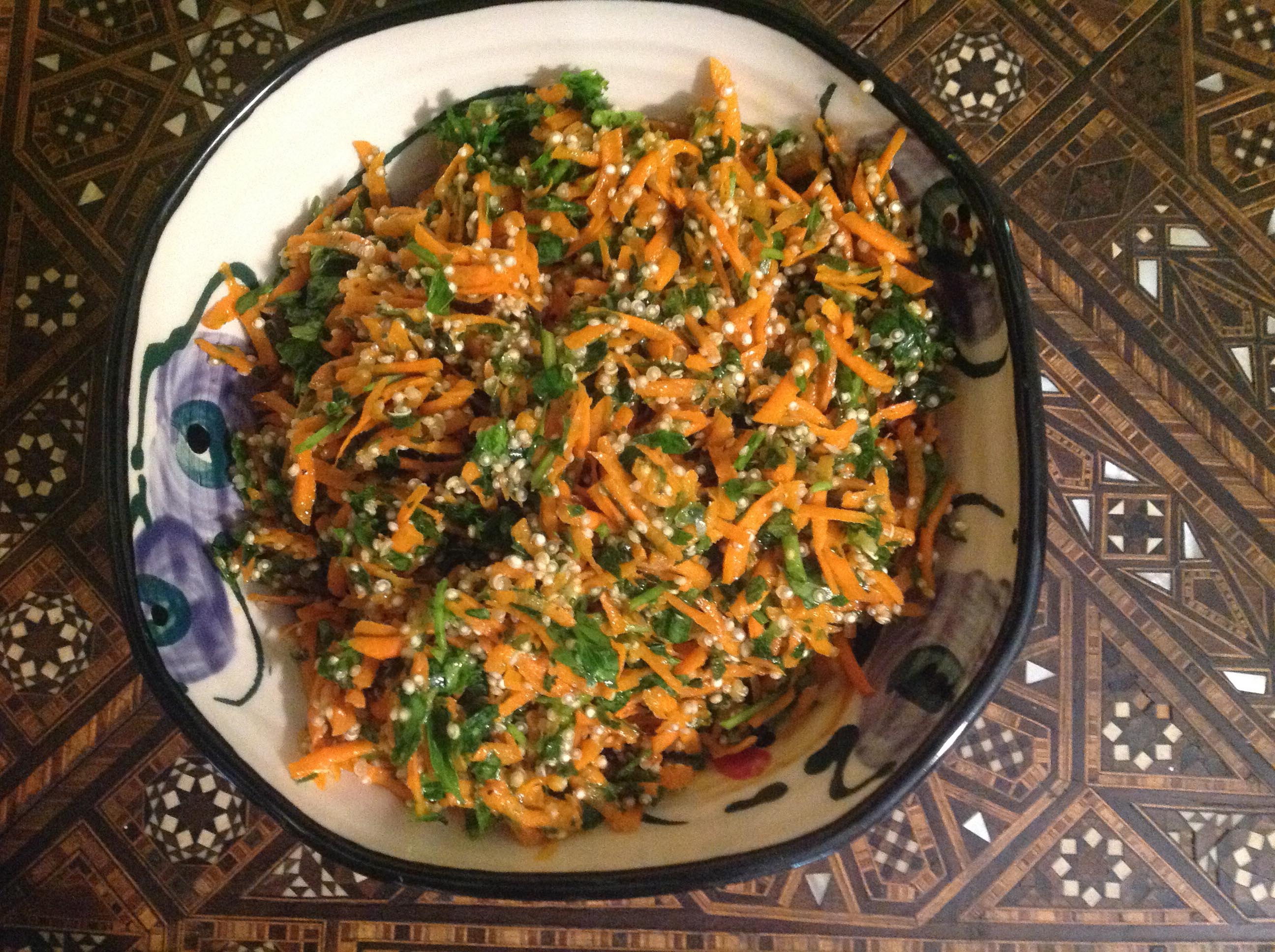 After my kids left home and I got divorced I was lost for a while. I had spent so many years taking care of others, I didn't quite know what to do.
It finally dawned on me that I could take care of myself the same way I had been taking care of others for all those years.
Some people may think that self-love is treating themselves to a long bath or splurging on a purchase. We can also love ourselves by improving care of our body, mind and spirit.
But the best self-love is extending an unconditional friendliness to yourself—exactly as you are. Once you learn to love yourself, you can extend it to others.
What you need:
Unconditional friendliness to yourself (No Substitutes!)
3/4 cup quinoa
2 bunches flat-leaf parsley
1 bunch mint
6 carrots
2 to 3 lemons (I got about 2 ounces from 2 lemons.)
2 garlic cloves
1/3 cup Olive Oil (maybe more)
Salt and Pepper
A food processor makes the job easy. (Or you can chop by hand.)
How to make it:
1. Make the quinoa by adding it to a pan along with 1 1/2 cups water. Add salt, if you like. Quinoa cooks in about 15 to 20 minutes.
2) Take one bunch parsley and roughly chop the stems and tops with a knife, add to processor and chop fine with the regular blade. You want it to be like the consistency for tabbouleh. Do the same with the second bunch. Add the mint to the work bowl and chop fine. Remove the greens from the work bowl and place in a large salad bowl. If you don't have a processor, chop all the greens finely and add to a large salad bowl.
3) Grate the carrots by changing to the grater attachment. Add the grated carrots to the large salad bowl. As an alternative, you can grate carrots by hand. Try to shoot for freshly grated carrots. It makes a world of difference. But if you are in a pinch, you could use the pre-grated carrots.
4) If you are using organic lemons you can zest one lemon and add that to the vegetables. Skip this step if the lemons are not organic.
5) Make the dressing. Replace the grater blade with the regular blade. Add the garlic cloves, lemon juice, salt, pepper and olive oil. Whiz for a few seconds until combined. Add the dressing to the vegetables. If making by hand, run the garlic cloves through a garlic press or chop finely with a knife. Add the other ingredients and whisk away. Taste and adjust if it needs more of something other than the garlic. (The garlic gets stronger as it sits.)
6) By this time, the quinoa should be done. Add it to the vegetables and dressing. Toss well.
And now for the most important step that cannot be skipped!
7) Say these words: "May I be healthy in body and mind." If you are sharing the salad, say these words afterward: "May those who eat this salad be healthy in body and mind."
This recipe makes a large healthy salad that keeps and travels well. Have it for dinner, then take the left-overs for your lunch the next day. It will free up your time so you can have that bath or go for that walk. Even better, you could relax and do nothing.
Because you are lovable exactly the way you are.
Love elephant and want to go steady?

Editor: Renée Picard
Photo: Courtesy of the Author.