Rainbeau Mars on a 21 Day Cleanse for Dummies like Waylon & Yoga Community Disfunction:
"We can't move out of our bodies. Not at least in this life time, so we might as well try to clean it up." ~ Rainbeau Mars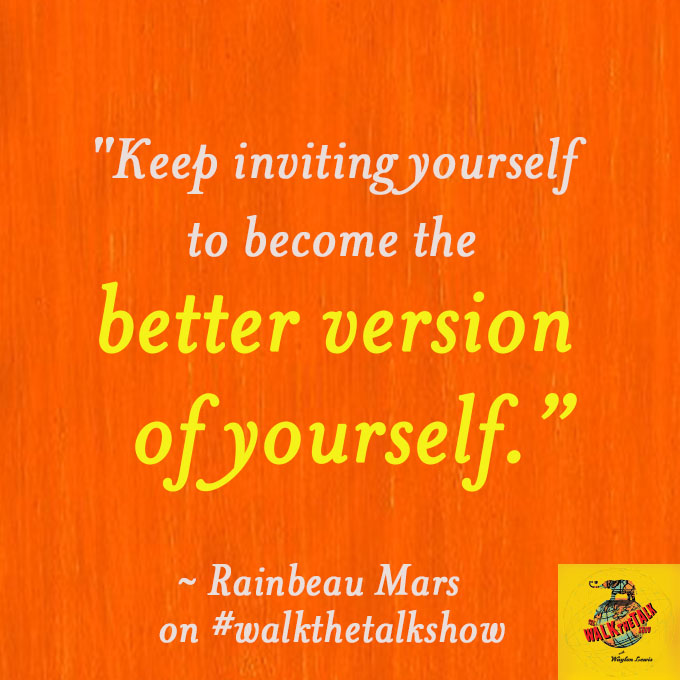 Videos from Rainbeau's YouTube channel: 
Elephant is psyched to be working in partnership with Google+ on our new live video series, which features three live videos a week (that can be watched later, too).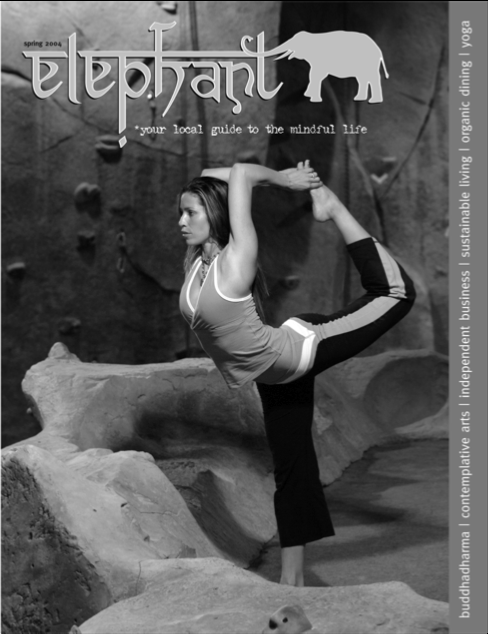 Rainbeau and Waylon go way back—they grew up in Boulder around one another, and she was featured on elephant journal's cover number eight (above).
Info from Rainbeau's site: 
From her birth under a double rainbow to her rise on the big screen, this actor, author and innovator has left imprints of her inspiring story around the world. With an irresistible glow, Rainbeau motivates and heals every time she steps into a room. She has a natural ability to guide individuals on a journey to a greener, healthier lifestyle. From her numerous magazine publications, upcoming book release, and onscreen appearances, there is a way for everyone to benefit from Rainbeau's wisdom and nurturing spirit.
Combined with her yoga series on Lionsgate BeFit Channel, and the catalog of 20 full-length workout DVDs and virtual fitness downloads, Rainbeau models her ideal regimen of how health, beauty, and indulgence can co-exist, as achieved with thousands of her clients from around the world.
Rainbeau is the daughter of author and master medical herbalist, Brigitte Mars. Rainbeau's expertise in health and yoga took shape throughout her teenage years in Molokai, Hawaii, with godparents, Dr. Light Miller, an Ayurvedic naturopath, and Dr. Bryan Miller, a chiropractor. After apprenticing with yoga gurus Chuck Miller and Maty Ezraty as well as many other amazing yoga teachers, Rainbeau began her daily practice of letting go of who she had become to be who she really is. "Through lights, camera, and activism…hoping to bring light to the dark."
Rainbeau released a new book on May 4th, The 21 Day Superstar Cleanse, A Rejuvenating Lifestyle Program To Help You Feel Younger, Healthier, & Ready to Rock the World, outlining her zero-calorie-restriction cleanse complete with a step-by-step road map and foreword by Woody Harrelson, taking readers on an adventure of food, yoga, fun and personal awakening.
Endorsements for The 21 Day Superstar Cleanse:
Oscar Winning Director James Cameron:
"Put aside the foods that pollute, destroy and harm, and eat what the mother has provided us—food that's healthy for your body and the planet. Rainbeau will show you how."
Supermodel/Entrepreneur Josie Maran:
"Rainbeau inspired me to appreciate the power of natural health, beauty, and fitness through healing and delicious foods. I am grateful to call Rainbeau one of my best friends and teachers and excited that now, you will also."
Actor David Duchovny:
"Rainbeau Mars is the rare gift in a teacher: able to lead by instruction, example, and inspiration. I love everything Rainbeau does…why don't we all give this program a try as well?"
Connect with Rainbeau Mars on her website, Facebook, Instagram, Twitter and YouTube.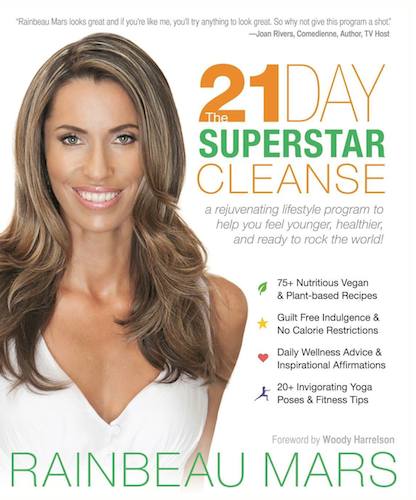 ~ 
Rainbeau's appearances on elephant journal:
~
~
We got your social mediums right heah:
Hangout on Google+ every Monday, Wednesday & Friday at Noon MST.
Listen: Walk your Talk on your commute or over dishes with Soundcloud.
Subscribe directly to our award-winning Youtube Channel.
Editor: Rachel Nussbaum
Photo: Rainbeau Mars