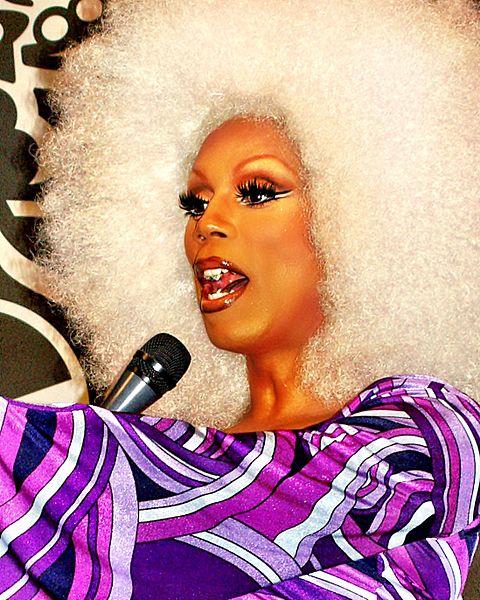 Drag is important!
It provokes us to question issues of gender, sexuality and humanity.
Drag queens get us to laugh at ourselves and take seriously the proposition that we can transform into whoever we want to be. They preach love in one breath and taking no sh!t in the next. They hold all dichotomies tight in their man-hands with glitter-painted nails.
For the first half of the '00s I taught a college-level Philosophy of Ethics class on an army base. I used To Wong Foo Thanks for Everything, Julie Newmar as the starting point for the final paper on existentialist morality. I would be lying if I said I didn't enjoy the squirming I witnessed.
We are who we choose to be and being true to that choice is the highest form of ethics.
I bet if I were to go back now, ten years later, and assign the same essay I would find people much more at ease with the topic, more open-minded and tolerant. Drag is not nearly as taboo as it used to be, and although this is due to the cumulative effort of hundreds of men in uncomfortable shoes, one guy in particular has become the face of drag today.
RuPaul just might be the most important drag queen in history. While I could gush about his amazing story, his determination, his attitude and his love, instead I will let his own words speak for him. Here are a few gems of wisdom from this incredible soul.
1. "You are born naked. The rest is drag."

2. "Whatever you proclaim as your identity here in the material realm is also your drag. You are not your religion. You are not your skin color. You are not your gender, your politics, your career, or your marital status. You are none of the superficial things that this world deems important. The real you is the energy force that created the entire universe!"

3. "[Y]ou are The Source, The One, The Big Enchilada (with an ever so temporary case of self-induced amnesia)."

4. "Maintain clarity so that you can hear stage cues from the universe."

5. "I think we are spirit. The spirit doesn't end where our bodies begin. We are spiritual beings having a human experience. Spirituality has always been part of my life, always. It's something I'm always conscious of—I breath it, it's like air."

6. "Do I give spiritual advice? All the time. Everything I ever say is spiritual advice. It's not like I'm a guru or anything, but it is the only game in town. It's the only conversation I can ever really have. As drag queens, we have taken the position of being shamans and witch doctors and people who remind the culture not to take itself so seriously. What it says on your driver's license isn't really who you are—you are something much greater than that."

7. "If you can't love yourself, how in the hell are you gonna love somebody else?"

8. "Loving yourself—it really takes a daily practice."

9. "[I]f you want to be in the flow you need to be present."

10. "Fulfillment isn't found over the rainbow—it's found in the here and now. Today I define success by the fluidity with which I transcend emotional land mines and choose joy and gratitude instead."

11. "Being kind illustrates the highest level of consciousness and deliberate optimism. Being kind says: I know the material world is an illusion and I choose to recognize the beauty, innocence, and The Source in everyone."

12. "Be mindful of your thoughts. Think peaceful and forgiving thoughts and be beautiful."

13. "The overall commentary on what I'm doing is saying, Hey look! I get to create whatever persona I want to, and it's all up to me. And the truth is, we are all basically the universe—pretending to be humans for a brief moment of time."

14. "Everybody say LOVE!"
Love elephant and want to go steady?
Apprentice Editor: Lauren Savory / Editor: Catherine Monkman
Photo: Wikimedia Commons / YouTube