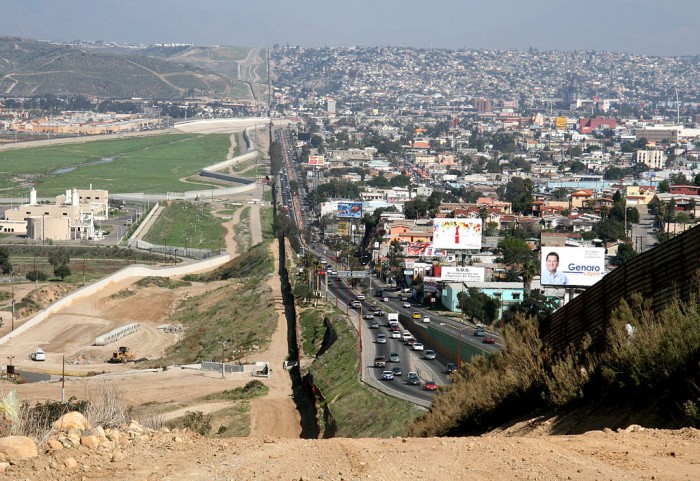 Mexico now takes the cake for me for the highest number of personal deportations.
This second time was a couple of weeks ago. I was all jolly and sassily headed down to meet up with Sadie Nardini and Leslie Kaminoff to co-teach a sold-out yoga workshop in gorgeous Tulum, Mexico.
This, my friends, was a great blessing which I was eagerly anticipating: the crystal clear waters, the white-sand beaches, the mango margaritas and fish tacos to die for.
So I was off, a direct flight from Austin to Tulum via Airtran, two plus hours, smooth as pie. But when I arrived at immigration, my straight shot to paradise took an unfortunate turn.
At immigration, the TSA senorita took my passport to the back room. Now, this is rarely a fortuitous event when it happens. But in the past year of all the promiscuous world travels I've had—whenever my sad, dog-eared little passport was evaluated as sub-par—it was usually just taken to a place where they would either input the numbers by hand into their system, or write down the requisite details.
At worst, this is usually a pain and temporal inconvenience.
Despite it's relatively wretched condition—frayed at the edges, folded and with an unfortunate ink stain covering the edges—my passport had successfully passed the demanding inspection some 8 countries in the past year.
I'd even been through Mexico just five months prior. Despite this, it was, apparently, facing at last its mortal demise.
They took me into the glass-box back room, the controles de inmigración'. There I was graciously informed that it was not, in fact, acceptable because their scanner was not reading the code. As softly as possible in that moment (though probably with a far-more-than-preferable degree of annoyance), I informed the oficial that he could just input the details by hand, as I had seen done so very many times before.
His reply, "You do not tell me how to do my job!" sparked the first pangs of panic.
He informed me that I was leaving on the next flight back to America. I said no, that we could work this out. He disagreed, and told me to grab my bags.
I called Sadie, who quickly became incensed, and demanded to speak to the controlador. But he would not touch the phone. As I was talking to Sadie, a group of variously uniformed funcionarios began encircling me. I was then told it was time to go, escorted out the door. The whole time I'm on the phone with Sadie explicating and intoning "Tell them you are a very important teacher, there are 40 people waiting for you—don't leave."
"Sir, it is time to go", "don't leave, I'm coming there," and so on. The threat of physical coercion was palpable.
Finally, I informed them I would not leave, and they—barely suppressing their boiling frustration—told me I would then simply stay in the glass box until the flight out the next day.
I went back into the waiting room, trying to figure out what to do next, when an even more senior oficial who'd been part of my previous entourage walked in with a manila envelope and told me via translation to put my phone inside. Now the panic was real. I did everything in my power to be nice and reason with the would be bandolero, that it was my only communication, my timepiece, my life, but he wouldn't have it. And as he and the guardia de seguridad approached me with fixed violence in their eyes, I eventually relented, feeling hopeless and defeated.
The next 30 or 40 minutes—as I sat in my glass box of emotion watching the varieties of officiales going about their inane business—I began to calm down, use the training that yoga has given me to find center in the middle of a storm, and put things into perspective.
I realized that the level of consciousness of the occupation with which I was dealing with was 'duty', 'pride' and 'honor'; and so it most would likely behoove me to kowtow and act as meek and docile as possible.
So when the hombre came back with the US Embassy on the line, and I was cheerily informed that I was completely at their mercy and I had no options whatsoever, I was completely accepting and just softly asked for the return of my phone.
After another 15 or 20 minutes it was returned and everyone's energy softened.
I sat meditating on the overall surrealness of the situation until when it was time to go. Then two of the comandantes literally ran me with my bags through the back alleys of the Cancun airport straight to my gate, where I was shuffled on and handed my moribund passport, duly shipped off at back to the city of Atlanta for the poor thing's proper and well overdue euthanization.
On the flight back to the homeland, I marinated over the unbelievable series of events that had just transpired. . . I was not, in fact, headed to the seaside paradise to frolic in the waves while sipping whiskey-spiked coco-juice out of it's natural God given goblet husk; no, I was on my way to Atlanta's Hartsfield-Jackson International Airport—one of the most frenzied transport hubs in the world.
And as I sat pondering, I was suddenly flooded by the absurdity of it all. How humorous! And what a fabulous opportunity!
I realized I could reframe this novel experience in my favor to make it just the experience I wanted.
So for the next couple days while I sorted out and awaited my passport renewal appointment, I languidly cruised back and forth between my homey Days Inn room and the bustling airport, mildly flowing through its corridors, taking the time to really enjoy the dazzling variation in the throngs of humanity zipping past me, savoring the surprisingly good art and food options. I even perused the interfaith chapel library while witnessing a moving mixture of creeds flow forth and express their faith and prayers in one tiny corner room.
A couple pf days later my appointment arrived. I zipped in and zipped out of the Passport Agency with a brand-spankin'-new travel document.
My way back to paradise proceeded with no further Mexican alterations. But looking back, I was so happy that I had taken the time to enjoy this situation that most would've seen as horrible, tedious at best.
It became apparent that by just taking a chance to open my mind to the unknown, to the possibility of an unseen beauty in the banal, I had allowed myself a tiny, personal moment of unexpected joy and stillness in the midst of seeming chaos, a freshness and creativity in the things we so easily take for granted.
And this is something I can carry with me  wherever I go.
Love elephant and want to go steady?
Editor: Renée Picard
Image: Wikimedia Commons