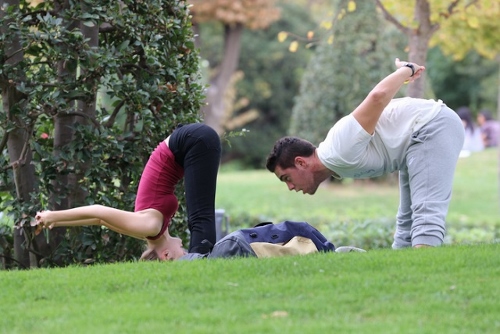 Warning: naughty language ahead!
Men seem born with tight asses and abs, so how do you incentivize them to come to yoga with you?
Your boyfriend's company's absurd vacation policy would seem more manageable if he could, if only a couple times a week, take a mini vacation on his mat like you do.
You could set up across from the room from each other and stare lovingly into each other's eyes in Anjaneyasana. He could see your Hanumanasana in different lighting.
So what's the deal with his hesitation?
For starters, since the 1970s, women have dominated the field in the West.
This could be due in part to the inspiration of rock star yoginis like Shiva Rea and Lilias Folan. Or it could be the fact that women's naturally more flexible bodies make them predisposed to enjoy asana at the outset: we like what we're good at. Or maybe it's that, regardless of the pose, women look better in yoga clothes.
And we thought our outfits were skimpy!
In her Huffington Post article "The Real Reason Yoga Is Still Dominated By Women," Carolyn Gregoire speculates that the yoga industry has long used images of lanky, limber white women to sell its products. Not surprisingly, it's usually these kinds of women who feel "most at home" in the studio.
Consequently, men see yoga not as "I want to be that sexy" but rather "I want to do that sexy." And, while the latter desire may entail occasional pickup yoga, it's unlikely to result in a sustained practice.
Asking your boyfriend to come to yoga with you is, to him, essentially like asking him to take your birth control pills. Maybe once, just for kicks, or on a dare. Consistently? Hell, no! He doesn't want boobs!
How do we get our guys on the mat to reap the physical, emotional and spiritual benefits of yoga that far preceded the price tag of a pair of pants?
Assuming he's willing to try it (if he's not, see the book He's Just Not That Into You), follow the same rules you would for introducing your mom to yoga.
Would you take her to a studio teaming with ripped college girls nursing their hangovers and MILFs in see-through lululemons and sweat-slicking thongs?
As much as your boyfriend wants to see that, he doesn't want to be that.
Instead, bring him to a baggy-pants and t-shirt studio where anything goes and average (awesome) Joes abound.This will instantly decrease both the intimidation and distraction factors.
Choosing a more beginner-oriented studio will allow both him and you to practice yoga the way it was intended: from the heart, according to ability and without ego.
You can also avoid the biggest distraction of all—you and your cute butt—by setting up behind him in class. It's easy to slip into show-off-sana when you have a willing and eager audience under the guise of "demonstrating how it's done," but this does both of you a disservice.
You'll be concerned with what you look like during each pose, and he'll be preoccupied either with how hot you are or how much better you are so he might as well just quit now.
Stay true to your intent.
Finally, resist the temptation to talk to him about the class incessantly, or even much at all, before and afterward.
Men and women have their own ways of processing experiences and information; your take on what the class will be or was may have the unintended consequence of silencing or invalidating his own.
You can't convince him of anything. Manipulation is so un-yoga, anyway.
Now that you have a game plan to get the boyfriend on board, take a step back and turn your head to the budding Buddha (aka conscience) on your shoulder who helps you examine your motivations.
Do you just want someone to practice Acroyoga with?
To show him off around your studio?
To "improve" him?
To convert him?
When you consider why you actually want him to do yoga, you may realize it stems from your fantasy of the perfect Pinterest partner yoga scenario not from a grounded conviction that yoga would benefit him to a magnitude worth fighting for.
The desire for a yogi boy buddy is ubiquitous and understandable, but don't kid yourself that it's for his own good.
Know when to stop pushing.
After all, if him coming to yoga was all about you anyway, you have nothing to fret about his no-show-asana.
You have everything you need.
Love elephant and want to go steady?
Apprentice Editor: Carrie Marzo / Efitor: Catherine Monkman
Photo: Bim Bom / Pixoto, Rand Lemley / Flickr