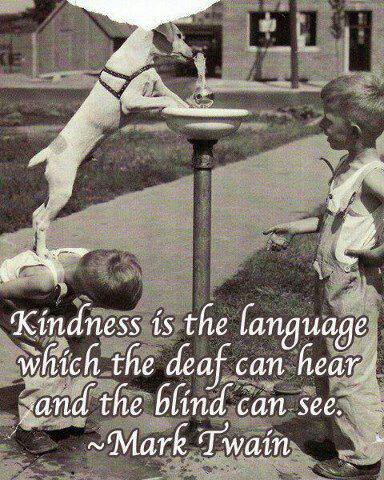 Recently, I committed myself to 30 days of kindness.
My life was feeling empty. I had left my job working at a non-profit that helps uninsured, low-income individuals get free medical care. I missed the daily fulfillment of helping people reduce their pain, suffering and emotional distress.
With my spare time, I started a learning journey on mindfulness, nutrition and alternative health practices. I also volunteered at community agencies, but I just missed the daily "touch" of helping individuals.
To help me through this transitional time, I read Stress-Free Living by Dr. Amit Sood from Mayo Clinic. One of the book's key messages is the importance of expressing compassion for others. I also watched a TED talk on changing behavior through 30 days of continued focus. I decided to put these two ideas together and commit myself to 30 days of kindness.
I was aware of the practice of "Random Acts of Kindness", but wanted this to be a regular commitment; part of how I live my life each day. My journey began one week ago and it has brought me more joy and fulfillment than expected.
This is what I've learned in just one week:
Kindness isn't so hard!
Sunday: I decided to buy chocolate popcorn for the folks who guard the front door of my apartment building 24 hours per day. Jacksonville, my home, has the best chocolate covered popcorn at a place called Peterbrooke—the staff loved it. It felt great to make them happy, particularly on the late shift. I thought, this isn't so hard!
This giving "thing" could get expensive…
Monday: Got a flat tire on the expressway. (Of course I had just taken my car in for a check-up the week before!) I called the roadside service and a nice gentleman came in the 100-degree weather to help me out.
I gave him a large tip to thank him—even though it was covered by my auto contract. He then waited for me to get back on the expressway to make sure I was safe. It was another rewarding day of kindness, but I was beginning to think, this giving "thing" could get expensive. Maybe I need new strategies…
Tuesday: Back at the auto shop getting my new tire, a man approached me to say hello and to see if I remembered him. It was a man who had asked for help with his medical care two years earlier. I helped him through the non-profit I worked for and he told me he now had a job that provided health benefits! He was so grateful for our help at a difficult time in his life. So, what could I give in kindness that day? I gave him my phone number and said he could call me anytime with health care or other problems.
I went home overjoyed with the reward of having helped someone significantly. I thought it odd that I ran in to him, but then it occurred to me, maybe I was getting back more than I was giving. Hmmm…
Never underestimate the value of a handwritten thank you note.
Wednesday: Deciding to keep the financial contributions at bay, I wrote a thank you note to a woman who invited me to her daughter's wedding shower. I am not regularly in contact with this woman, but was touched that I was included in the celebration, and decided to reach out. I thought a handwritten thank you note would be a great way to show my appreciation. I recently re-learned the value of a thank you note from my daughter.
Appreciate your neighbors, no matter who they are.
Thursday: Turns out, I can't help myself with contributions! I was walking to the baseball park and a man was selling flowers made of palm tree leaves. They were beautiful and when I asked him, "How much?" He said, "Whatever you want to donate." That was challenging. I decided to give him 10 dollars—he didn't have much of a reaction. I think he really meant to say, "Whatever you decide is good enough for me." I shook his hand and asked his name. He seemed like a kind man who lives in my community and creates beauty for others. I was glad to meet him.
Go with your gut.
Friday: This was my most challenging day and one I still debate. I was at an airport and a man sitting next to me was distressed, talking on his phone and speaking with an airline pilot seated next to him. I sat down between them, their conversation had stopped, but the man still seemed distressed. I thought, here is my chance to deliver kindness!
The man told me he was coming back from Afghanistan because his wife was killed in a car accident. He looked weary and distraught. He did not have enough money to get his final ticket home and he was 99 dollars short. I asked him some questions to quickly validate his predicament and it seemed like a real and traumatic situation. My husband had just given me cash for our trip, so I took a deep breath, reached in my purse and handed him 100 dollars. He hugged me and made a few more calls and then left.
I assumed he went to buy the ticket. I told the pilot next to me what had happened and wondered what the man had done. The pilot was just about to take this man to buy a ticket with a credit card. We both wondered if the man's story was real or not. As time passed, I had a pang in my stomach that I had been scammed. The pilot and I couldn't resolve the answer.
That day I learned we might not always know if the people we help are being truthful. I had an uneasy feeling and regretted my decision to hand over cash so quickly without more proof. I realized I had to assume that his intentions were honorable. I am not sure what I will do the next time this happens.
Some of us don't need systems of regular, planned acts of kindness.
Saturday: At an indoor game center, our group won tickets from skee-ball, guessing machines and other games. We won about 100 tickets and I thought we could give them to a birthday girl who was having a party. Interestingly, I was with my daughter's boyfriend at the time, and he had come up with the same idea—almost simultaneously.
I realized there are those who are just thoughtful and kind without these systems of regular, planned acts of kindness. The birthday girl gave a huge smile and was very thankful. She could now move up from a pencil to a small bouncing ball!
Re-gifting is a great act of kindness.
Sunday: I attended a cultural program and received a chocolate bar as a take away gift. I thought that re-gifting could be an act of kindness and held on to the bar, excited to give it away.
It wasn't long before my opportunity arose. I was at a restaurant ordering a side of fruit with my eggs. The waitress came over with a special bowl of strawberries and said she hoped I would enjoy them. I reached in my purse and said, "And I have a gift for you!" and handed her the chocolate. She told me that her daughter hadn't been eating well lately, and that chocolate was a reward for when her daughter ate her other foods.
I was glad that I chose this woman because she seemed like a hard-working person and a caring mother.
So, what have I learned in the first week of kindness?
Most importantly, I realized that I am receiving more kindness from the world each day that I give. I have received thank yous in person and thank you notes (two in the mail this week), gestures of good will and flowers made out of palm trees.
I look forward to creating new ways to give to others in the next three weeks (hopefully much less from my pocket) and the possibilities of what I will see, appreciate and learn each day.
And, as the experience helps heal my "emptiness", I look forward to sharing opportunity for fulfillment with others.
Over the next three weeks, I challenge you to create your own mindful acts of kindness. Try to do one thing each day to benefit others and I promise the kindness will come right back to you. Good luck!
Bonus—Top 10 Scientific Benefits of Compassion: 

Love elephant and want to go steady?
Editor: Rachel Nussbaum