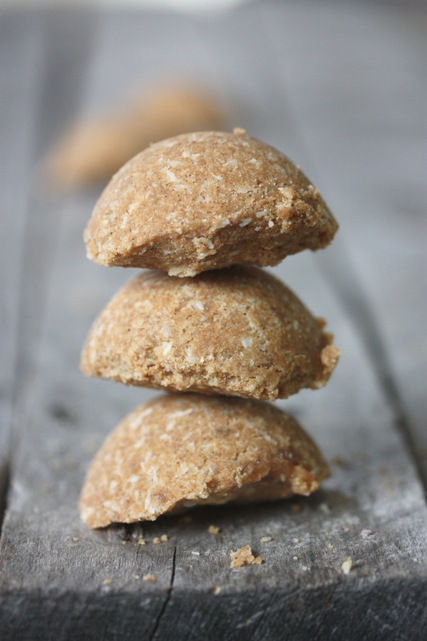 "If you are not over-prepared, you are under-prepared." ~ Unknown
I made a recipe book with easy-to-make raw treats—smart snacking for people on the go, parents, business people, athletes, students and of course the little low-blood-sugar-monsters.
When it comes to the daily coincidences that make up our choices—for example, deciding what to grab when we have to have something to stop your stomach acid from eating a hole straight through your belly—we are not always rational.
We might just go for what is sugary and fat as that is what your brain is asking for. This is the cave woman/man in us who wants to survive.
But then we might remember "…didn't I put some of those raw blueberry macaroons in my bag this morning?? Oh yes I did!"
Bang! We fooled our brain, we out-smarted the cavewoman's automatic hunt!
Instead of feeding on any kind of junk snack, we are feeding on a high vibrational, self made, super food infused, intelligent, guilt free, body friendly, full of attitude and nutritionally potent whole food that also just happens to taste scrumptious—
We are Smart Snacking.
Wow…. That is some serious self lovin'!
High frequency super food trail-mix bar:
Nut free. Makes four big bars.
Eating "high frequency snacks" of any kind (mostly raw and with super foods) gives an instant lifting of body and spirit.
My favorite high frequency snack is something raw containing Cacao / Maca together with coconut water. If I need a pick-me-up, this will do the trick.
Compare how it feels when you eat a refined sugar chocolate bar versus a raw, superfood-infused chocolate bar. The difference is enormous. It's like going from muddy Orc mode to High Cosmic Elf mode.
Compare drinking alcohol a whole evening to doing yoga for a whole evening…ultimately it comes down to how we want to feel.
A balance between decadency and light'n love is in order and that "balance" doesn't have to be 50/50. For you, the best balance might be 30/70 or 70/30.
These bars are very satisfying and great for curbing hunger. I can't eat too much of them as they are full packed of dense sweetness from the dates, one or two small bites is all I need when I need it. I keep them in my freezer to come in handy after exercise, when I'm on long shopping excursions or traveling.
Trail-mix
• 0.5 cup Macadamias or Cashews, Pecans, Almonds
• 0.5 cup shredded Coconut or Coconut chips
• 0.5 cup dried Cherries or Cranberries
Add all of the ingredients to a food processor and process until you have crumbles.
Set aside in a larger bowl.
Sticky Glue Bar ingredients
• 5-6 Dates (the smaller ones, not the large Medjool dates)
• 5-6 dried Apricots
• 3 T virgin Coconut oil
• 2 small pinches Himalayan salt
• 1 T Barely grass powder (or Maca, Purple Corn, Acaí berry powder, Spirulina, Hemp protein etc).
Pit and soak the Dates and Apricots for five minutes. Make a paste of them in a food processor, then add the rest of the ingredients until you have a sticky glue. Pour the sticky glue in the bowl with the crumble and incorporate by hand. You will get a rather messy result. Save some extra trail-mix to go on top of the bars. With your hand, flatten out the dough and cut four to five bars with a knife.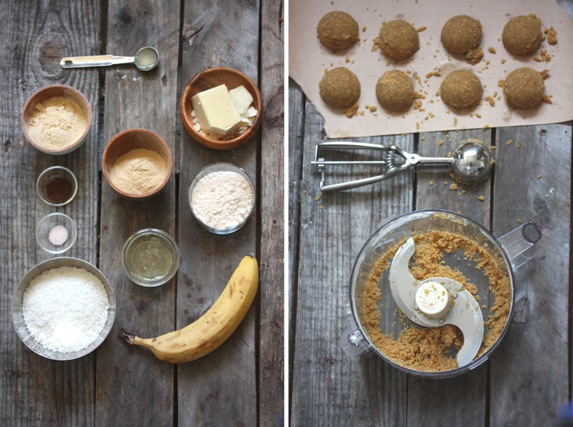 Embraze Change Moist Vanilla + Yacon Macaroons.
Nut free. Makes about 10.
Change is the very vehicle of life. No change, no movement, no flow, no manifestation. Even though change is like the bundle of His for the heart (the muscle fibre that holds the rhythm of the heart beating), change is a big blockage for so many.
Well, I've got news for ya'. All Change Is Good. Even the kind of change that doesn't look that pretty.
Here's the challenge: Your perspective on life, is but a mere fraction of the whole. You are peaking through a super narrow opening, offering yourself a confusing version of your life. You actually don't see the big bigger picture of why and how things occur. Your job is to just have faith in that all will be good in the end (love is the only end). In that space of faith, there's not much that can bring you out of balance. Trust in yourself, because you are far wiser than you think. And if you are a control freak (like me)… This will be so, so good for you to start applying.
These macaroons are basic, very seductive shortbread-ish macaroons, a bit more moist than the sandy macaroon (blueberry macaroons). They will keep one and a half weeks in the fridge but tastes the best freshly made.
Moist Vanilla Macaroon
• 100 g Cacao butter, becomes 0.5 cup as melted • 1 cup shredded Coconut
• 0.5 cup Coconut flour (the kind you buy)
• 1/4 t Vanilla from pod
• 4 T Lúcuma
• 2 T Mesquite
• 1 t Lemon juice
• 2 T Banana
• 3 T Agave or honey
Slowly melt the Cacao butter in a water bath. Make a flour of the shredded Coconut in a blender. Add all of the ingredients to a food processor and process until you have a dough. Use an ice cream scoop, or a tablespoon measurement unit as long as it is circular in shape. That way you also get smaller macaroons. Form macaroons and put pieces of raw chocolate into the macaroon (as many as you can fit) and put extra dough underneath to seal. Dry them in a dehydrator oven for four to five hours. You can also put them in the fridge for four hours before eating.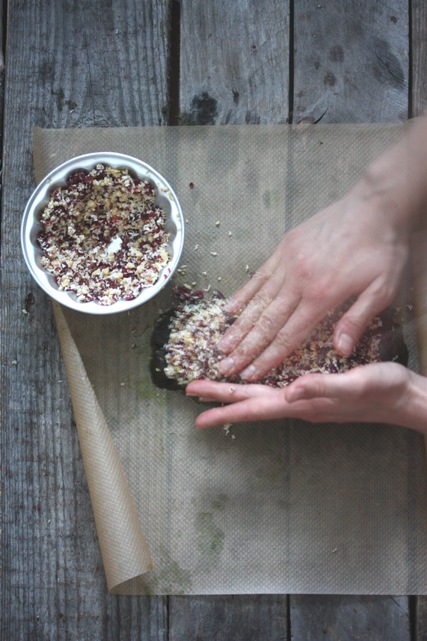 Love elephant and want to go steady?
Editor: Emily Bartran
Photos: Author's Own