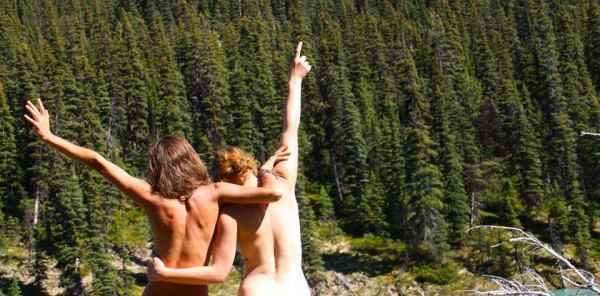 The other day in Vancouver I was watching a movie at a friend's house.
It was sweltering, in the high 30s. He made a comment about how hot it was, and took his shirt off.
I sat across from him, squirming uncomfortably from the heat. I imagined being in a kiddie pool full of ice water eating a white freezie.
I desired to take my shirt off, too. But I didn't.
Why? Because the slabs of fat on my chest are sexualized by society.
I sat there, frowning for a moment, sweaty and frustrated thinking of how unfair and ridiculous the double standard is. Cursing my vagina in this moment for my inability to be more comfortable.
Although it is legal in Vancouver for women to go topless, often women restrain themselves from the harassment and extra attention given by society.
I would love to see a video made to spread awareness and give light of the double standard by having women oogling, gasping and reacting to men topless as they react to us.
Getting she boners, elbowing each other, whistling, hooting and hollering and causing a riot. And men blushing, flustered, rolling their eyes disgusted and putting their shirts back on because of it.
Sounds pretty ridiculous, right?
Well, they're just boobs.
If you're itching to let yours out, August 24th is Go Topless Day. This will mark the 7th year of women marching bare breasted in Vancouver to stand up for women's right to go topless.
The march in Vancouver will be held from 1-3pm and be along Robson Street, from Denman to Hornby.
Men are encouraged to come and support, but asked to wear bras or shirts.
Not in Vancouver? Take it off anyway.
A shout out to Gwen Jacob, a student at University of Guelph who on July 19, 1991 started an uproar when she removed her shirt in public on a humid and hot 33 degree celcius day and was arrested and charged with indecency.
She had seen a group of men topless and wanted to bring some attention to the double standard. Police stated that they responded to a complaint from a woman who was upset that one of her children had seen Gwen Jacob's breasts exposed.
Jacob stated she did it because men were doing it and she wanted to draw attention to the double standard. She was found guilty and fined $75.
In court she argued that breasts were merely fatty tissue. The judge who found her guilty stated that breasts were "part of the female body that is sexually stimulating to men both by sight and touch," and therefore should not be exposed.
Gwen Jacob was finally acquitted on December 9, 1996 by the Ontario Court of Appeal on the basis that the act of being topless is not in itself a sexual act or indecent.
All it takes is one, or sometimes two, boobs to start a movement.
Love elephant and want to go steady?
Editor: Emily Bartran
Photo: Author's Own