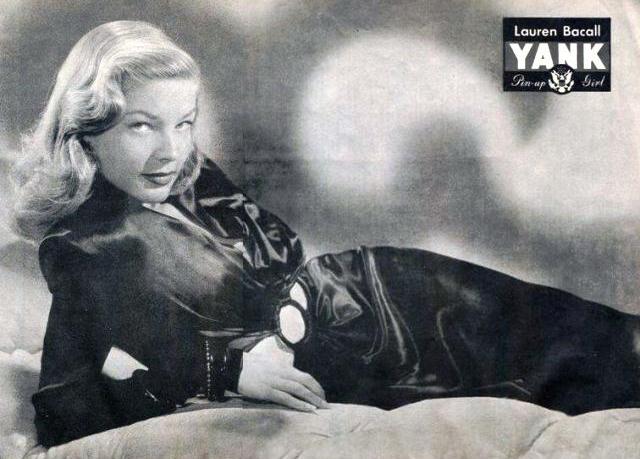 Lauren Bacall: 1924 – 2014
Hollywood's Golden Age is marked by glamourous stars and glorious events, and is unimaginable without the leading power couple, Humphrey Bogart and Lauren Bacall.
Their's was a love affair for the ages, on and off screen. They married when she was 20 and he was 25 years her senior. They swirled through a black-and-white moviescape (Bacall more than eased her way into color), lush and stunning, embodiments of allure, legends in their own time.
They remained together until his death in 1957.
Bacall was sultry, sexy—a siren, a woman of penetrating stares and the quickest of wits. She was her own fiery brand of feminine goddess and oozed strength along with her charisma, charm and sharp intelligence.
Bacall's long career has numerous pinnacles, from her Bogie-Bacall classics "To Have and Have Not" (she was 19 when she debuted in this film), "The Big Sleep," "The Dark Passage" and "Key Largo," to her first comedic role in "How to Marry a Millionaire," where she co-starred with Marilyn Monroe.
She mingled with the who's-who of vintage Hollywood (eventually becoming a lover of Frank Sinatra and wife of James Robards Jr., a good friend of Katharine Hepburn, among so many others), and threw herself into both family and work.
A personal highlight for me, for which I give her a silent thanks, was when she played a key role in the English-dubbed version of Hayao Miyazaki's "Howl's Moving Castle."
She did it all. Her ambitions, perseverance and verve knew no bounds. She loved, she lost, she worked and she played. She lived life like she knew it wouldn't last forever.
Above all, I think, it's that Lauren Bacall persevered.
It couldn't have been easy. In a male-dominated world, she navigated the difficult terrain of being an ingenue, a loving wife, a mother, and eventually, an aging star.
Thanks to her prolific career and mesmerizing work, we can always remember and witness her—that deep, husky voice, those eyes—through her films.
Here are some of her best quotes:
On creativity:
"Imagination is the highest kite one can fly."
On keeping it natural:
"I think your whole life shows in your face and you should be proud of that."
On balancing work and life:
"I put my career in second place throughout both my marriages and it suffered. I don't regret it. You make choices. If you want a good marriage, you must pay attention to that. If you want to be independent, go ahead. You can't have it all."
On stardom:
"Legends are all to do with the past and nothing to do with the present."
"Stardom isn't a profession, it's an accident."
On Aspiration:
"Here is a test to find out whether your mission in life is complete. If you're alive, it isn't."
On Life and Passion:
"I have a contribution to make. I am not just take up space in this life. I can add something to the lives I touch. I don't like everything I know about myself, and I'll never be satisfied, but nobody's perfect. I'm not sure where the next years will take me – what they will hold – but I'm open to suggestions."
"To sit at a sidewalk café having coffee or a drink – the sound and sight of France all around. The Champs-Elysées was incredible – the chestnut trees – how could one city attain such perfection? Who had dreamed it up? Who had made it all come true? I wanted to see every corner of it."
Thank you, Lauren Bacall, for gracing us with your magic and your endurance.
Love elephant and want to go steady?
Editor: Emma Ruffin

Photo: WikiCommons