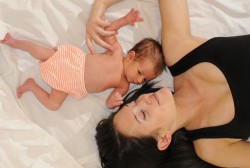 I've spent a good portion of my life trying on all sorts of spiritual hats, deciding which one would fit me best.
I've dipped my toe in Buddhism, meditated, read portions of different religious texts to find bits in each that moved me, and yearned for a guru to help guide me to the path of enlightenment.
Over the course of many years, and much time spent diving headfirst into my spirituality, I had never experienced the kind of teaching and wisdom that came with the birth of my lovely little daughter—she became the guru I had longed for.
My little girl, with big wide eyes full of innocent wisdom, has taken me on the ultimate spiritual journey. She's taught me the true, unimaginable depths of love, and the selfless splendor of loving another soul with the kind of unconditional love that can only be called holy.
She has changed my life is countless ways, teaching me some of life's greatest arts:
1. The Art of Love.
Never ever have I known the kind of love I feel for her—it is limitless, boundless, expansive and utterly unconditional. As someone that's always struggled with connection and opening my heart to others, I have witnessed a profound transformation in me, and watched amazed as my heart opens more and more every day. The love of a parent for their child is the sort of love that creates worlds—god-like and pure.
Babies and children demand a lot of attention, and it's often taxing, both mentally and physically.  As a new mom, I became well acquainted with sleep-deprivation and exhaustion, and it was sometimes a challenge to maintain my composure as I juggled many things at once.
Through it all, I've learned to simply breathe and call upon inner resources I didn't even know I had—resources that allow me to find inner stillness and calm amidst seemingly chaotic moments. I find that within me is a warrior of great fortitude and equanimity that comes forth to help me parent my precious little being with great patience and love.
The process of labor and birth was challenging, and nothing I could have ever prepared for—as it is almost completely incomprehensible. At first, I had a pretty firm idea of how I wanted my birth process to go—everything from who was present, to the music I would have playing, to the outfit I was wearing. I discovered that none of that mattered when it came time to labor and give birth. I had to ride the waves of my contractions, find a fierce inner-focus and let go to allow my body do the work of birthing my baby.
This was my true introduction to surrender, and being a parent requires me to do that every day—surrender to the unknown and take my parenting journey with my beautiful baby, step-by-step and day-by-day.
I spent about a year volunteering once a week at a local animal shelter walking dogs. It felt spectacular giving away my time and attention, but I was in control of how much I was giving—I could go to the shelter when I wanted, and it didn't matter how long I stayed.
But parenting isn't that way. In fact, it required me to be generous in whole new ways, beginning with the sharing of my body! I now share nearly my entire life, and I've had to put aside my independence, privacy, and often my sleep. I'm selfless in brand new ways and, most of the time, it feels wonderful. Parenting has introduced me to a whole new frontier of generosity, and giving now has a whole new meaning.
My lovely little girl teaches me something new each day, and I am her oh-so-reverent disciple. I whole-heartedly believe that children come into our experiences not just to be taught, but to teach us a little somethin' about this wonderful life.
There is no greater blessing than a child and the miraculous ways they open us to love, life, and the splendor of forgetting about ourselves for awhile.
Love elephant and want to go steady?
Apprentice Editor: Sue Adair/Editor: Renée Picard
Photo: Courtesy of the Author