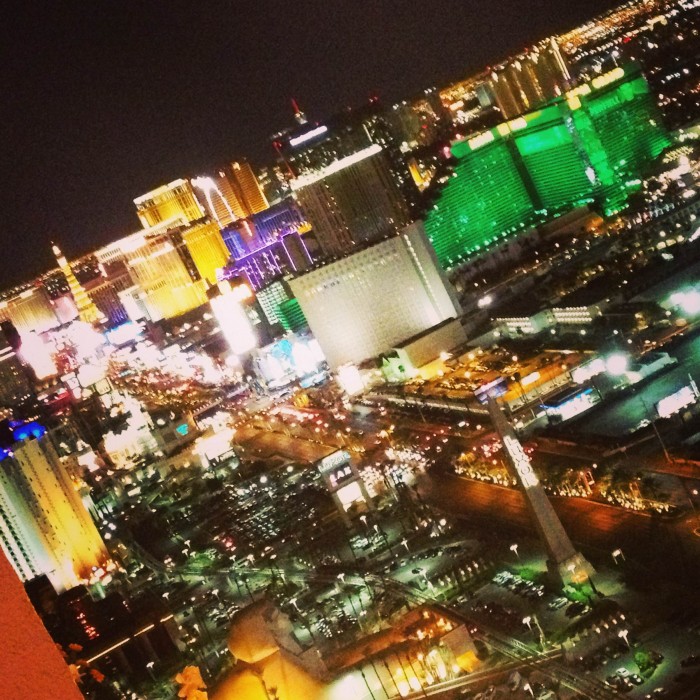 I've always been a fan of Las Vegas.
I remember visiting several times as a kid, with my family. While the adults enjoyed the casinos, my big sis and I would visit the water parks, amusement parks and arcades. Some days we'd sip on a virgin pina coladas by the huge, fancy hotel swimming pools.
And of course, when I got older, I experienced the fun of pulling the handle on a slot machine and the thrill of rolling the dice!
I've witnessed more than one pair of friends get married in Vegas, I've been there to ring in the New Year (more than once), and I even played a show there once with my old band, at a punk rock bar off the strip.
I love Vegas!
There is always something going on in the magnificent hodge-podge of a city.
However, despite my ongoing love affair with Las Vegas, the other day I realized I hadn't been in over four years!
That is, until recently.
Last weekend, I returned to the bright lights of Vegas to celebrate a dear friend's bachelorette weekend.
I found myself wondering: Is there is any way to bring mindfulness to "Sin City" itself?
How does one attempt live mindfully in a city known for debauchery and living in excess? Is it possible?
Well, it's certainly possible to try!
Here are seven (lucky number seven!) tips on how we can strive to live mindfully in Las Vegas:
1) Walk or share rides!
Ok, we pretty much all have to either drive or fly into the Crystal City. However, once we've made it into Vegas, there's no need to further add to the carbon emissions being released by the slew of cars on Las Vegas Boulevard. If you stay on The Strip, there are plenty of casinos and other entertainment within walking distance.
Does that sound like too much wear-and-tear on your tootsies? Especially if one is wearing the fancy shoes? Take advantage of the monorail and tram systems!
(Or if the staying on the strip isn't your thing, perhaps try downtown or "Old Vegas," which is another area that has casinos, bars and entertainment within close walking proximity.)
2) Courtesy counts.
Vegas is often seen as a free-for-all, anything-goes, throw-caution-to-the-wind adult playground. And in many ways… it is.
However, this is no reason to dismiss all the hard-working folk that are making your experience possible.
When playing table games, tip the dealer's. Many of them either sit or stand for long hours, working hard to monitor the game-play and make sure that players get paid correctly. With so much going on, and belligerent gamblers often haranguing them, this is no easy task! If you're a craps fan (like me), throw a buck on the "Hard 8" for the dealers every now and then.
No matter which game we prefer, tossing the dealers a chip here and there shows our gratitude for their efforts. We can even consider tipping a little extra when we're "up." The dealers truly appreciate it.
Remember to tip the cocktail waitresses too! Hey, we're getting a free beer (or mixed drink), the least we can do is give a buck to the person who brings it to us, while we play.
It's also thoughtful and kind to tip the folks who bring up the extra towels, blankets, and what-not when we request additional items for your room.
3) Protect your livelihood. Set a budget.
You're in Las Vegas. It's no secret that you are going to spend lose some money.
Decide beforehand what you are comfortable with financially. This sounds like such a simple, straightforward thing to do, but it's easy to get caught up in the glitz and glamour and let logic fly out the window.
If you like to gamble, do so mindfully. Set yourself a budget you are willing to part with and stick to it. Keep your gambling money all cash, reserving credit or bank card purchases for shopping, shows or meals. Resolve to stop gambling when the cash runs out, and stick to it!
No trips to the ATM for "just 20 dollars more."
And spread you gambling cash fund over the course of your trip. If you've saved up $300 in an envelope in your sock drawer for roulette, for 3 day stay in Vegas, allot yourself $100 for each day, and when it runs out, be done for the day. (If you find yourself "up" or winning, great! You can always pocket your initial gambling cash, and just use your "winnings" to keep playing. You might even return home with some cash in your pocket that way!
And the budgeting goes for whatever your vice is! Maybe you're not a gambler, but you love hitting up the shops at Caesar's Palace. Or perhaps you've got a sweet spot for Vegas shows, like Cirque du Soleil (or, ahem… The Thunder From Down Under) – determine before-hand what amount you are okay to spend on shopping or other entertainment, and resolve to stick to that!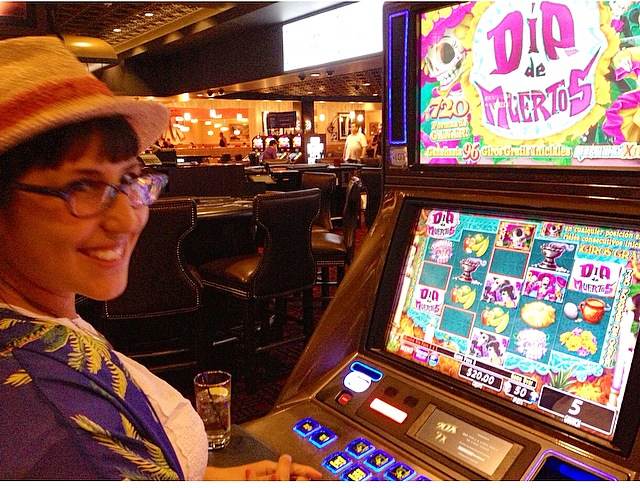 4) Take care of your body.
Hydrate! This is so important; you'll be breathing in lots of smoke from the casinos, you'll be doing lots of walking, and I'm guessing there's a high probability of an upswing in alcohol consumption.
It's Vegas! The libations will be a-flowing.
I certainly like to indulge when visiting the City of Lights, but to keep one's stamina up, hydrating is a must!
So sip on those cocktails, those beers, whatever boozy-drink tickles your fancy. But remember to ask for a glass of water between every couple drinks.
Remember to eat too!
Again, it sounds so obvious, but Vegas excitement has a way of sucking you in sometimes! Particularly in the mornings! We get so excited to get down to the pool, or to hit the tables, we sometimes grab a coffee to go and skip breakfast.
But who wants to pass out early in Las Vegas? Put a sufficient meal in your belly before starting you're adventures. This will help build up energy and stamina for the rest of the day. And keep snacking throughout the day, especially when enjoying those free cocktails.
(I swear, I'm not saying this to kill the party. I'm saying this so we can make the party last longer!)
This leads into number five….
5) Eat mindfully whenever possible.
Yes, there are options! Just about every casino offers some sort of all-you-can-eat buffet, offering prime rib and the like, but we are not obligated to partake. I mean, if that's what you are into, by all means enjoy! However, if you didn't know, now you know: Even Sin City offers mindful options!
Seriously, Vegas is so full of options, there is truly something for everyone.
Into raw food? Try the Go Raw Café,  just 7 miles off the strip at Sahara & Durango. All Raw, vegan, organic, food, with a juice bar.
Staying near "Old Town" Vegas? Simply Pure on Fremont St. offers cooked and raw vegan meals, along with juices and an organic salad bar.
Of course, just about any place is willing to adapt or someone with dietary concerns find options, just let them know right away someone in your party is vegan or has food allergies, etc. Want to go out to dinner somewhere fancy? Call ahead and ask to be certain mindful options will be available.
On this past trip, I traveled with a friend who is both vegan and gluten-free, and every (non-vegan/vegetarian) restaurant we visited was still able to accommodate her.
For a delicious meal that will please the masses the masses, check out Mint Indian Bistro! It's off the strip on Flamingo Road (near the Hard Rock Hotel & Casino). The maid-of-honor in our bachelorette group suggested "Mint" for our Sunday brunch. It was delectable!
There were meat & chicken options for the carnivores, but also a plethora of vegan dishes for the herbivores!
Everything was delicious and very affordable! They also have a unique selection of beers, but if you're not in the mood there's fancy teas and organic juice as well. So tasty!
So seek out the mindful options whenever possible, and indulge as needed if feeling the itch.
6) Seek out the awesome!
At the mention of the words "Las Vegas", most folks' minds immediately go to the ching-ching-ching of brightly lit slot machines. But what if someone is not a gambler? Not to fear! As mentioned before, Vegas has something for everyone!
Take in a show – there's a myriad to choose from! Everything from magic shows, to burlesque, to sensory stimulation, to knights jousting –  I mean really, there are way too many to list out! Check out what's going on at your venue or surrounding venues.
Find out what else is being offered at various casinos. Many have concert venues that book bands, or lounges with nightly singing performances.
What are you into? Seek it out! It likely there is something that will tickle you pickle!
Several years ago, I visited with a friend and we learned that there was an Andy Warhol exhibit at the Bellagio's fine art gallery. We adjusted our itinerary so we could spend some time experiencing some very cool displays of Warhol's work. It was fantastic!
You just never know what might be going on in the happening city of Vegas! So gambler or not, seek out the awesome!
7) Sustainability.
What, what? Sustainability in Las Vegas, aka the "City of Lights"? That has got to be an oxymoron, right?
Actually, no – An article from Las Vegas Magazine states the following:
"Just as the city strives to outdo itself in extravagance, it's also intent on greening its operations."
It's true! The article mentioned above describes the efforts of MGM resorts international (which owns the MGM Grand Hotel & Casino, as well as several other casinos in Vegas) to put in 6.2-megawatt solar panel array which will cover 20 acres on the roof of its Mandalay Bay Convention Center. This panel is supposed to generate nearly 20 percent of the resort's electricity.
Well, that's definitely a step in the right direction!
The above article also touches on the efforts of NV Energy to "become greener" over the next few years. The plan is to begin closing coal-burning electric plants over the next 10 years, and replace them with a combination of natural gas and renewable energy.
In fact, existing state law in Nevada (the Renewable Portfolio Standard) has already required that NV Energy use eligible renewable energy resources to supply a minimum percentage of the total electricity they provide.
Additionally, the Las Vegas Convention and Visitors Authority  published an article outlining the "Green Initiatives" of several resort and gaming facilities.
Here are a couple examples from the "Green Initiatives" article:
-Boyd Gaming (which owns Sam's Town, Suncoast, The Orleans, Gold Coast, California, and Fremont Hotel) strives to conserve energy by using of solar water holding tanks, CFL light bulbs, and air heat recovery systems.
-Caesars Entertainment (which owns Caesars Palace, Harrah's, Flamingo, Bally's, Imperial Palace, Paris, Planet Hollywood, and Rio) is putting forth an outstanding effort as well.
Per the LVCVA piece:
"[Caesars] has spent more than $60 million on energy conservation projects, reducing its energy use by 163 million kilowatt hours a year and cutting its carbon emissions by more than 100,000 metric tons. Caesars Entertainment is the only casino, hospitality and entertainment company to receive seven gold level accreditations from Travelife Sustainability for its Las Vegas Strip properties; win EPA Environmental Quality and WasteWise New Partner awards; and publish an Environmental Sustainability and Community Engagement report. Harrah's has a CodeGreen volunteer environmental action team at each resort."
Even former Secretary of State, Hillary Clinton, has praised the state of Nevada for being a "clean energy leader." In a recent article by the Las Vegas Review-Journal, Clinton is quoted saying:
"I think we can say that Nevada is one of the leaders in our nation of solar energy…" (Noting that the state also has more geothermal projects than any other state.) "So no matter whether the sun is shining or the wind is blowing, Nevada is working."
Who knew, right?
Although Las Vegas is often thought of as "Sin City" and an overall mecca of debauchery, having a mindful approach during one's Vegas exploits can make the experience so much more.
Viva Las Vegas!
http://www.youtube.com/watch?v=s_2zEPVnfhY
Love elephant and want to go steady?
Editor: Renée Picard

Photos: Author's own