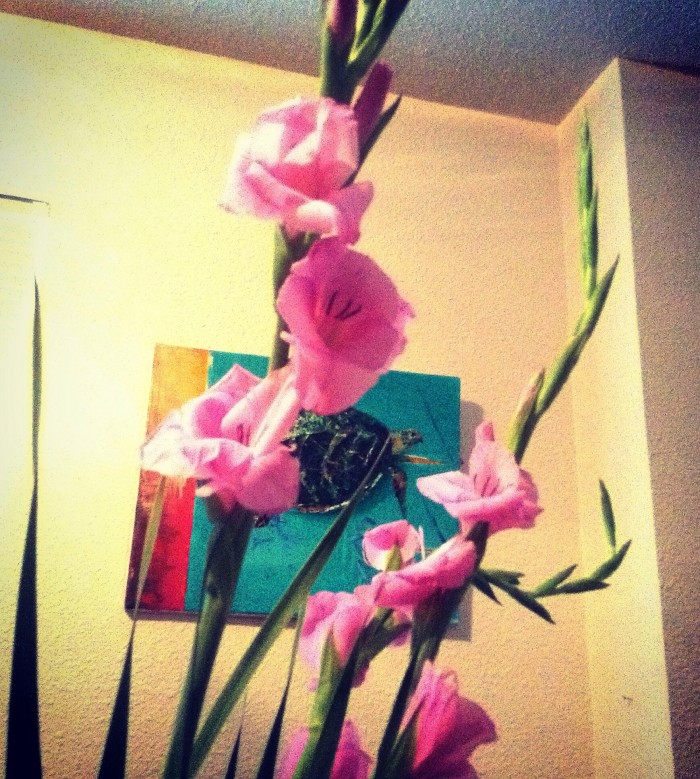 "Don't assume the posture of a wilted flower." ~ Chogyam Trungpa Rinpoche
Ah, but sometimes we do.
It is tricky not to assume the posture of a wilted flower as summer rolls to a close, and we are pulled into the undertow of our daily duties.
On some days, we need a little bit of love from our friends to pull us up, shake off our doubts, our uncertainties, and remind us that we are a treasure to this world.
I tend toward silence whenever I am falling into the wilted flower pose, so this little bit of love in the gift of pink gladiolas arrived just in time.
There is nothing quite like this flower to say—glad-to-know-ya—in those humbling moments when we feel a bit lost in the current, as words barely break the surface of our lips.
The gladiolas are a gift that keeps on giving, as the buds unfold one-by-one over the course of a week, reminding us that our paths may be the same, although a lot longer, hopefully.
We slowly arrive into our beauty, into our places of openness, and so, too, our blossoms will become so heavy that we'll bend under the weight. True, the stems will grow moldy in the mason jar, the blossoms will wilt, but that little bit of lightness unfolding over a few days will keep us bright.
For now, I'll assume the posture of a blooming gladiola.
I share these words with you as a virtual flower to unfold on your days of quietness and contemplation when you need a sweet reminder that love is always around; it is in the giving, and especially, in the receiving.
Love elephant and want to go steady?
Editor: Renée Picard
Image: Courtesy of the Author.