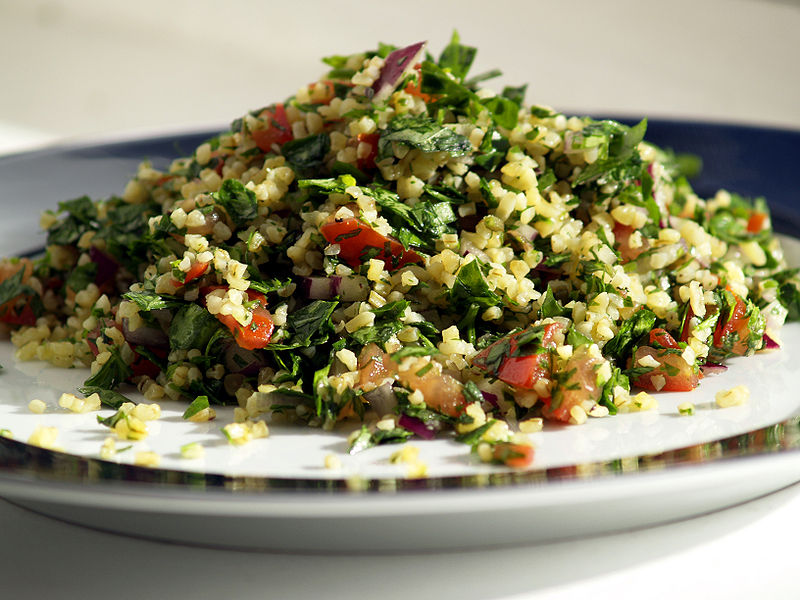 Everything in this recipe is good for you—and I mean really, really good for you.
Quinoa is a gluten free grain, and although it is technically a seed, we can cook it and eat it just like the traditional bulgar wheat used in tabbouleh. It is also rich in fiber and minerals like magnesium. It even counts as a complete protein, so it's great for vegans! All of the herbs and vegetables that round out this recipe are packed with phytonutrients and, of course, packed with flavor too!
Here's what you'll need for this awesome Middle Eastern salad: (serves 6-8)
1 1/2 cups cooked quinoa
2 average sized tomatoes, diced
1 small cucumber, diced
1 small bunch of green onions, sliced finely
2/3 cup fresh parsley, chopped finely
1/2 cup fresh mint, chopped finely
3 cloves garlic, minced
1/4 tsp dried ground ginger
1/4 tsp ground cloves
1/4 tsp nutmeg
1/4 tsp cinnamon
1/4 tsp coriander
1/4 tsp allspice
1/4 tsp black pepper
1/2 cup pomegranate seeds
2 lemons, juiced
1/2 cup olive oil
salt to taste
From here, the assembly is incredibly easy.
Just make sure you've got your cooked quinoa and all the other ingredients chopped, and then toss them together with all of the spices and herbs. Drizzle with the olive oil and lemon juice and then wait. Refrigerate it for at least an hour so all the flavors to really get to know each other.
And there you have it, an awesome, nutritious dish bursting with flavor!
Enjoy thoroughly! Your body and your taste buds will thank you.
~
~

Love elephant and want to go steady?
Editor: Emily Bartran
Photo: Wikimedia Commons