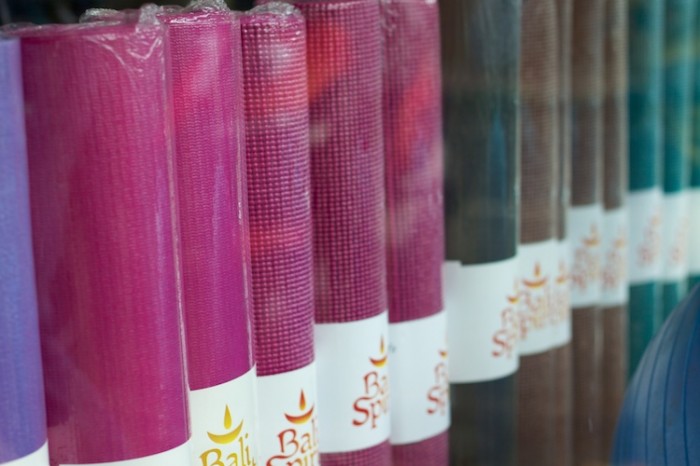 Note: elephantjournal.com did not receive these review items for free, in return for a guarantee that we would review said offering. This product review is solely the author's personal opinion.
I often get asked, "What kind of yoga mat do you use?"
Or, "What's the best yoga mat?"
Well mostly, it's a matter of preference. But here's some that I've tried and my thoughts about them.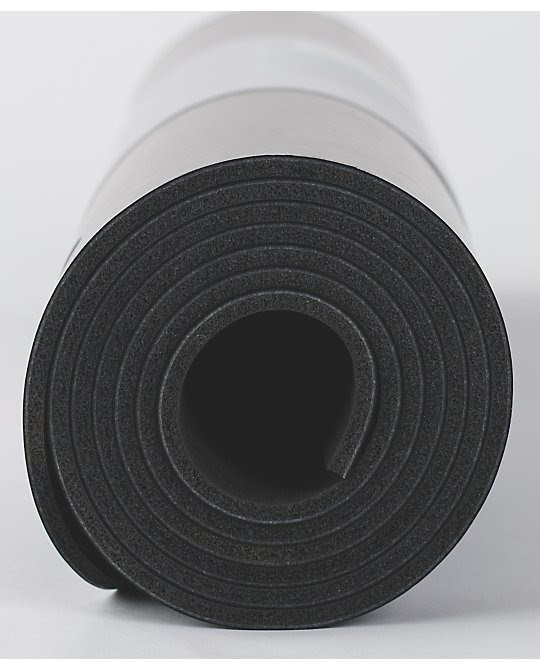 I used this one for years, happily!
What to like:
It's like carrying around your own floor. As I got into more advanced arm balances and inversions I felt I needed a denser mat to better support my wrists.
Great for hot yoga, no towel needed. As the mat gets wetter it gets stickier!
Reversible – use on either side for a choice of which texture you prefer
Downfalls:
The Mat is super heavy to carry around. Weighing about 6lbs this thing is a bit of a monster for the yogi traveler.
If you're hands and feet are perpetually dry (i.e., not clammy) this mat gets slippy. It is meant to be sweat on.
Mat cleaners and sprays will clog the mat and take away from it's stickiness, so best to be cleaned with just hot water. What's the downfall? Your mat doesn't get to smell like peppermint and lavender.
What's it made of?
Polyurethane, rubber and latex. This mat certainly doesn't get the organic seal of approval, but it will last practically forever since most of these materials don't degrade.

What to Like:
This is a great beginner mat! It has the perfect amount of cushion and stickiness.
Inexpensive if you're new to yoga or not sure how long you'll commit, this mat isn't a big load on the wallet.
Comes in an array of pretty colors and patterns.
Downfalls:
There aren't too many down sides to this mat, other than sometimes the cushion can strain the wrists or ankles once the practice gets more advanced.
These mats degrade after a while of using them, especially when used outside
Online reviewers of the mat complain of its smell when it is new and Gaiam suggests airing the mat out for a few days before use.
What's it made of?
This mat is made of PVC. Gaiam proudly displays that the mat is free of all this stuff: 6P Free: Free of DEHP, DBP, BBP, DINP, DIDP and DNOP phthalates. To be honest I have no idea what most of these letters stand for, but apparently it's something to write about…
PVC is the polymerization of Vinyl Chloride—which is a highly toxic, flammable and carcinogenic gas. So although this mat might not contain all that stuff listed above, the manufacturing process is still chemical and pollutant.
I just bought this mat and for me, it is the ultimate!
What to like:
Like lulu's mat, the manduka is like carrying around a floor but weighs only 4lbs.
For dry handers, this mat has a great grippy texture.
Solid and supportive.
For big guys, these mats come in size L too!
This is a mat for life, Mandukas are known for their longevity. This mat will probably last for the rest of your life, and that of your grandchildren.
This mat has a limited lifetime Guarantee
Downfalls:
This mat is expensive. It is for the long haul. It is a commitment.
For the super sweaters or hot yogis, you might need a towel over top to prevent slippage
What's it made of?
This Manduka Mat is 100% latex free, so for someone with latex allergies or sensitivity this mat won't be an irritant.
Manuka's mat is made of PVC but the Manduka company commits to using this product in a less pollutant way that other yoga companies can't claim to do. They guarantee that their emissions are not released into the ground or water supplies. Manduka is also OekoTex certified for emissions-free manufacturing.
The Prolite is designed to last a lifetime or two, further reducing waste and unnecessary emissions.

The best travel mat ever.
What to like:
Super small.
Lightweight (although not as light as Manduka or lululemon's travel mat but more substantial than the former).
Super sticky and non-slippy!
Awesome price!
Downfalls:
Color options are limited.
This mat isn't great for an every day practice, unless you're frequently on the move and can always lay it over a carpet or softer floor. If you're bringing it to the studio as a regular mat, it could be hard on the knees and wrists since it is so thin.
What's it made of?
Hugger Mugger mat of PVC and manufactured in Taiwan which basically means I can't speak to the environmental precautions taken in the making of this mat.
100% latex free so this won't irritate those with allergies.
Love elephant and want to go steady?
~
~
Editor: Travis May
Photo: WikiCommons