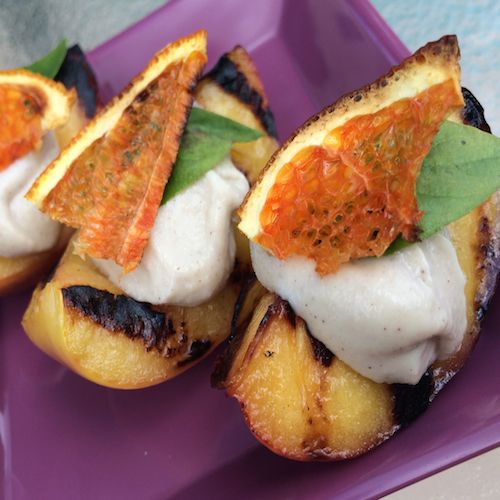 Summer is almost over but there's still time to enjoy grilled summer fruits.
Try this super satisfying dessert at the last backyard barbecues of the season. It's healthy, plant-based, and guaranteed to impress your friends.
Grilled Nectarines with Cinnamon Cashew Cream
(serves 6-8 people)
6 ripe nectarines (or peaches)
2 cups raw unsalted cashews
2 tbsp. coconut oil
1 cup almond milk
1/2 tsp. cinnamon
2 tbsp. maple syrup
Pinch of salt
1/2 of an orange
2 tbsp. brown sugar
1 handful of fresh basil or mint leaves (optional garnish)
Preheat your oven to 400 degrees. Cut the orange into very thin slices and spread out on a sheet pan. Sprinkle a little pinch of brown sugar on top of each slice. Roast the slices for about 10 minutes until they begin to caramelize (be careful not to burn them). Remove the pan from the oven and set the slices aside to cool.
Place the cashews, coconut oil, almond milk, cinnamon, maple syrup, and salt in a blender or food processor and process on high for 1-2 minutes until it becomes a smooth cream. Place the cream in a bowl and refrigerate for 30 minutes or more.
Cut the nectarines into quarters and grill them over medium heat for a few minutes on each side. Remove from heat and serve immediately.
For each dessert serving, place 3-4 nectarine quarters on a small plate or in a bowl. Top with scoops of cinnamon cashew cream and a few orange slices. For an extra fancy presentation, add on a few fresh mint or basil leaves.
Tip: If you're planning this dessert for a dinner party or BBQ, you can make the cashew cream and roasted orange slices ahead of time for a quick dessert preparation during the party.
Love elephant and want to go steady?
~
~
~
Editor: Travis May
Photo:  Author's Own