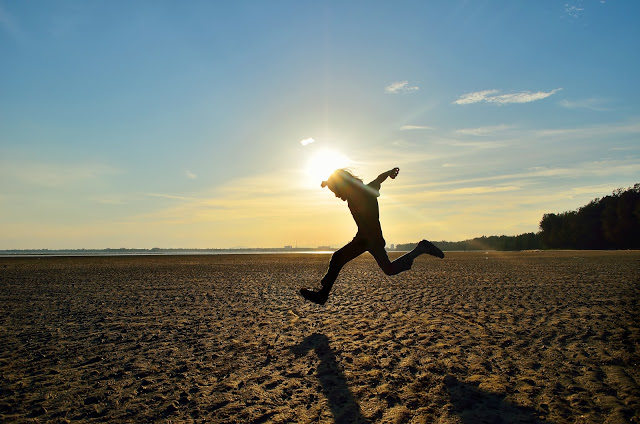 I take a deep, full breath hoping to feel some relief or calm. Instead, I inhale the heavy, thick air of midday.
A mixture of salt, sand and coconut scented tanning oil fill my nose.
My ankles throb, my hips ache and my knees are sore from the bike ride I just completed.
The shirt I am wearing is the third one I've soaked through today. It sticks to my back as my shoulders and arms shift back and forth keeping pace with my feet.
I am not a runner. I do not find it enjoyable.
I run long distances multiple times a week and it has gotten so that I actually have to turn down climbing sessions to accommodate for my running schedule.
When I have to admit that I can't climb because it's a cardio day I wonder how I got here, how this shift has happened.
I run alongside a white sandy beach, framed by an ocean of piercing shades of aqua, teal and blues. According to most, this little island is a paradise but where they see vast open waters and salty ocean waves, I see a distinct lack of rock and mountains. Where they see 300 days of sunshine and warm weather, I see sweaty fingertips, unsent projects and a lack of drive.
I see the thing I like to do best, the thing that makes me me, fading away.
I have lived here for two and half years and though my opinion of this place has not changed my perspective has. My third and final year here has been dubbed a training year.
I don't want to leave having accomplished nothing in terms of my climbing goals.
I want to make this time count. I want my time to have meant something and since climbing outside is almost nonexistent, I will train.
In roughly a year, my fiancé and I will be taking a year-long climbing road trip. We plan to go from Alaska all the way to the tip of South America and along the way, hit every boulder, crag and mountain peak we can.
In preparation and in an effort to revive some of my motivation, I started reading Steve House's Training for the New Alpinism: A Manual for the Climber as Athlete.
He proposes a year-long training program to prepare not only for big walls but also for technical rope climbing and powerful bouldering.
The whole program is focused on increasing your cardio base. According to House, this is something that can be stored up and used later, like putting money in a bank. A bigger cardio base means longer days and more endurance, all of which support our ability to train and build muscle.
It's a lot more scientific than that, but that's the gist and since Steve House is kind of The Man in terms of big wall accomplishments, I listen to what he says.
In fact ensuring a large cardio base is something everyone can benefit from. Athlete or not, building a cardio base of any size can lead to increased mobility, reduction of stress, weight loss and better sleep. 
For instance, when Steve says to run, I run and I turn down climbing days to increase my cardio max hoping that when the time comes it will pay off on the rock.
As my feet pound along the cement and pass over the inlay of a giant blue cartoon whale, all I can think about are snow capped peaks, endless mountain ranges and what it will be like to climb in a place that actually has seasons that encourage climbing.
Thanks to Steve House I have a way to salvage this year and spend it wisely. If a little running will make me a better climber, I'm on board.
Don't let me down Steve.
Love elephant and want to go steady?
          Editor: Ashleigh Hitchcock
          Photo: Pixoto