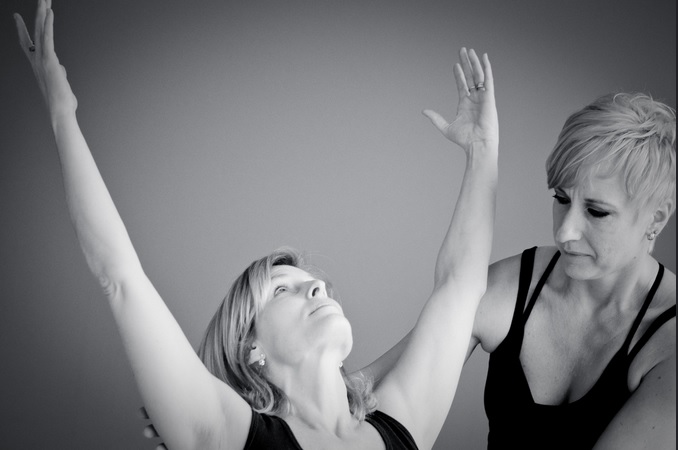 Yoga sequencing is a whole squirmy can of worms.
I'm inspired to pop it open and pry around inside thanks to a recent question, from a fellow yoga teacher, on the creative process of brainstorming yoga sequences. The request stirred up some questions I've been mulling over:
Is wild creativity always a point positive? When is it better just to stick to the basics? Where to even begin? How do you know when it's time to throw the whole dented can out the window and start over again? And most fundamental to the teaching practice, how do I carve out my own unique voice from the multitude of teaching styles and philosophies that I've swept up in my billowing yoga skirts along the way?
To save you some hemming and hawing, here's a cheat sheet I've developed for myself. Hopefully you'll find some use for it too. Just remember: you don't write the yoga sequence—you discover it!
1. Write (or type rather, to accommodate the frenzied speed of brainstorming) a really complicated, overstuffed class, bursting at the seams with complex and creative (aha, that troubling term!) sequences, as well as a multitude of awkward transitions.
2. Attend a couple of classes led by refined, seasoned teachers and come away feeling totally inspired and invigorated. Transcribe each class, pose for pose (this time, longhand: a feverish scribble in the studio entrance-way), and set aside.
3. Revisit your original composition and try it out with your own body. Realize you're craving the sweet physical memory of those two classes you just took. Bang your head against the wall (what shall we call this pose, banghyacabezasana?) and decide to toss the whole thing out and start from scratch.
4. Mull over your collection of class scripts over the next few days, picking over the transitions, focal points and specific poses you know you want to include in the class you're developing. Now you have a handful of asana or yoga poses, but no real structure. Hey, we're getting somewhere!
5. Imagine the class broken down into three parts: warm-up, midsection and cool down. Start dividing your selected bits and scraps into three columns. Slowly, it takes shape.
6. Rewrite and refine your rough class outline one or two times—until it's as pared down and simplified as possible. Leave space for improvisation as you teach. As long as the basic goodies are present, and your transitions are clear, you're golden.
7. Go teach with the class framework (warm-up, midsection, cool down) stamped into your working memory so that you can devote more attention to what the students' bodies are asking for, and less to what you want to cram into class. You don't get a gold star if you nail every cue, people!
8. End class and bask in the warm glow of smiles and gratitude from you students. You made it happen together! Now go grab a slice of pizza and chill out—till the whole cycle begins again.
Love elephant and want to go steady?
Editorial Apprentice: Richard May / Editor: Catherine Monkman
Photo: Cara / Flickr