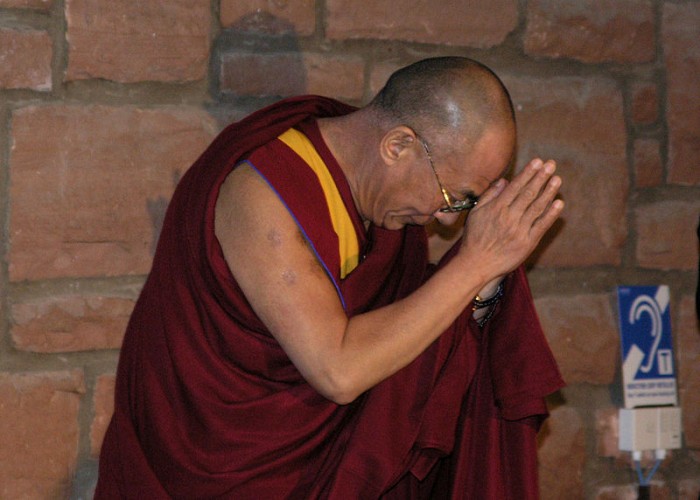 Update (via New York Times):
~
A few years ago I traveled to the University of Arkansas to see the Dalai Lama speak.
He's never come here to Kansas City.
It was a great experience. He is a great spiritual teacher and I really felt like it could be sensed when I was in the room with him. I just wanted to share that personal story. I'm not that into a lot of the trappings of Tibetan style Buddhism, but seeing him was really special.
The same year that I made that journey, the Dalai Lama retired from his political duties. He was the political leader and the religious leader of the exiled Tibetan people, but now he's just the religious leader. He had been saying for years that he wanted Tibet to become a democracy if they ever got their homeland back. In 2011, I suppose he proved it by giving up political power and having the Tibetan people elect a Prime Minister.
That could have been a clue for what would happen this month: in an interview with a newspaper he said that he should be the last Dalai Lama.
"We had a Dalai Lama for almost five centuries. The 14th Dalai Lama now is very popular. Let us then finish with a popular Dalai Lama," he said.
He also said: "Tibetan Buddhism is not dependent on one individual. We have a very good organisational structure with highly trained monks and scholars."
Is this a position that doesn't have meaning in the modern world? That's a good question. Do the exiled Tibetan people need a holy being to lead them? I'm not sure.
What does this mean for the future?
Who knows. There are other figures that are said to be reincarnated leaders, like the Karmapa, but none nearly as famous and beloved as the Dalai Lama. One wonders if this will lead others to follow his example.
Will this be a trend?
The famous Zen Monk from Vietnam, Thich Nhat Hanh has thus far declined to name a successor.
Perhaps the future of Buddhism won't be so attached to things like "Lamas" and "Masters" and "Tulkus."
Imagine a Buddhism that doesn't include authority figures.
I think it could be a good thing, if this is the way things are going in Buddhism.
I've argued in the past that the Buddha didn't intend to leave behind a Master/Disciple system, but rather a Teacher/Student system. A great teacher could have many wonderful things to teach you, but we must remember that we all have Buddha nature. Although we may not have the same knowledge, all human beings have the same ability to engage the Dharma.
When I saw the Dalai Lama in 2011 he said this, "Some people call me a god-king. That is nonsense."
That's important, I think. In every religious tradition, putting people on a pedestal can cause problems. The Buddha didn't seem to put himself on a pedestal, nor did his early followers. They gave up their wealth and material comforts to essentially wander around like homeless people, the opposite of what the Tibetan culture has done with the institution of the Dalai Lama.
I love the Dalai Lama. I think he's a wonderful and amazing person who has worked tirelessly to benefit the world.
And I think he's right.
Relephant:
Love elephant and want to go steady?
Editor: Travis May
Photo: Wiki Commons