"Be there at 4:45am," was all that was running through my head as I desperately biked through downtown, clutching my pillow, a folded sign, a bag of sugary snacks, and a backpack filled to the brim with homework I probably wouldn't end up doing, early that morning.
I biked like there was no tomorrow in a half-awake, half-asleep trance, passing the few people that populated the streets at that early hour. As I rounded the last corner towards the station, I let out a great sigh of relief to see the bus was still in its mooring, awaiting its last passengers before it embarked on its maiden voyage. I had made it. The time was 4:50 in the morning, September 21st, 2014. Next stop, New York City.
I'm Saunders Ruffin, and I'm a freshman at Penn State University. I was recently involved in the historic People's Climate March in New York City.
I fell into a deep sleep within the last hour of the bus trip, and woke up in New York City. Walking off the bus, eyes up, marveling at the new scenery, I could feel the energy of the city manifest itself inside of me. It only took a few minutes to realize this was going to be something special.
The streets were beginning to flood with people. People who looked like me, young and full of life, eyes wide open, coming to terms with the magnitude of what was awaiting us. There were the hippies, the dreadlocked folk, elders vibrant with energy, and costumed characters.
It was like looking through the most eclectic, eccentric yearbook ever. Every face told a different, fascinating story.
I gathered with a group of students from my university—multiple eco groups on campus coalesced to form a marching unit, spearheaded by the Fossil Free PSU club. We headed to 69th and 71st to prepare for mobilization, where we would form our "voice", the youth and student marching group.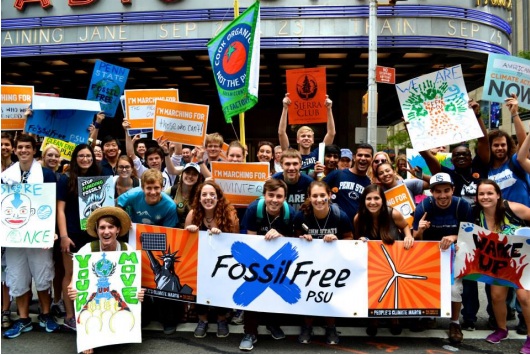 We were organized towards the front-lines of the march. Thousands upon thousands of other young people were waiting for us—we slid into position, prepared our armaments (our posters and banners) and waited.
The beginning of the march was met with a dramatic cacophony of cheers. It carried like a wave, passing over us and continuing down the caterpiller of people behind us. It was like we were storming into war.
The drums began to pick up. We had rhythm, and the gears began to turn.
The emotions that overcame me at this particular moment are indescribable. I was a part of something so much bigger than me. This was the moment I had been waiting for: here I was, in New York City, marching for climate change. It was surreal.
We marched with fervor for more than four hours down Manhattan. Operating on only a few hours of sleep, I miracously retained a quota of fieryness throughout the entirety of it all. As we marched, we chanted.
From the vulgar and humorous, to the completely sobering—chants and all kinds of affirmations were echoing in a call and response throughout the crowd. However, one stood as the de-facto mantra for our unit:
"ONE! We are the students —TWO! We are the future—THREE! We will not let you kill our plannnnnet! ONE! …"
It was incredibly inspiring, and I felt like we made our impact. We are the future: The next world leaders, the game-changers, the solution. I will remember this chant for a long time.
I was raised to commit to a green lifestyle and promote sustainability. As I grew older, I asked myself and my mother what difference I can make. What can one person do? I felt like I was one of few soldiers fighting this battle. I was lost.
But being a part of something so big, with so many likeminded individuals fighting for this all-important cause…I experienced a sort of cathartic experience that has made me realize I am making a difference.
We all are, and when we came together that day, with a strong (four hundred thousand strong) common purpose, it really opened my eyes and gave me confirmation that what I'm doing is important. Our voices matter. 
I am supremely grateful for the People's Climate March. It re-inspired me and re-invigorated me to continue spreading awareness about climate change. The march in itself has certainly laid the groundwork for political and personal change, and hopefully it will manifest itself when the 2015 Climate Change Conference in Paris, France rolls around, where action can be signed on to by world leaders.
I left New York City on the same uncomfortable bus we arrived on, but got off of it a stronger and more dedicated human being than ever—with a voice I can believe in.
What's your cause? How will you use your voice?
~
~ 
Love elephant and want to go steady?
Editor: Emma Ruffin
Photos: Courtesy of Alyssa San Jose