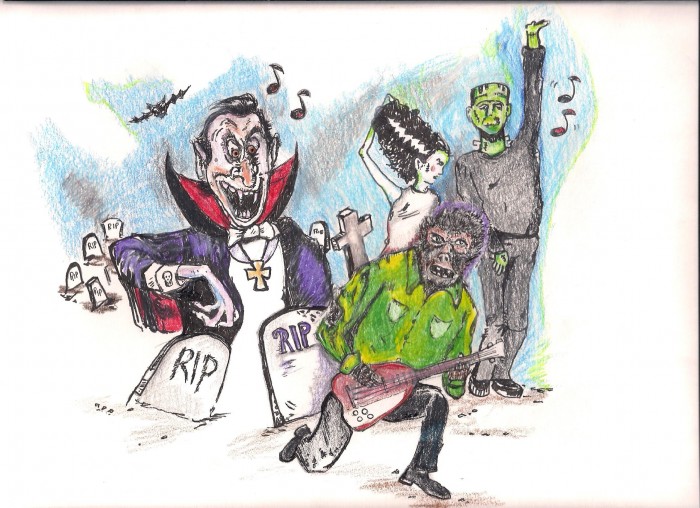 I've always been somewhat fascinated by the dark and macabre.
I've loved horror films and scary stories since I was a kid, so naturally I'm a big fan of Halloween! I'm also a huge music lover, so I felt inspired to create a Halloween playlist featuring 13 (muah-ha-ha!) of my favorite ghoulish tracks.
But I didn't want to this to be the typical compilation of spooky songs.
I mean, don't get me wrong—I love "Thriller" and "The Monster Mash" as much as the next guy, and when I hear Oingo Boingo's "Dead Man's Party" playing, I'm the first one out on the dance floor shakin' my bones!
However, I wanted to provide a slightly more eclectic selection of bone-chilling jams, so I dug deep into the catacombs of my record collection and unearthed some of my freaky favorites.
Have a listen… If you dare!
1. Groovie Ghoulies – Zombie Crush
Truth be told, the Groovie Ghoulies have literally dozens of songs that would fit perfectly on a Halloween playlist! With options like "She's My Vampire Girl," "The Beast with Five Hands," "Graveyard Girlfriend" and "Do the Bat!" it was really tough to choose! But "Zombie Crush" has always been one of my favorites, and while most of the Groovie Ghoulies songs are pretty poppy, this one still manages to also have a bit of an eerie feel to it.
Bonus:  Zombina & the Skeletones do a kick-ass cover version of this song!
2. Future Bible Heroes – I'm a Vampire
Future Bible Heroes is a side-project from Stephin Merrit of the Magnetic Fields. Vocals on this track are performed singer-keyboardist Claudia Gonson (also from the Magnetic Fields.) The music isn't particularly spooky-sounding, but the clever lyrics make up for it. One of my favorite things about this jam is the subtle humor throughout the song:
"Dear, for whose victims I shed no tear
I am neither sweet nor sincere
And I'd rather drink blood than beer
Cause I'm a vampire!
I can turn into a bat, I can cast the evil eye
I have ever so much money, I'm gorgeous and I can fly!
I survived the Inquisition, been a harlot, been a queen…
Survived for seven hundred years, and still look seventeen!"
Lifesavas are a hip hop group from Portland, Oregon. This joint has a spoo—ooo—ooky  sounding beat and a creepy hook:
"Have you seen the ghost of John?
Long white bones and the rest all gone,
Oooooh-ooo-oooh….
Wouldn't it be chilly with no skin on?"
"We're the things that go bump in the night that you can't see… We're that feeling someone's watching from the street…"
This is an upbeat, melodic song with a bit of a sinister vibe. Remember all the spooky things that used to creep you out and keeping you up all night as a kid? It's all embodied here into this song, as the singer warns us: "We'll do our very best to keep our appetites in check – You better watch your back, when we want your neck!"
Adorable song about falling in love with a zombie! The singer proclaims her love for her "zombie boy" saying she loves him so much, she wants to be like him! But he responds that, as much as he wants to give her a "love bite," she's perfect as she is (alive!) and it's best that she stay on her side of the cemetery gate… Aw!
The Misfits are typically recognized as being the fore-fathers of the "Horror Punk" genre, blending punk rock with imagery and themes from horror movies. There are a plethora of Misfits songs that would fit well on this list, and some of them are pretty dark! I didn't want to include anything too dark or grisly, in the hope of keeping things mindful, so I've opted to include "Scream," since it has that overall dark and scary sound, without super graphic lyrics.
To be honest—I really wanted to include "Astro-Zombies" since it's one of my favorite songs off the album "Walk Among Us." But I didn't want this list to be too zombie heavy (there's already 2 zombie songs on the list), so I've just included it as a bonus instead.
Bonus:  Astro-Zombies
7. The Dickies – Killer Klowns from Outer Space
"Everybody's running when the circus comes into their towns,
Everyone is running from the likes of the killer klowns!
From outer space…."
While this song is freakin' hilarious, many people legitimately have a serious fear of clowns!
This creepy song, about clowns hungry for carnage, is actually the theme song of the 1988 American science fiction horror comedy with the same name: Killer Klowns from Outer Space.
UK band, The Sugars provide an awesome, fun, creepy song with sinister guitar riffs you can dance to! Here's the twist: The monster's in you!
"Oh baby please, won't you exorcise the demons in my mind…"
9.  The Cramps – I Was A Teenage Werewolf
Here is one to make you howl at the moon! The slow, steady drumbeat and twangy guitars make this one disturbing ditty. The perfect melody for lycanthropes out roaming under the moonlight.
This one is a fun psychobilly song about creatures of the night! As psychobilly is often characterized by its lyrical references to science fiction, horror and other "taboo" topics, I had to include a psychobilly track on this list, since much of it tends to naturally sound Halloween-esque!
11. Screamin' Jay Hawkins – I Put a Spell On You
Screamin' Jay Hawkins was an early pioneer of "shock rock," using macabre props onstage and emerging from a coffin before he performed.
"I put a Spell On You" is truly a scary-sounding song! Hawkins sounds like a maniac as he grunts and bellows throughout the song, backed up by ghastly sounding horns. The whole thing has a creepy feel, which is intensified by Hawkins' snarling voice.
Funny story about this song: It was meant to be a ballad, but the band, including Hawkins, got drunk before the recording session. This is why Hawkins wound up screaming and grunting crazily throughout the recording, resulting in this "raw, guttural track" that actually became his biggest hit! The performance was said to be "mesmerizing" although Hawkins blacked out and didn't even remember the session! He had to re-learn the song later, based on the recording.
12. Agent Orange – This House is Haunted
This frighteningly eerie track is actually a cover of an Alice Cooper song. Both versions are chilling, but I like that the Agent Orange cover has a bit more guitar-driven intensity, rather than the mellower and slowly creeping original. Which do you prefer?
I'm sure we've all heard some rendition of this classic organ piece, written by German composer Johann Sebastian Bach. The spooky and foreboding melody is often played around Halloween or as background music for horror films.
The Toy Dolls version of this classic takes the piece to a whole new level when the English band re-creates the macabre melody with crunchy guitars an upbeat drumbeat. And damn, Olga the guitar player can shred on his axe freakin' fast!
What are some of your favorite spooky Halloween-style songs? Share them in the comments below!
Love elephant and want to go steady?
Editor: Catherine Monkman
Illustration: with permission from Cassandra "Cass-Monster" Marquez