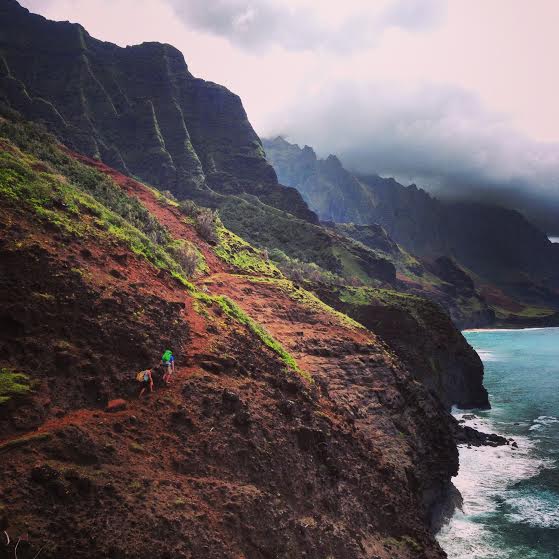 In April of 2013, after a particularly difficult end to a six year relationship with the man I thought was "the one," I took the $450 I won in a NCAA March Madness pool (for the second year in a row) and bought a plane ticket from San Francisco to Kauai, Hawaii.
Although my friends deemed the trip my "How Stella Got Her Groove Back" or "Eat Pray Love" vacation, the truth was, I didn't know what it was going to be.
I had never traveled alone before, and although I had been to Kauai once previously and completely fell in love with the island and the people there, I was not in the mindset to fall in love this time around.
I spent the majority of the plane ride to Kauai crying, and an even larger majority of my first two days in the North Shore town of Hanalei staring out into the beautiful ocean continuing to release all that was built up inside of me in the form of tears.
On my third day on the island, I decided to hike the Napali Coast, one of the most stunning, soul nourishing and sometimes treacherous coastlines in the world. I completed an eight mile roundtrip from Kee Beach to Hanakapi`ai Falls, and it was an awesome trek.
I even saw Julia Roberts on the trail; maybe this was my Eat Pray Love after all!
That afternoon with a feeling of accomplishment and really, happiness, I decided to make the short walk from my house in Hanalei to the Kalypso, a kitschy beach bar in the middle of the tiny town to watch the Golden State Warriors playoff game.
It was there that I met someone who had also just come off the trail, but he had gone the whole way—11 miles out through five different valleys ending at secluded Kalalau Beach where he camped overnight before making the 11 mile journey back.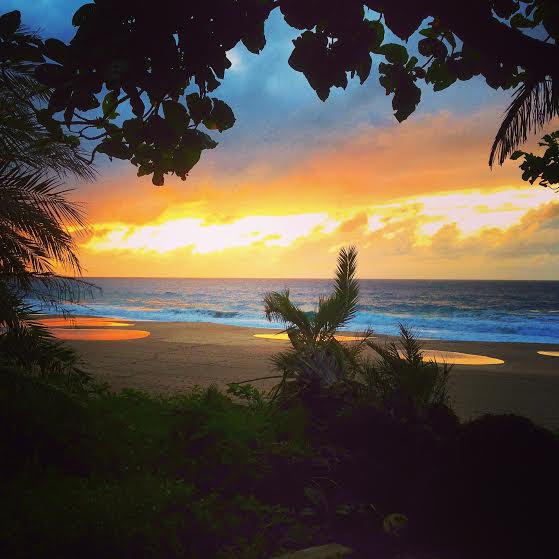 As he described the mystical and magical beach and valley of Kalalau to me, I knew it was somewhere I needed to experience. One day. The rest of the trip continued and by my last night in Hanalei I felt reborn. I almost didn't come back. I almost stayed to hike the trail to Kalalau with the man from the Kalypso. But around 3:00 a.m. on the morning of my flight, I instinctively began to pack my suitcase, and eight hours later, I was on a plane back to San Francisco.
Kalalau remained heavy on my heart and mind for the better part of the next year, and in April of 2014 I took my winnings from a disappointing 2nd place finish in the NCAA March Madness Pool and put them towards a plane ticket back to Kauai, and this time, to Kalalau.
The idea of taking on a 22 mile, three day expedition solo was equal parts daunting and exciting, and although a portion of me did want to go in it alone, I was thrilled that a friend from the city had decided to come along with me on a whim.
I introduced her to the island over our first two days there, and a 6:00 a.m. on our third day on the North Shore, with nothing more than a backpack filled with 35 pounds of freeze dried food, water, and camping supplies, we were off.
There are no words that can clearly capture and express how truly magnificent the experience of Kalalau was.
Other worldly are ones that often come to my mind. The connection I felt to the earth and to myself was immeasurable, but it's the lessons I learned while on the trail, beach and in the valley that are the greatest gifts Kalalau gave me.
1. Take some time and free your mind.
We are so overly stimulated and constantly connected in today's world. On the Kalalau, it's just you, what you brought with you, and the people you find around you. And that is where the real connection happens.
It is the connection you are able to develop with yourself, with others, and with the earth without being distracted by a Facebook status update, text message, or Netflix Series. During a walk through the beach to collect some water from the waterfall that flows at the end of the camp path, I found the words "Take some time, free your mind" scrawled along a board.
By connecting to my authentic, undistracted self in Kalalau, my mind was suddenly free. I had no worries; no preoccupations. I was present and open to whatever would come next. There is a clarity that comes with unplugging, for an hour, a day, or a lifetime. Try it.
"Be kind for everyone you meet is fighting a hard battle ." ~  Ian Maclaren
While hiking and living on Kalalau I encountered people from all walks of life. There were the people of Kalalau who resided permanently in the valley and only left for a few days every three months to replenish supplies before returning back on the trail.
There were the 55 year old surf bros from Laguna Beach who had hiked trail back in the 80's and wanted to see if they could still do it today. There were honeymooners from Seattle, solo travelers from Europe, a pair of doctors from Idaho and Chicago, the stoner couple from Portland, the ex marine with a knife who held court at the shed. And then there was me and my friend, the two girls from San Francisco.
The experience you have with all of those around you, who no matter where they come from or what their story is are aligned with you because they understand what it's like to experience this place in this moment is so powerful that it streams an automatic kindness out from your heart to everyone you meet there.
Suddenly, "where are you from? what do you do?" didn't matter anymore.
I wanted to treat everyone I met there with kindness and without judgement, just as they were treating me. This simple but powerful practice has opened up so many amazing opportunities, people, and experiences to me now that I am back home. Be kind.
3. Respect nature.
I haven't been everywhere in the world, but I can say with complete confidence that Kalalau is one of the most naturally beautiful places on earth. Because the only way to access it is by foot, it is relatively untouched, and the people of Kauai intend to keep it that way.
The connection you feel with the earth when you are there is unmatched. I felt so thankful for the experience, the only way I could ever repay the trail was to respect it by packing out what I packed in, and treating the land with love and kindness.
When you enter the Valley after 10 miles on the Napali there is a sign that reads: "This is sacred land. Give it your utmost care & respect. Leave knowing that you have preserved it for future generations." This simple way of thinking can be carried over to the way we behave toward our planet as a whole. Treat nature with respect so those who come after you can enjoy it just as you did.
4. You don't "need" as much as you think you do.
All I had to live on over three days on the Kalalau was what I could carry on my back, and that small simple grouping of items quickly felt like gold to me.
I felt so incredibly lucky to have a waterproof tent during our first night when a torrential downpour came out of nowhere and our new friends the doctors from Idaho and Chicago got soaked sleeping underneath their tarp held up by a rope.
On our last night we treated ourselves to a gourmet meal of freeze dried sweet and sour pork and chicken enchiladas while watching the sun melt into the ocean from the sandy shore we camped on.
It was the best meal of my life.
Reflecting back, I probably could have cut my pack down by a third because by then end of the trip, I didn't feel like I "needed" anything at all anymore. We have come to accumulate so much stuff in this consumer driven society.
Take a look at what you have. Do you really "need" this, is it essential to your well being? I will be the first one to admit that I really enjoy my iPhone, my gourmet cookware, and a new pair of Levis every now and then, but my experience on the Kalalau taught me to be more mindful when reaching for my credit card to make another purchase. Take a moment and think before turning a want into a need.
5. When something calls you, pick up the phone.
After I returned to San Francisco from Kauai in April of 2013, life got kinda nuts. I had tapped into an open, highly aware, and joyful part of myself I had never really known existed while I was on that island, and I brought it back home with me.
There were amazing highs and crushing lows over the next year that occurred while I simultaneously balanced a demanding career in a fast past city. But all the while, I knew I needed to go back and was provided with numerous reminders, taps on the shoulder, and megaphones in my ear from the universe to not let me forget it. I heard the calling, and although it seemed "crazy" to some (another trip to Kauai!?) I answered the call. It was the best thing I have ever done for myself.
6. It's quite alright to be alone.
Although I had a friend with me on the trail, we both felt as if we were solo adventures hiking the 11 miles in and 11 miles back out two days later. We barely spoke to each other as we walked, crawled, and climbed, and when we did it was in very short terms like, "rest?" "food?" "water?" "you okay?"
The hike was incredibly meditative, one foot in front of each other for nine hours through a wonderland of mystical mountains, crashing waves, rainbows, waterfalls, thick mud, and dusty red earth. While on the beach we each spent hours in solitude.
Being alone affords us the opportunity to check in with ourselves, to and to get to know ourselves so that when we do interact or partner up with others it is as our most truthful selves. Being alone enables honesty. Take a moment to be alone with yourself, and others will thank you.
7. It's in our weakest moments that we realize our greatest strength.
The Kalalau trail is punishing; mentally, physically, and emotionally. Every week I read articles like this this and this about tragedies that occur while hiking the trail. It can be really freaking dangerous.
It is an exhausting excursion and there were many moments when my body and/or mind broke down and I didn't think I could continue on any further. But it was during these times, in my most severe moments of weakness that I was able to tap into something inside of me I never knew existed.
It came in the form of the extra push from within to keep walking when my legs felt like jell-o and my shoulders were buckling under the weight of my pack, or how distracted I was by the gorgeous green mountains and rushing waterfalls scattered throughout the valley that I didn't have time to acknowledge the "you can't do this" thoughts that would often pop up.
We are stronger than we think, and sometimes it just takes a weak moment to really prove it to us.
8. It's all going to be okay.
Because in the end, it will be. And if it's not, it's not the end.
More information about the Kalalau Trail. 
Love elephant and want to go steady?
Editor: Catherine Monkman
photos: Author's Own