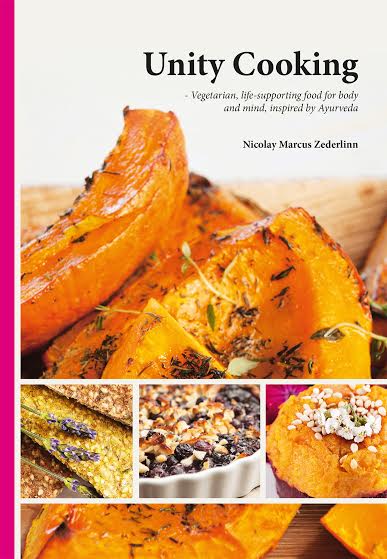 Do you know that the food you eat has an influence on your thoughts and your mood?
Some foods create joy, alertness and harmony, while others make you sad and lethargic.
This knowledge is described in the ancient Indian health system called Ayurveda. You do not have to read books on Ayurveda in order to understand how the food affects you—you can experience it directly. Begin to notice the connection between what you eat and how you feel.
If, for example, you eat a lot of garlic or chili, you will notice that digestion is faster, and the body becomes warm. The number of thoughts will increase, and you will therefore feel a little uneasy, irritable or dissatisfied.
All food items can be divided into three categories, depending on their effects: life-supporting, cleansing and life-restricting.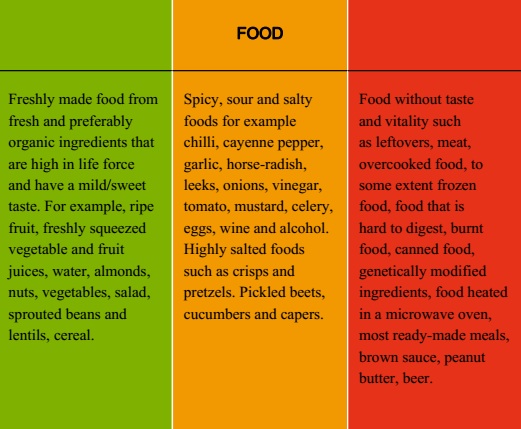 Life-supporting food (Sattva in Ayurvedic terminology) is fresh, holistic, and looks and tastes delicious. This kind of food creates energy, joy, clarity and well-being, in both the mind and the body. Vegetables, almonds, fruits and cereals have a life-supporting influence.
Detoxifying food (Rajas) is heating, increases activity in the body and the mind and removes impurities. However, it creates dissatisfaction, restlessness and desire. Chilli, onion and garlic are examples of detoxifying foods.
Life-restricting food (Tamas) is without vigor and vitality and makes you drowsy and dull. Pork, beef, canned food, burnt food and leftovers, are examples of food which have a life-restricting effect.
When you become more aware of the influence of the food on the body and mind, you will spontaneously prefer life-supporting food. Once in a while it is good to eat detoxifying food to cleanse the body. An example of appropriate times are either when you feel a cold coming on or when the digestion is off. Life-restricting food should be avoided whenever possible.
Examples of life-supporting food (Sattva):  Choose organic and biodynamic ingredients which yield the most vigor, vitality and taste.
Vegetables: All fresh vegetables with the exception of onions, garlic, celery and mushrooms. Try fennel, asparagus, carrot, beetroot, spinach, broccoli, artichoke, green beans, cauliflower, chard, parsnips, brussels sprouts, corn (organic), peas and courgettes.
Salads: All types of lettuce, cucumber, sprouted beans and lentils.
Fruit: Fresh and ripe fruits are best. Try pear, apple, banana, grape, kiwi, peach, apricot, orange, clementine, melon, avocado, mango and pineapple. Dried and preferably soaked fruits like raisins, dates, figs and apricots are also good.
Berries and nuts: Sweet and ripe berries and all nuts except peanuts. Examples of berries are raspberries, strawberries, blueberries, blackberries, and cherries. Examples of nuts are almonds, sunflower seeds, pumpkin seeds, hazelnuts, cashews, pistachios and walnuts.
Cereals: Most grain products are good. Try couscous, pasta, bulgur, semolina and flours that are made of spelt, emmer or wheat (preferably high quality, without additives). In addition barley, oats, corn, millet and rice. Bread which is not too heavy, grainy, pasty or entirely white. According to Ayurvedic practice, bread is most life-supporting when it is toasted or heated in an oven.
Dried lentils and beans: Try green, yellow and red lentils, du Puy lentils, and green and yellow mung beans. Most of the other dried bean (i.e. white and brown beans, kidney beans and chickpeas) should be eaten in smaller quantities because they are heavy to digest.
Milk Products: Non-homogenized, organic or biodynamic milk, buttermilk, yogurt, junket, cream, cottage cheese and paneer (fresh cheese) are all good options. Milk should not be consumed right from the refrigerator and it is easiest to digest when it has been boiled. Milk should also not be mixed with meals containing meat, fresh fruit or vegetables, as it can disturb the digestive process.
Fats: Ghee (clarified butter), coconut oil and olive oil are the most life-supporting fats.
Spices: All spices except chili, cayenne pepper and garlic, which belong to the detoxifying category.
Drink: Water (preferably boiled and hot), herbal tea, lassi (yogurt drink) and freshly squeezed fruit juices
Sweeteners: Generally in small quantities. Cane or beet sugar, unheated honey and maple syrup are the most life-supporting sweeteners. White sugar is not life-supporting and creates restlessness in both the body and the mind.
The following recipes have a life-supporting influence.
Stuffed Zucchinis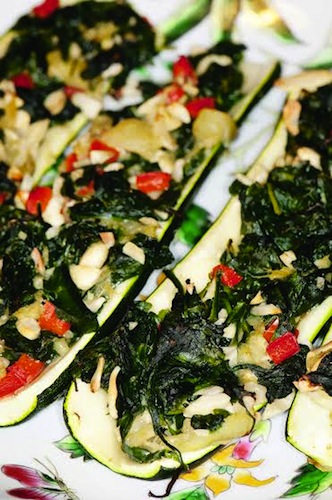 Preparation Time: 1 hour
2 large zucchinis
1 teaspoon curry powder
2 teaspoon olive oil/ghee
9 oz (250 grams) fresh spinach, washed
2 oz (65 grams) almonds or hazelnuts, coarsely chopped
1/3 red pepper, diced
1¼ teaspoon salt
1. Chop the ends off the zucchinis, and chop them lengthwise.
2. Hollow out the zucchinis with a spoon and dice the stuffing.
3. Fry the curry powder for a minute in a pot with the fat
4. Add the zucchini-stuffing and the other ingredients and fry for 4-5 minutes.
5. Place the zucchinis on a baking tray lined with baking paper, and add the filling.
6. Bake for 30-40 minutes at 360 degrees F (180 degrees C)
~
Dream Balls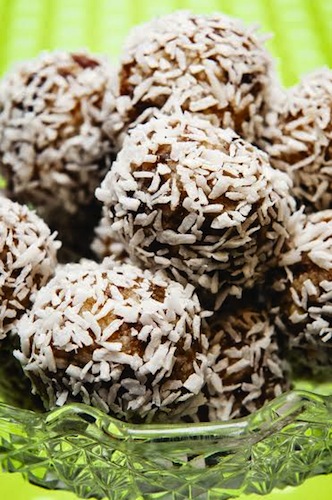 Preparation Time: 25 minutes (20-30 pieces)
5 oz (150 grams) dates
4 oz (100 grams) apricots
2 bananas
1 teaspoon vanilla powder
4 drops peppermint oil (optional)
2 oz (50 g) almonds, peeled
7 oz (200 g) desiccated coconut
1. The dried fruit, bananas, vanilla and peppermint oil (optional) are blended into a homogeneous mass. Use a food processor or blender.
2. Chop the almonds coarsely and mix them in – together with 3/4 of the coconut.
3. Shape the mass into balls and roll them in the rest of the coconut.
~
Stuffed Pancakes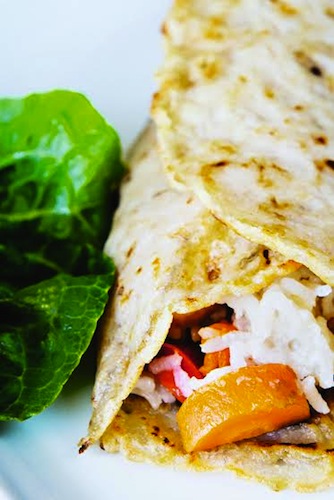 Preparation Time: 1 hour (8 pieces)
Filling:
11 oz (300 grams) parsnips (or other root vegetables)
5 oz (150 grams) carrots
½ piece/4 oz (100 grams) red pepper
2 oz (50 grams) hazelnuts, chop in half or chop coarsely
1 teaspoon dried thyme
1 tablespoon ghee/olive oil/coconut oil
2/3 cup (150 ml) jasmine rice
1 teaspoon salt
1 1/3 cups (300 ml) water
1. Peel and dice the vegetables. Dice the red pepper.
2. Put the vegetables, pepper, nuts, thyme and fat in a pot, and fry for one minute.
3. Remove the pot from the heat and add the washed rice, water and salt. Allow the rice to absorb the water for 10 minutes while the batter is prepared.
4. Cover the pot and cook the rice at low heat for approx. 12 minutes.
Batter:
7 oz (200 grams) white spelt flour/wholemeal wheat flour
2 oz (50 grams) wholemeal spelt flour/wholemeal wheat flour
1 tablespoon ghee/olive oil/coconut oil + fat for frying
1 teaspoon salt
2½ cups (600 ml) water
½ cup (125 ml) junket or yoghurt (optional)
5. Put the flour, fat and salt into a bowl. Slowly add the water while whisking. Put fat in a non-stick frying pan (important!) and spread some batter in a thin layer. Fry the pancakes for a couple of minutes on each side at medium heat.
6. Spread 1/8 of the filling on each pancake and add approx. 1 tablespoon of junket or yogurt. Roll or fold the pancakes and place them on a platter. Keep them warm in an oven (optional).
~
This article is based on Nicolay Marcus Zederlinn's vegetarian cookbook "Unity Cooking".
_
_
_
Love elephant and want to go steady?
Editor: Emma Ruffin
Photo: Clyde Robinson/Flickr, Author's Own