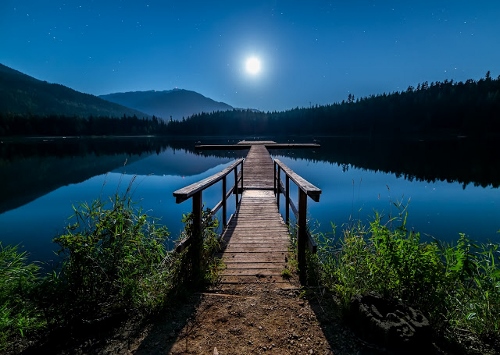 Full Moon eclipse—wisdom for the waning moon cycle.
The moon will be completely full at 05:49 am CDT while in Pisces and Revati nakshatra.
Simultaneously there will be a lunar eclipse occurring. The eclipse occurs on October 8, 2014.
The eclipse begins at 03:17 am CDT and continues until 08:32 am CDT. The maximum part of the eclipse will be at 05:55 am CDT. From a Vedic standpoint it is not ideal to look at the eclipse or to be outside during the eclipse period.
Eat lightly and tend to your self care needs on this day. Include meditation and more silence for yourself as well.
There are quite a few things happening at once during this full Moon!
The Moon is full of course, which signifies our own fullness. We may be feeling this most intensely on the mental body level right now. Mercury (our mind) is retrograde in Libra, moving back towards its sign of exaltation, Virgo right now. Rahu (our shadows, illusions and demons) is currently transiting Virgo with Sun and debilitated Venus. There is a pull towards this Virgo energy within our mind and its shadowed and intensified by Rahu and his ways.
We may be feeling an imbalance within our relationships on some level. There may be an intensified critic and an awareness about what isn't working in our lives. This may increase our discomfort and our need for change but uncertainty about how to do that, how to move forward in a new way. The retrograde motion of Mercury is a reminder, a time of re-evaluation and a return to some of our shadow work (Rahu).
Mercury is transiting back through Libra now, where exalted Saturn is poised for change. After 2.5 years Saturn is preparing to move into Scorpio on November 2nd. This has an interesting effect on our mind and our emotions; we may feel we are being pulled in opposite directions. Saturn's forward momentum has the portal already opened and inviting in Scorpios ways of depth and transformation while the pull of retrograde Mercury is opening the portal and inviting in Virgo's energy and the planets transiting there.
Since Libra is concerned with balance, relationships, the pelvis and organs therein, as well as life and death matters, we may feel as though our pendulums are swinging very dramatically in the next few weeks. Be careful of binary thinking patterns (yes and no as well as right and wrong) that may be keeping you in a head lock.
It is very important to stay balanced right now—use the wisdom of embodiment and the arts to move what is arriving and do it with intention and creativity. Now is a great time to start envisioning your new life, new possibilities, new options and desires. Put your focus on the imaginal, your dreams and let these be seeds of potential that you can strengthen in the coming months.
This full Moon is eclipsed by shadows, illusions and at the same time provoking our liberation. It is a Moon that begs for moksha, change, restructuring, finding closure and endings. The critic is a part of our shadow that we must attend to in the coming weeks and will likely be a main focus for us during the two week eclipse period (October 8th to 23rd).
Chart of the full Moon at time of eclipse.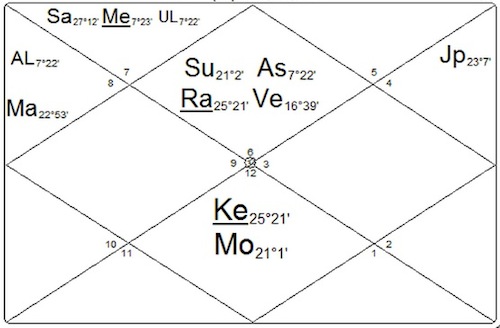 This coming waning Moon cycle is a very important time to be working directly with our shadows, our illusions as well as our demons. This is intensified because Mercury is moving back towards Rahu (our karmic demons) in Virgo and will return to this sign (of exaltation) during this two week eclipse period.
Did you miss some important information last month?
Look for clues around perfectionism, the critic, purity, your standards and your judgments.
As I mentioned above, binary thinking patterns are a part of these mental body illusions. These details hold important clues about our shadow work and where we might be getting stuck, holding ourselves back or missing vital information. Use this to inform your action steps and make new decisions that will restore more balance and harmony in your life. This theme of balance will be more apparent as Mercury re-enters Libra on November 4th.
Moon in Revati nakshatra at the time of the eclipse in Pisces furthers the symbol of release, endings and letting go while strengthening themes of its ruling planet Mercury.
Pushan, the ruling deity of Revati, insures our safe passage and travels but requests simplicity and purity. He is a protector and helps us find our way back to the path when we are lost. He also can help us retrieve lost or stolen items. This is a special waning Moon cycle that offers us many returns on multiple levels. Be willing and open to receive messages that will help you strengthen your path, return to and restore your sense of well being, hope and possibility.
Be open to comfort and nourishment and reminders that life doesn't have to be hard and forced—it can be lighter and more gentle. This requires us to clear away rubble, debris and anything blocking our path, so vital clearing is truly essential during this eclipse cycle.
May your path unfold as you dance with your shadows in new ways!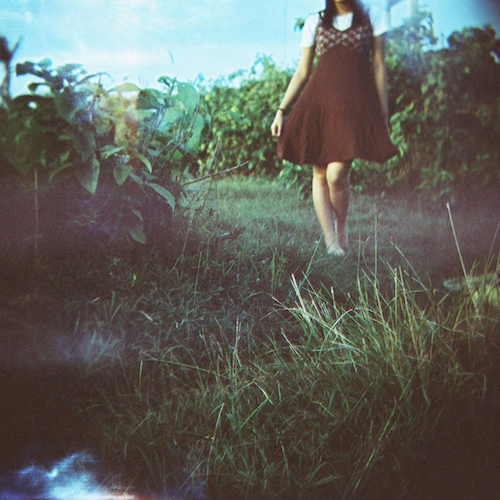 Creative ritual.
In this past cycle, we worked directly with self care. Inviting in more nourishment, comfort and support through our actions and intention. I suggested that you keep a self care journal in order to keep track of the many ways each day that you care for and nourish yourself. I invite you to use your self care journal as a tool of not only resources but also of inspiration and creativity.
Here's a creative ritual, with this in mind.
1. Go back through your self care journal writing over the past two weeks and circle words that speak to you—that leap off the page—that you find interesting. Gather at least 10 to 15 words.
2. Organize these words into a poem that speaks to your path, where you have been, where you are going and what you need for your journey. Let a vision arise through your words; let the story unfold.
3. Create an image from your poem. Turn the verbal into a tangible expression through color, textures, shapes and images. Use craypas and paper or another art medium that speaks to you.
4. Dance your image and let it come alive through your body wisdom. Get embodied through the vibrancy and imagery of your drawing. Move for at least 10 to 15 minutes. Then ask yourself: If my body could speak, what would it say?
These are vital resources for your journey over the next few weeks. Let these messages bring you answers that you need for your next steps, for listening to your intuitive wisdom and for gaining guidance for your path.
Need some extra guidance and clarity? Schedule a session with me.
Plan your week in tune with nature. Never miss a planetary update. Sign up for my weekly newsletter.
Was this post helpful? Please share it with a friend! Thank you.
~
~
Love elephant and want to go steady?
~
~
Editor: Ashleigh Hitchcock
Photo: flickr, courtesy of the author, media library